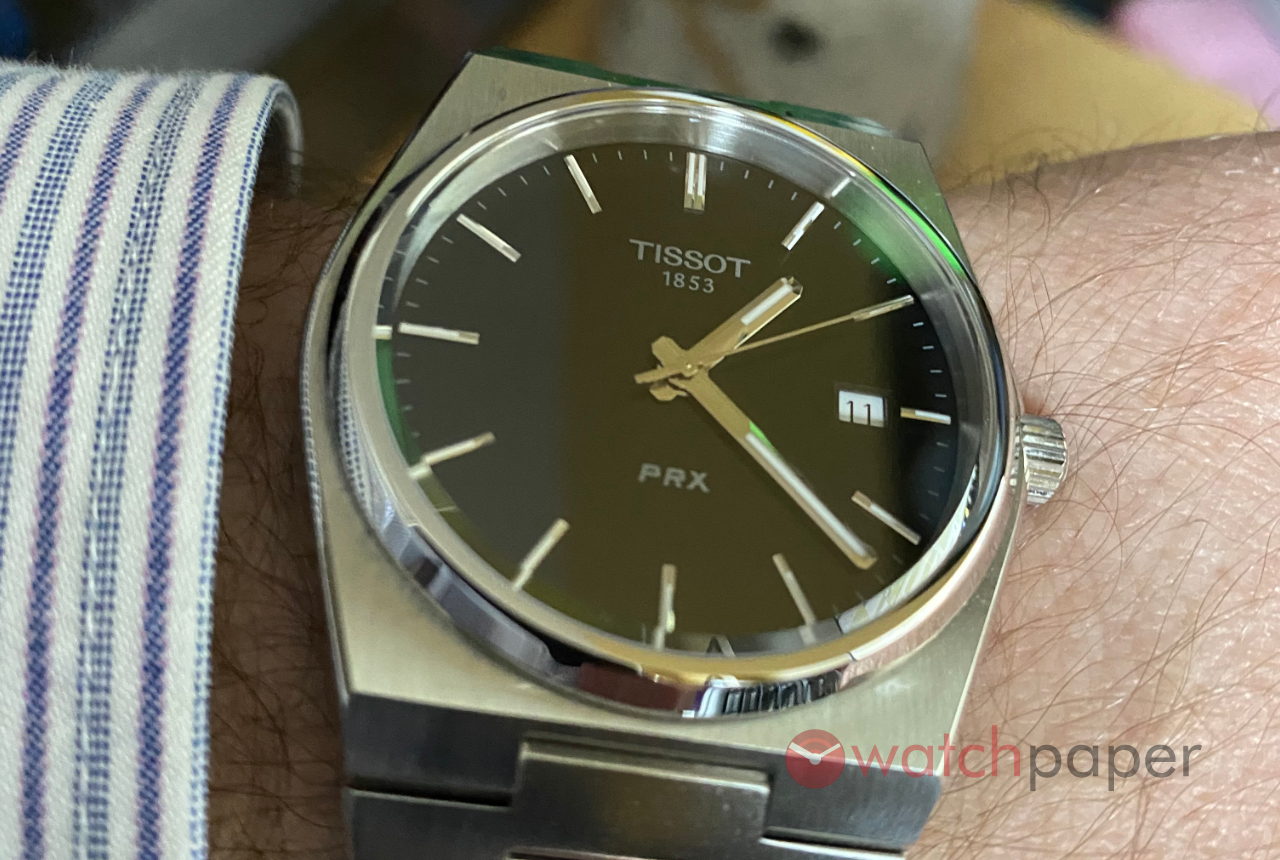 Tissot PRX review
I discovered the Tissot PRX a few months ago when a video ad popped up on my Facebook app. I was instantly captivated. At first glance, I could see a very cool, retro style in a wonderfully elegant yet-sporty package. The integrated bracelet looked great and the $475 CAD price seemed like it had to be a mistake. Even for a quartz, that price seemed unreal. But the real kicker; the thing that sold me was that the original debut of the PRX was in 1978 – the year I was born.
As you may know already, I am fanatic about the 1980s. I have spent much of the pandemic revisiting the decade of my childhood through music, video, film, literature and writing. A watch whose origins and style are from 1978 is a wonderful nod to the beginning of my most favourite era of all. An Oris Diver 65 is nice, but I was not born until years later. Ditto for my Longines Legend Heritage 1969. But the Tissot PRX triggered a rush of nostalgia and feelings for me. It just connected with me and I bought one as soon as I made it into my AD.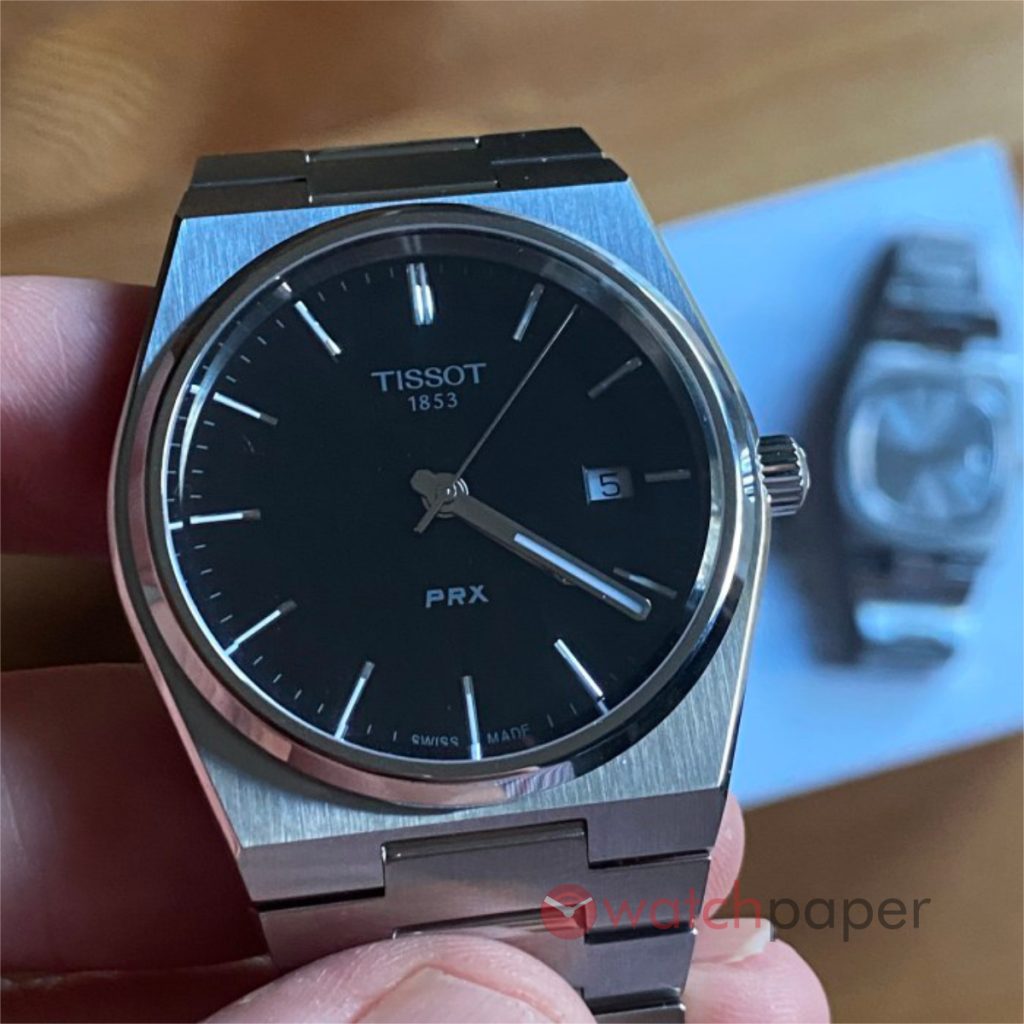 On the wrist, the PRX instantly felt like a daily driver, and it has been for the few months that I have had it. The bracelet alone has got to be worth more than the $475 price. The brushed metal looks awesome wrapped around my wrist, while the polished bezel and tiny crown just set it all off. The folding clasp with its subtle Tissot logo is superb. The dial and the hands are just remarkable – my only complaint was the absence of a frame around the date window. And this has actually not bothered me once since I have worn the PRX. The look on the wrist is subtle elegance with a funky retro vibe. While I have nothing to say about the movement, I will have plenty to say about the choice of a quartz movement later on.
The PRX originally got its name from being Precise, Robust and having Ten (X) bar water resistance. I know you are all thinking that the PRX looks like an AP Royal Oak. But remember- that was 43 years ago. Today, the PRX is a bonafide tribute to an actual Tissot from 1978. And this was the height of the quartz crisis in the watch world. A quartz movement, even without high-tech features, is perfect for the new PRX. It is authentic. The watch was born in the era of Space Invaders, Diff'rent Strokes, Iron Maiden and affordable quartz watches. This is the era I return to in my mind. And what is it about that era, four decades ago, that has captivated me ever since?
As a young adult in the late 1990s, I was already obsessed with the decade that had recently ended. I had built a collection of dozens of '80s (and late '70s) movies on VHS cassette tape. And when music became available on the internet, I began building a virtual library of 1980s music. I was able to hunt down all the obscure songs from my favourite '80s movies and I had a whole sub-collection of music from The Karate Kid, Revenge of the Nerds and many more classic films. Even back then, with the '80s only a few years in the rearview mirror, I felt this fascination with that whole era, along with a futile desire to return back to that time. This was partly due to great childhood memories of the shopping malls, arcades, roller rinks, cinemas and Saturday morning cartoons. But my longing for the '80s was also due to a certain mood and vibe from that time that nothing can replace. You feel it in a John Hughes movie and you hear it in a classic Bananarama single. There is a certain excitement and sense of anticipation and wonder in '80s pop culture that cannot be replicated today. Stranger Things has done an amazing job at portraying real life in small towns at that time – its main appeal for me is the '80s decor and soundtrack. The lack of phones and connectivity had a lot to do with fantastic childhood memories of the '80s. The music scene and the emergence of cable TV then combined for an intoxicating mix of entertainment and discovery.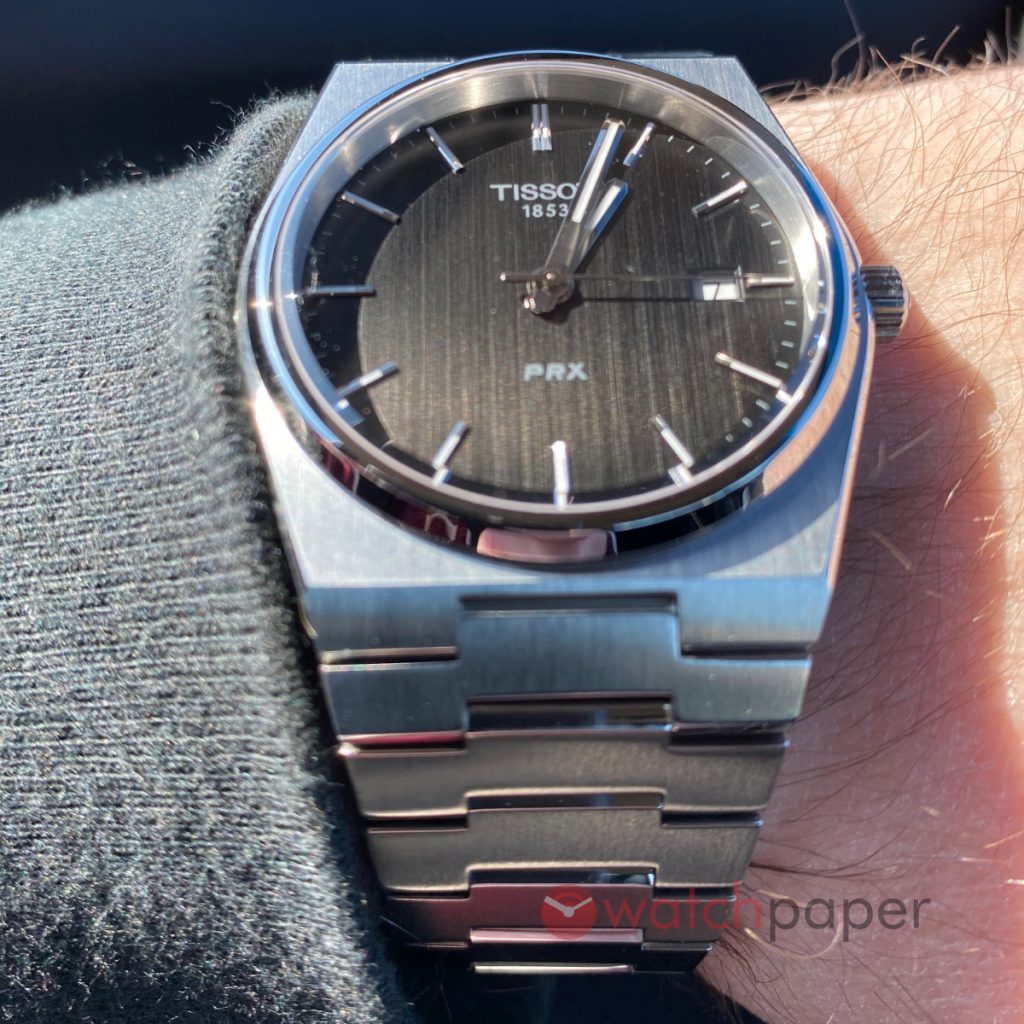 The Tissot PRX is a reminder of the fantastic 1980s because it is something that men would have worn at that time. Its shape and style are evocative of that whole late-70s-to-early-80 era. Last fall, when Hublot launched a 40th anniversary watch, it was the first time I can recall a retro tribute watch paying homage to the 1980s. I loved the concept. Then, Tissot goes back to 1978 – it was like they had me in mind all along. The PRX is an example of a watch having a massive appeal due to its vibe and character rather than any expensive materials or complex movement.
The PRX box would suggest a level of luxury way beyond $475. It is a superb design, complete with a removable cushion and pouch for travel. Tissot deserves applause for their box design, which reminds you that a $475 watch is still a luxury product.
Ignoring the '80s vibes, the PRX is gorgeous and comfortable on the wrist. It is absolutely versatile leaning on the dressy side. The quartz movement's power source has a 3-year battery life, so you can just set it and forget until daylight savings time. And how about the movement? I should mention that an automatic version is due in June with the awesome Powermatic 80 movement and an MSRP of around $900 CAD. This upcoming new model will have a waffle dial and a superb frame around the date window. It will offer an incredible value for the price.
But to me, an automatic PRX misses the point completely. A mechanical movement makes no sense in a PRX. I love my Longines Legend Diver. And you all know how much I love my Longines V.H.P. So why not put a VHP quartz engine inside a Legend Diver? An LLD-VHP would cost less, be more practical, be more precise and have more features. Why not do that? Why? Because that would make no sense at all and would not, in any way, fit with the character of the Legend Diver. Who wants to see a ticking seconds hand on the most iconic retro diver? The Legend Diver is all about the romance and nostalgia of the 1960's- before quartz and video games. The Tissot PRX, meanwhile, was born in an era of Atari, the new wave of British heavy metal, home videos and battery-powered watches. This is the whole character and DNA of the PRX. Once you apply a mechanical movement to this watch, you remove its charm…and its soul.
I have been wearing my PRX for about 3 months and it has been my most worn watch during that time. I can safely say that you get MORE than your money's worth with a PRX. I cannot think of a better watch, or watch-related purchase, for under 500 bucks. The PRX might actually be my "best" purchase ever. At this price, expectations are low and post-purchase guilt is minimal. So you can fully enjoy the watch and not lose sleep over it. The Tissot PRX ranks among TimeCaptain's favourite ever-new toys.
The quartz PRX is offered with three choices of dial colours – blue, black or white with gold-coloured hands. Each one has a gorgeous sapphire crystal and 100m of water resistance. I suggest you start choosing your favourite model. As always, the fun is in the search…
Yours truly,
TimeCaptain