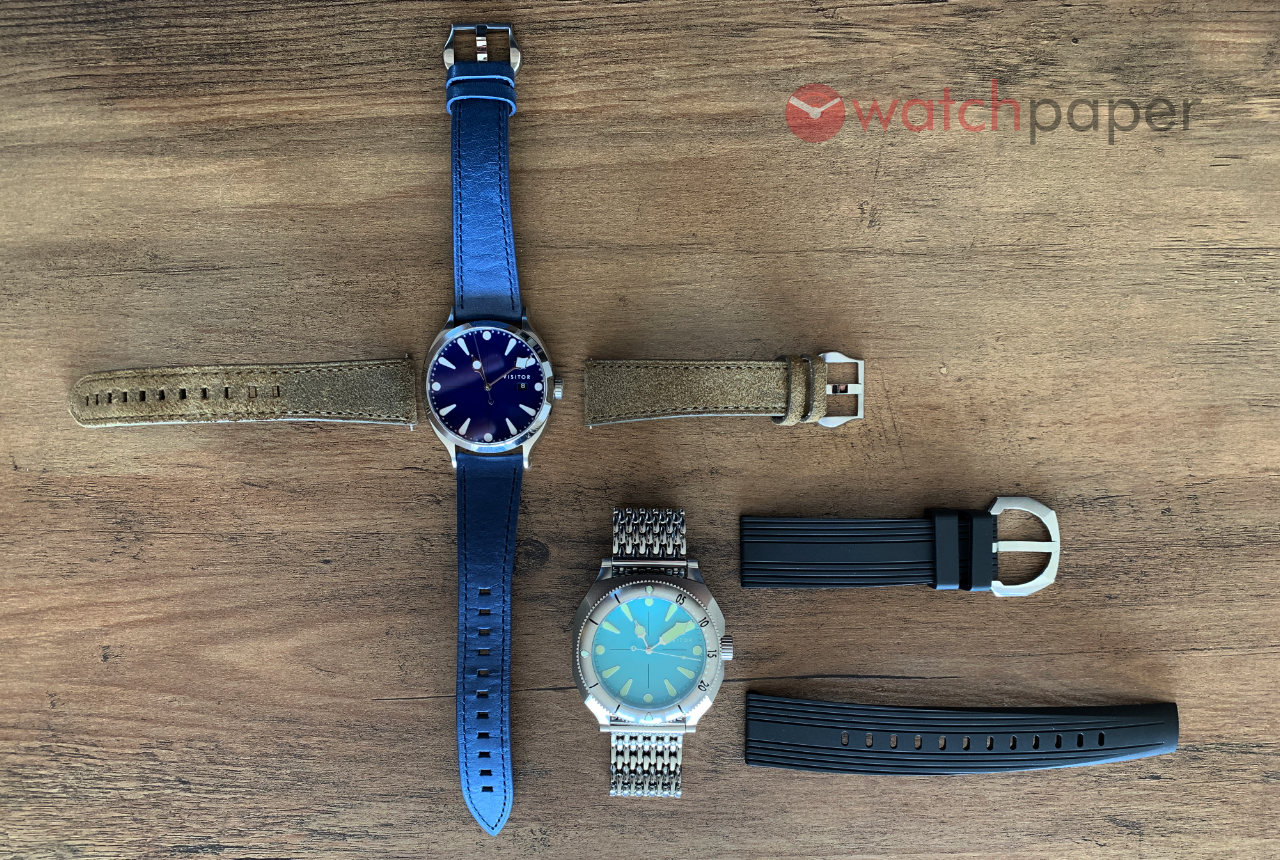 Visitor Duneshore Shallows and Linden Double Review
Unless you are a complete newcomer to the world of microbrand watches, Visitor Watch Co and its founder, Phil Rodenbeck, won't need an introduction. I still remember when I first came across the first Visitor Watch crowdfunding campaign on Kickstarter, back in 2014, around the same time I started following more seriously the microbrand phenomenon. Phil's debut collection, the Calligraph Duneshore was an eye-opener for me, it was in a league of its own, completely different from anything other microbrands would offer and I would argue that at that price point it was knock off the socks on major luxury brands too. It was a risky bet because the design required almost everything to be custom-built, a very expensive experiment for a new brand. Fortunately, the campaign was a hit and Visitor Watch became an instant legend. I did a Q&A with Phil, just as he launched his Kickstarter, you can read it here, it will bring you back to the early days of Visitor Watch Co.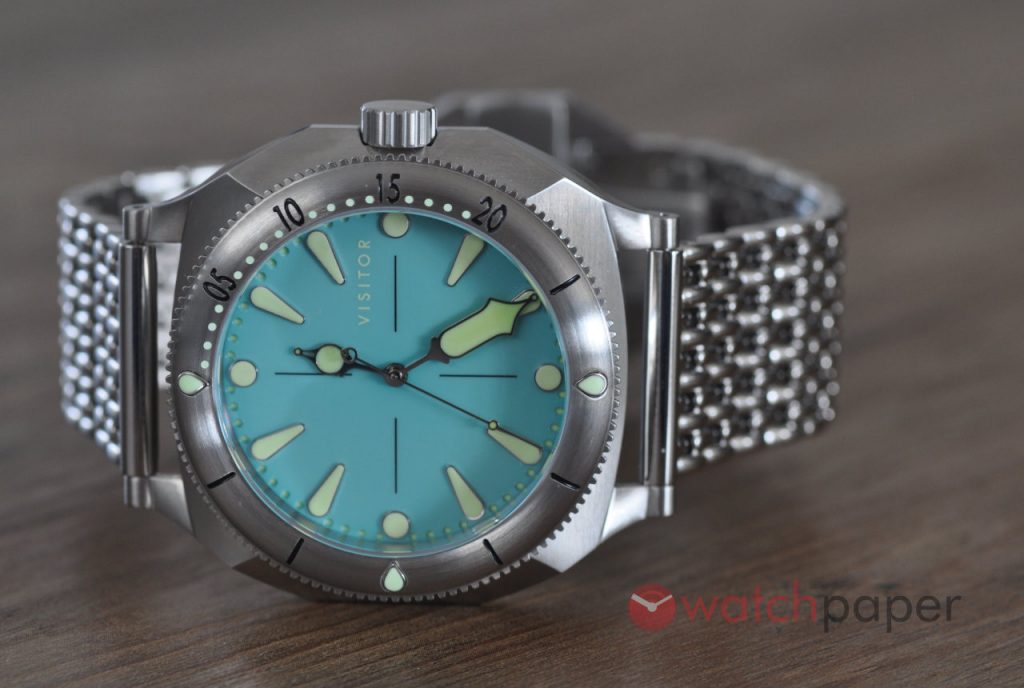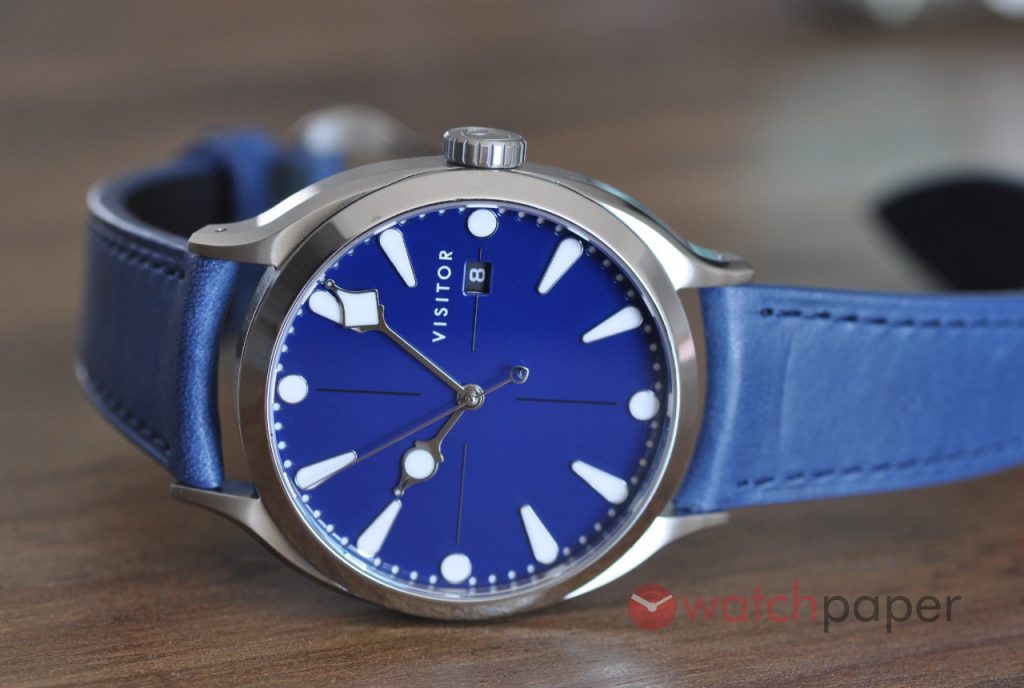 Despite my admiration for Visitor Watch Co, it is only now that I can finally get my hands on, not one, but two recent models, the Linden Larkspur and the Duneshore Shallows Seal-Teal on a bracelet. You can imagine my excitement when I received them, I could finally experience first-hand and enjoy up-close all the details of these two extraordinary watches.
As the days passed, and I kept switching between the two, sometimes even wearing both at the same time, one on each of my wrists, a realization hit me. I think that I know why I like Visitor watches so much, they remind me of baroque art and I am a huge fan of the Baroque period: music, painting, architecture, even fashion, there was something extraordinary going on in Europe at that time. There were (and probably there will be) many failed attempts to bring baroque elements to wristwatches, some from prestigious houses, like Bulgary, others from lesser-known brands, but in my opinion, they all fail and they end up with overly decorated monsters that are painful to look at. They fail because they try to force the design of the watch 300 years back in time, instead of bringing the spirit of Baroque and infuse it in a contemporary design. 
I'm afraid Phil will not agree with my finding, in the Q&A, when I asked him which artist had an influence on his work, he mentioned Shostakovich, "a master at the almost covert communication of powerful themes". This covert communication continues to be the key to the success of every Visitor design and one model after another, Visitor continues to surprises with new models that use this strong visual identity for different categories of watches, like the dressy Linden or the Duneshore Shallows diver's watch.
I won't talk about the specs, you can have them on the official Linden and Duneshore Shallows pages, I would rather focus on the experience of wearing them.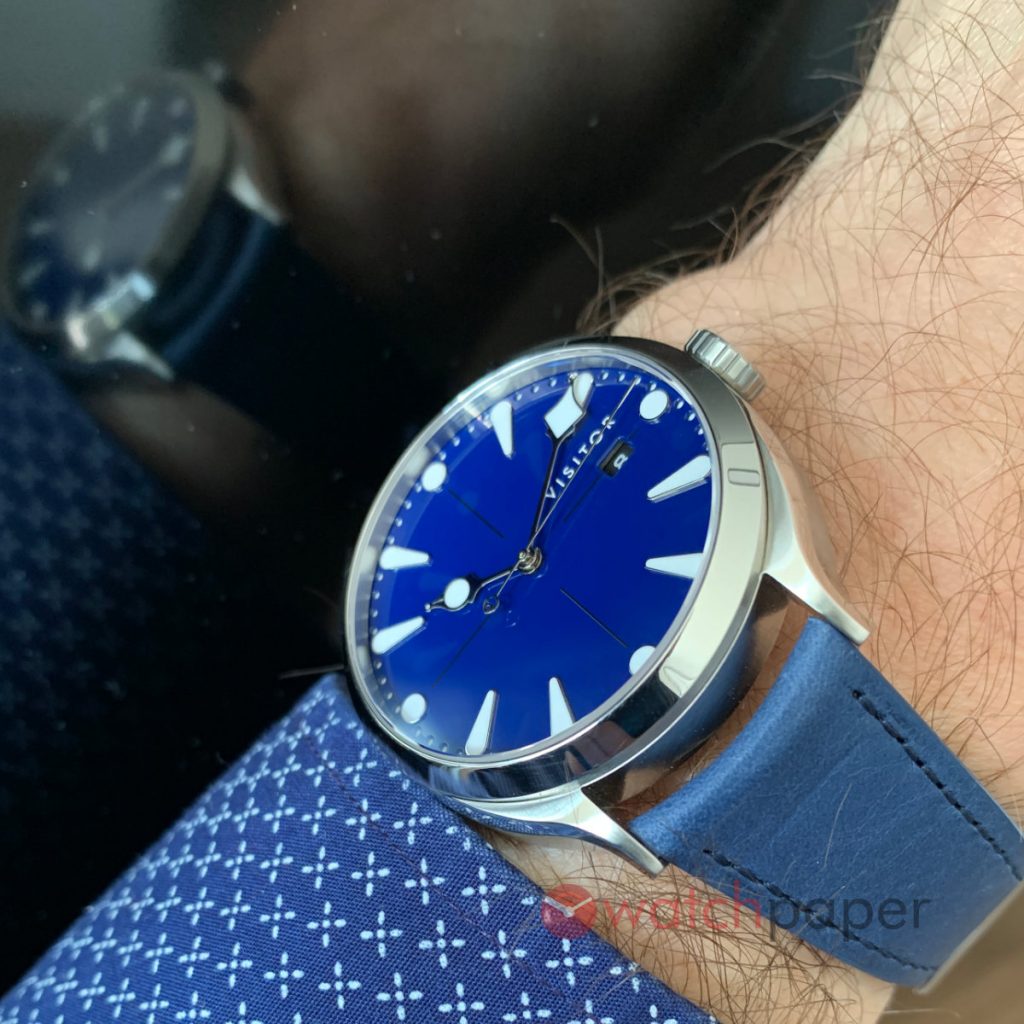 Out of the two, of course, the Duneshore is the one that people will notice first because of its visibly unique case design. Most of the case has brushed surfaces, except the central part, which is polished, bringing stunning reflections of the bezel or the bracelet. The Linden, on the other hand, will require a closer look in order to unveil its sophisticated elegance. Here too, the treatment of the case surface is well thought out in order to highlight its delicate lines. I could imagine the Linden crafted in gold too because I have the feeling of handling a high-end luxury watch and not a $600 microbrand. Not just the design but its size too (39 mm) will offer great comfort on the wrist and can easily be worn with a shirt. Now, the Duneshore Shallows is different, this is a tool watch, that happens to be extremely elegant, but it is a massive piece (44 mm and 14 mm thick) and despite its curved back it was too big for my wrist. Fortunately, I'm not the norm when it comes to wrist sizes and there are plenty of you who can easily wear a heftier piece. Lucky you… I'm looking at the Duneshore and I wonder how it would look in a smaller format and I think, no, this is the perfect size for this design.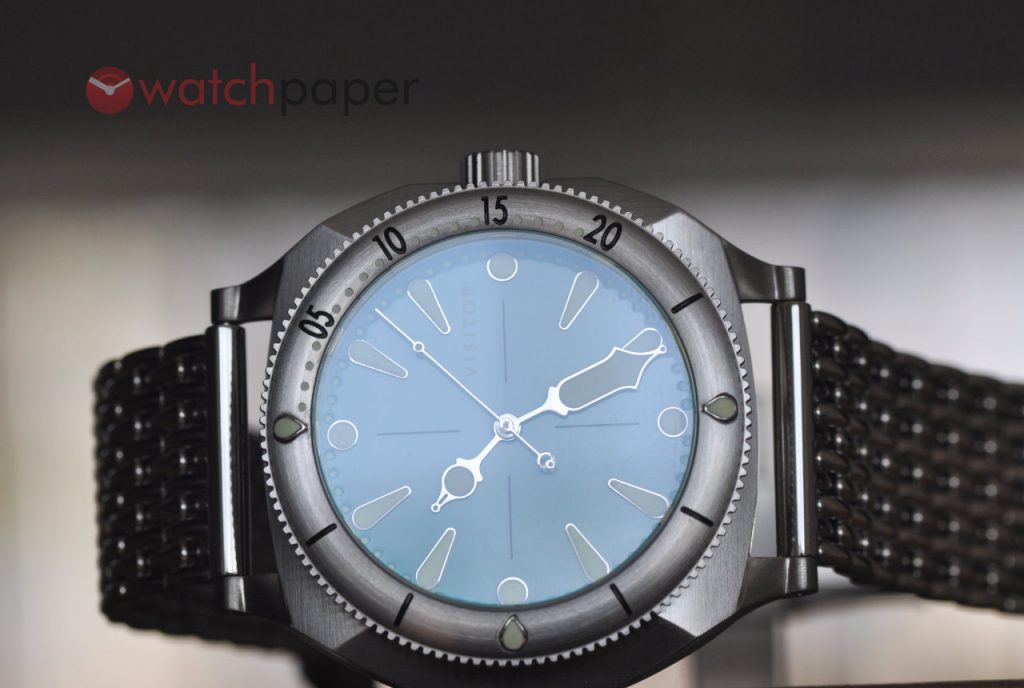 Before I would move on, it is worth taking a closer look at the curved bezel of the Duneshore. It is the first tool watch by Visitor and as such, it fits perfectly in the overall Visitor style. It not only good looking, but it also offers a firm grip, proof that great design is not only beautiful but practical too.
When it comes to the dials, they share the unique Visitor style that you won't find at any other brand: the pen nib hands, the shape of the indices and the crosshair, combined with the elegant blue or the fashionable light teal. Please note the difference between the minute hands, with the Duneshore receiving a more visible shape filled with a generous amount of lume. Speaking of lume, it's not only the indices and hands that are coated with it, the brand name and even the date too, are printed with it.
I still remember how impressed I was by the case back of the debut model of Visitor. While many microbrands were releasing watches with plain vanilla rotors or they just printed their name on them, Visitor went the extra length to come with a custom-designed rotor. I'm really happy now to see it up close on the Linden, while the Duneshore Shallows continues another interesting feature inherited from the first Duneshore, the curved back, designed to embrace your wrist.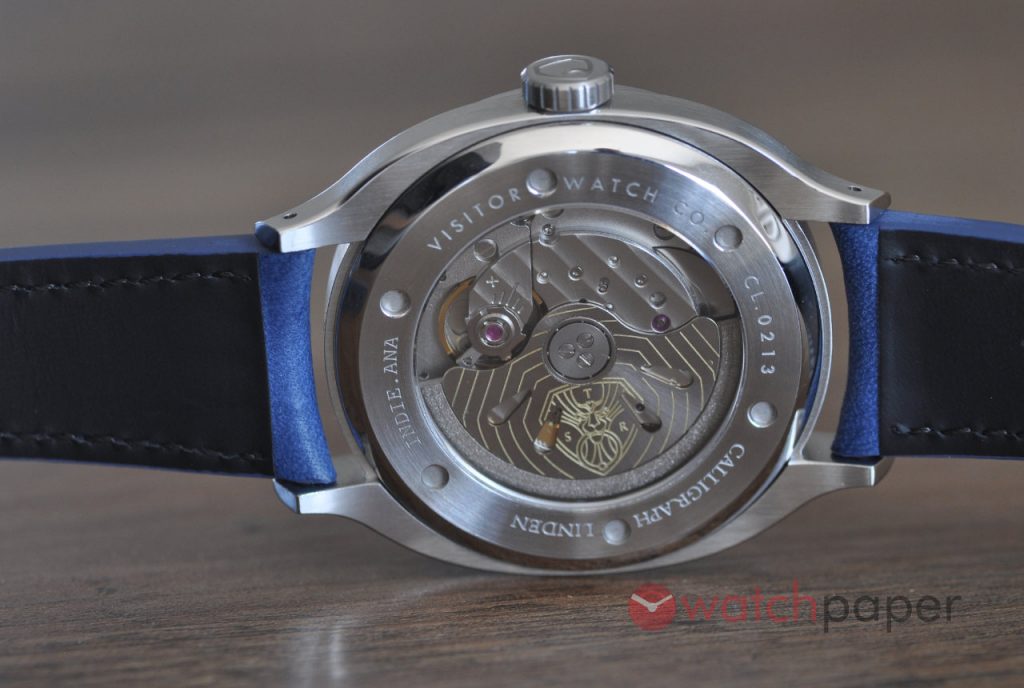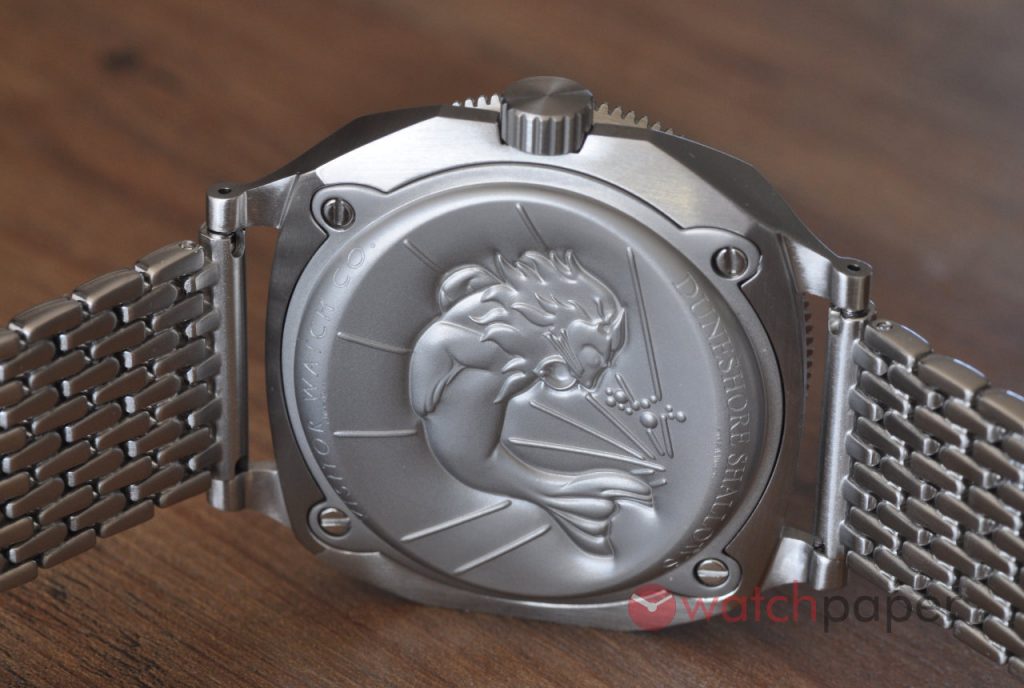 The Linden is matched with a leather strap and a custom buckle, and when I say custom, again, it's not just an off-the-shelf buckle with a name on it, but with an original design in harmony with the rest of the watch.
The Duneshore Shallows offers the possibility to go with an NBR strap or… a mesh and beads-of-rice bracelet designed for the Duneshore, equipped with a gorgeous butterfly clasp. 
Back in 2014, in my Q&A with Phil, I wrote that the Calligraph Duneshore is a piece I would have loved to design. More than six years later, I can say the same both about the Linden and the Duneshore Shallow, two watches dreamed up by an artist blessed with creative genius.
When it first launched on Kickstarter, Visitor Watch Co. it was among the first microbrands that would contradict the naysayers, the snobs that would not miss an occasion to trash micros. While doing this, it also raised the bar for other microbrands and it continues to demonstrate that finding a personal style, being unique and not trying to be someone else is the proper way to build a brand.
As for serious watch collectors and aficionados, I think having at least one Visitor model in your collection is an inevitable move. Depending on your style and preference, here are two models that serve different purposes, a dress watch and diver, yet, both are representative models of Visitor Watch Co.
For more, visit https://www.visitorwatchco.com/