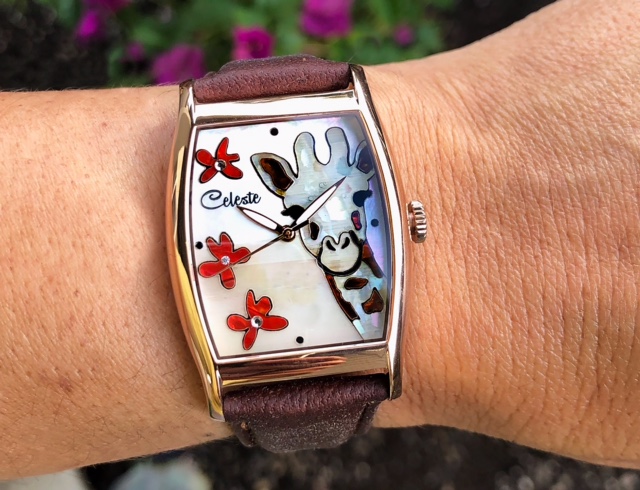 Introducing Celeste Watch Company
The best part of WatchPaper has always been meeting many fascinating people in the watch industry. The pandemic has not been a pleasant or positive aspect of our lives, but it has accelerated our use of video conferencing tools. And through this medium, we had the pleasure of meeting Celeste Wong, of the Celeste Watch Company.
Like most people we have met in the watch world, Celeste is anything but typical. Born to Hawaiian parents, Celeste is driven by a love for the ocean. She has always been infatuated by watches and a childhood photo shows Celeste wearing a watch at the age of just 4. Celeste has a degree in biomedical engineering- Adam will point out that this is perfect for working on tiny watch parts!! Celeste, who lives in Oregon and enjoys the outdoors, had considered the prestigious Rolex watchmaking school in Seattle. The very technical focus of the school, however, left Celeste wanting more. She recalls seeing the Lady Rotor by Laurent Ferrier and feeling that a watch dial is a piece of art that could become anything she wanted. Celeste attended a class at the AWCI (American Watchmakers and Clockmakers Institute) to learn about mechanical watches and she is now passionate about incorporating art into her watches.
The Celeste Watch Company began in 2013 – the same year that I joined WatchPaper! Celeste's first watch dial, made of wood, took two years to develop and solve for technical issues. Up until COVID changed her marketing plan, Celeste travelled to fine art festivals to sell her watches- the established watch festivals were not very welcoming to the quartz movements powering the art-focused watches. Today, because so many people have requested an automatic movement to power her beautiful art-design timepieces, Celeste is preparing to launch her first mechanical watches. These new timepieces will feature Swiss STP automatic movements.
Nevertheless, the art dials remain the highlight of the Celeste Watch Company. A special printer even allowed Celeste to offer COVID-special "pet watches" where you could have your pet's image on the dial of your watch. Yes, Celeste is a dog lover herself. Other art dials are made from scrap sea shells sourced on the east coast of the USA. I did say that Celeste was anything but typical, right? Her company can also accommodate limited-run orders of watches with special art designs.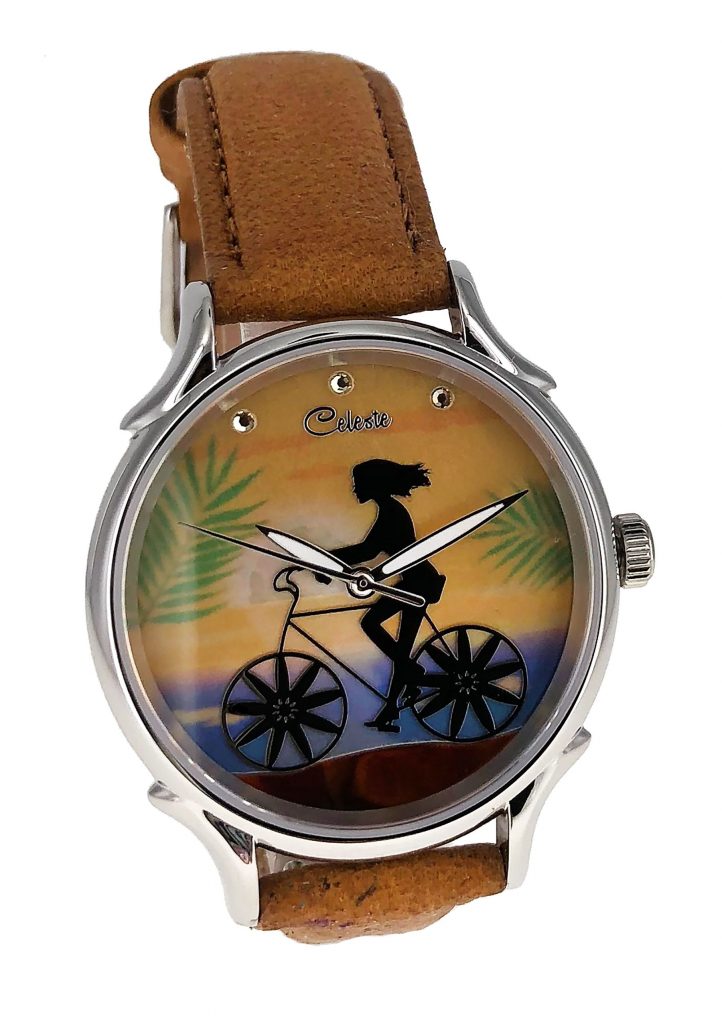 One of the interesting things about the Celeste Watch Company, which is focused more on women's watches, is that the designs are not merely scaled-down mens' watches. The art dials look and feel feminine, which is what many women (such as my wife) are really searching for. While the new automatic models will appeal to the sense of prestige for some, I would look at the quartz models. If your watch has a special story, reflected in the art dial, all you need is the practicality of a quartz engine to keep it ready to wear at all times.
Some of Celeste's designs are playful, such as the pirate or open road. Some designs are nature-inspired and some are made for my own household, such as the Wine Time! They all offer something unique and original. Don't we all need some originality once in a while?……