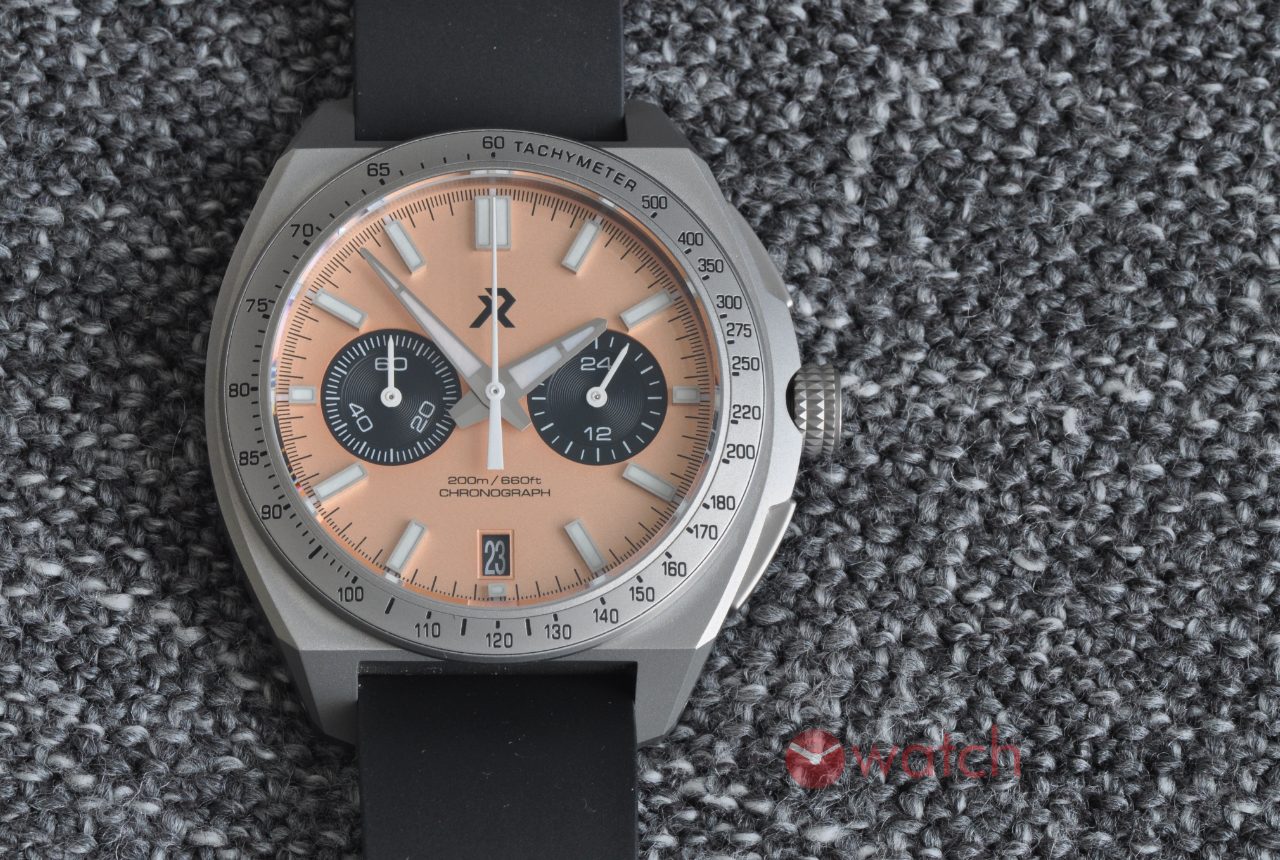 RZE Valour Titanium Meca-Quartz Chronograph Hands-on Review
Less than a year ago, RZE (Reise at the time) debuted with the Resolute. It was a massive success on Kickstarter, not surprising, given its great looks and impressive specs. A few months later, Travis Tan, the founder and designer, surprised everyone with the Endeavour, a modern diver watch, and now I get to write about a new chronograph, the Valour. Dreaming up, designing and producing this many models in such a short time is quite an accomplishment from a young brand. While RZE is a new watch microbrand, Travis is not a newcomer to this business; he has several years of experience designing watches. When it comes to his RZE models, he is finetuning and adapting the design from the Resolute to other models. It sounds easy, but to do this, he developed a strong visual identity that works amazingly well for different models. You don't need to see the logo on the dial; if you are familiar with an RZE watch, you will recognize the other models from far away. The same can be said about the Valour chronograph too.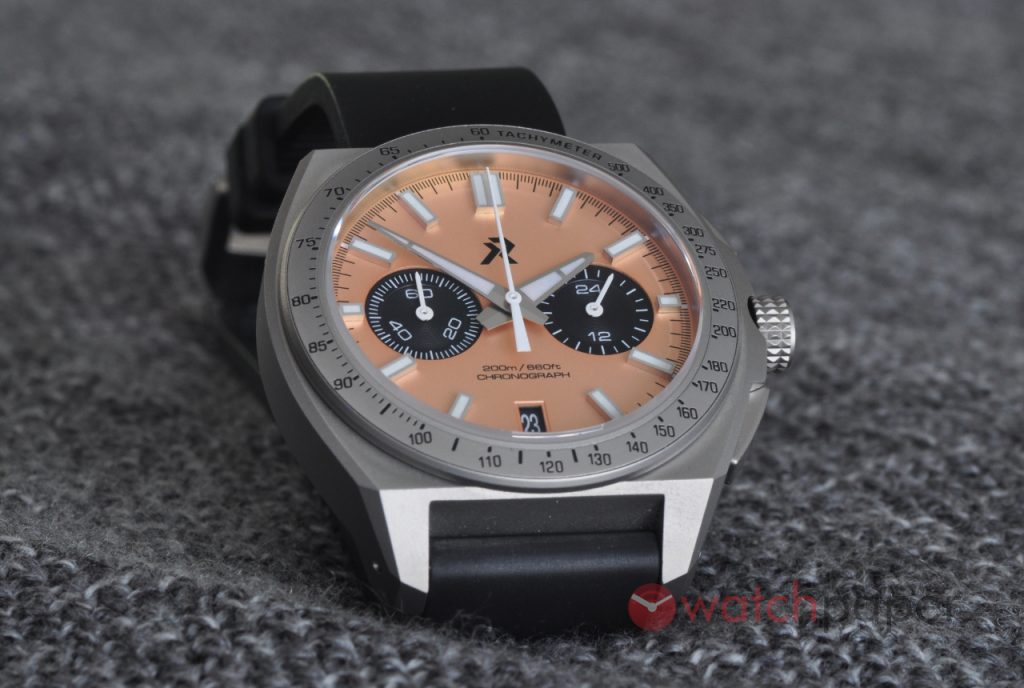 His source of inspiration was the Italian wedge cars of the 1970s and 80s. Indeed, the Valour case does remind of a Lamborghini Countach or a Fiat X1/9 to compare it to something more affordable. Low profile, aerodynamic, sharp angles, finding these features on a watch is really cool, and while I understand where the design comes from, I find the RZE valour a modern chronograph rather than a vintage-inspired watch. It is not a neo-vintage watch copying a famous model from the past, a historic design trend inspired it, and in the end, this is a watch that looks fresh and modern.
The case of the Valour is more minimal compared to the many angles of the Resolute and the Endeavour, leaving the focus on the ingenious way of seamlessly incorporating the pushers. Achieving this was quite challenging from a manufacturing perspective, as the slightest misalignment would immediately be visible. As you can see from the pictures, everything is sharp and perfectly aligned.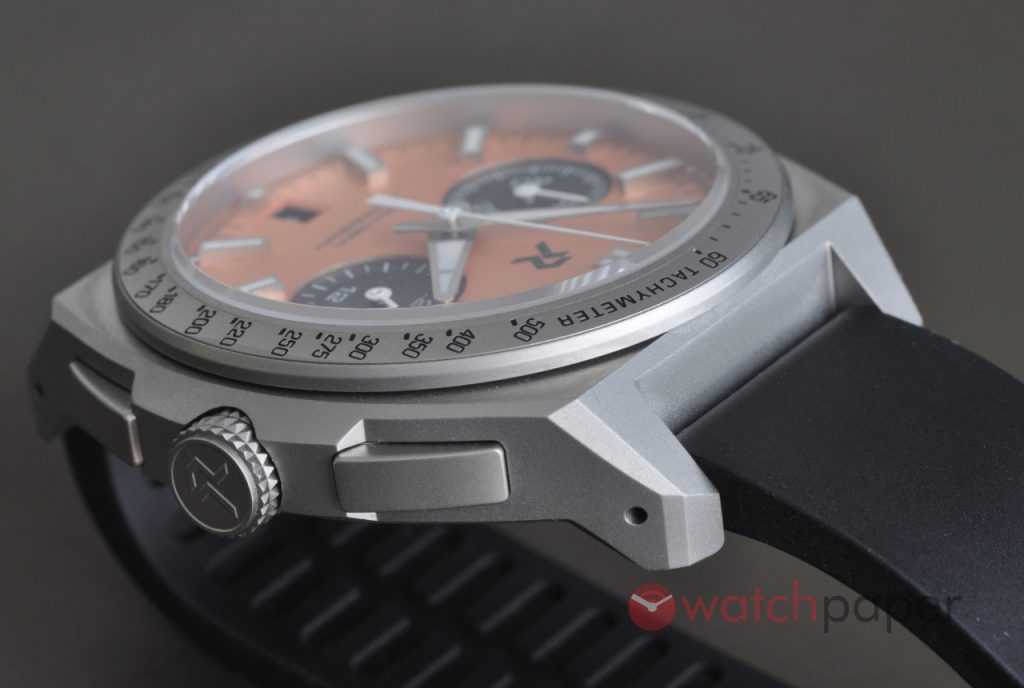 The design of the Valour case got my attention, but besides the design, there is something unique about this chronograph. It is the only meca-quartz chronograph with a titanium body on the market! I was quite surprised to read it in the RZE press release, and with all the digging, I could only find some IWC and Porsche Design by IWC models from around 1999-2000, but there is nothing currently produced, plus the RZE Valour, will cost you a lot less than these prestige brand quartz watches. 
Both the case and buckle of the Valour are protected against scratches with UltraHex coating; a protective coating of some sort is a must-have on a titanium watch.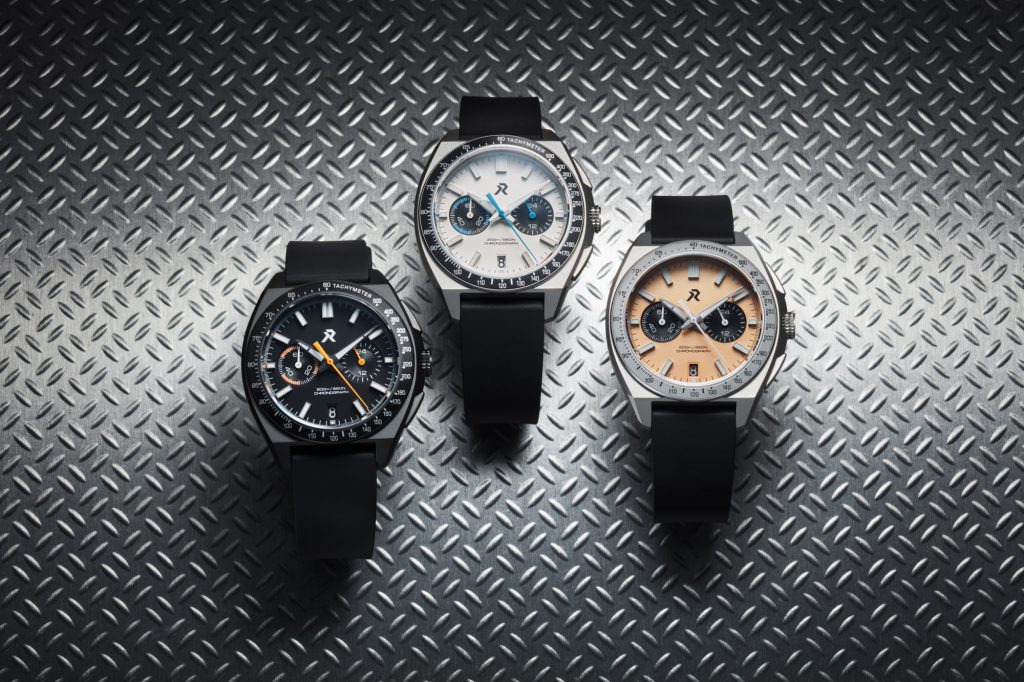 The Valour comes in three flavours; besides the Vintage Salmon from this review, there is a white panda with black bezel and blue accents, the Crusader White, and an all-black model with orange and white accents, the GT Black. They all look stunning; I would be curious which one do you prefer; please let me know in the comment section.
The salmon dial has a beautiful metallic mat finish, which reminds me of a sheet of mat copper, which combined with the mat titanium case creates a very refined combination. The dial has a lot of depth; the lume-filled indexes rise pretty high, while the black subdials sink below. The result is a highly readable dial, an absolute eye candy. 
The Valour is equipped with a black FKM rubber strap, which is very soft but very resistant rubber for those unfamiliar with this material. It comes with quick-release spring bars; if you want to spice things up, switching straps will be easy. 
The RZE Valour is quite a watch — scratch-resistant and light-weight titanium case, combined with a meca-quartz movement that will bring you the accuracy and convenience of quartz watches, with the stopwatch feel of a mechanical chronograph, and an original design, all this for US$369! At this price, it is a no-brainer. A great watch for weekdays in the office, the perfect watch for casual weekends, and thanks to its 200m water resistance, it is the ideal watch to take on vacation.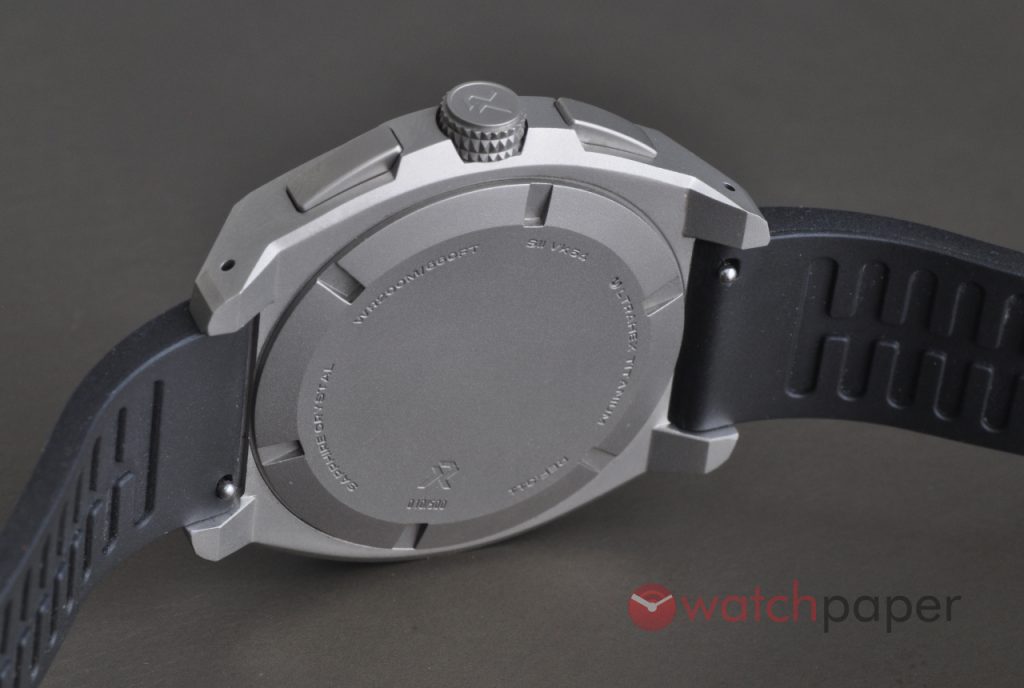 RZE is a new microbrand, but in less than a year, it became a highly respected watch brand, and if Travis and his team will continue on this track, the sky is the limit (pun intended as Travis is also a commercial airline pilot).
The RZE Valour will be available to order at the end of July on rzewatches.com. In the meantime, make sure to sign up for the newsletter; you will receive an exclusive early-bird discount.
RZE Valour Technical Specifications
Case: Grade 2 Titanium with UltraHexTM Coating (up to ~1200Hv hardness)
Case Size: 42mm
Case Thickness: 12.5mm
Lug size: 20mm
Lug to lug: 49mm
Movement: SII VK64 Meca-quartz Movement
Water Resistance: 200m (660ft) / 20ATM
Crown: Screw-down crown with reverse engraved logo
Dial: Multi-layered dial with oversized applied indexes filled with Swiss Superluminova. Subdials with CD-Track texture.
Hands: Custom-shaped hands with Swiss Superluminova
Lens: Sapphire crystal with inner-side Super-AR
Strap: FKM Rubber strap with quick-release buckle and Grade 2 Titanium buckle with UltraHexTM Coating
Case Back: Screw-down solid titanium caseback
Price: US$369