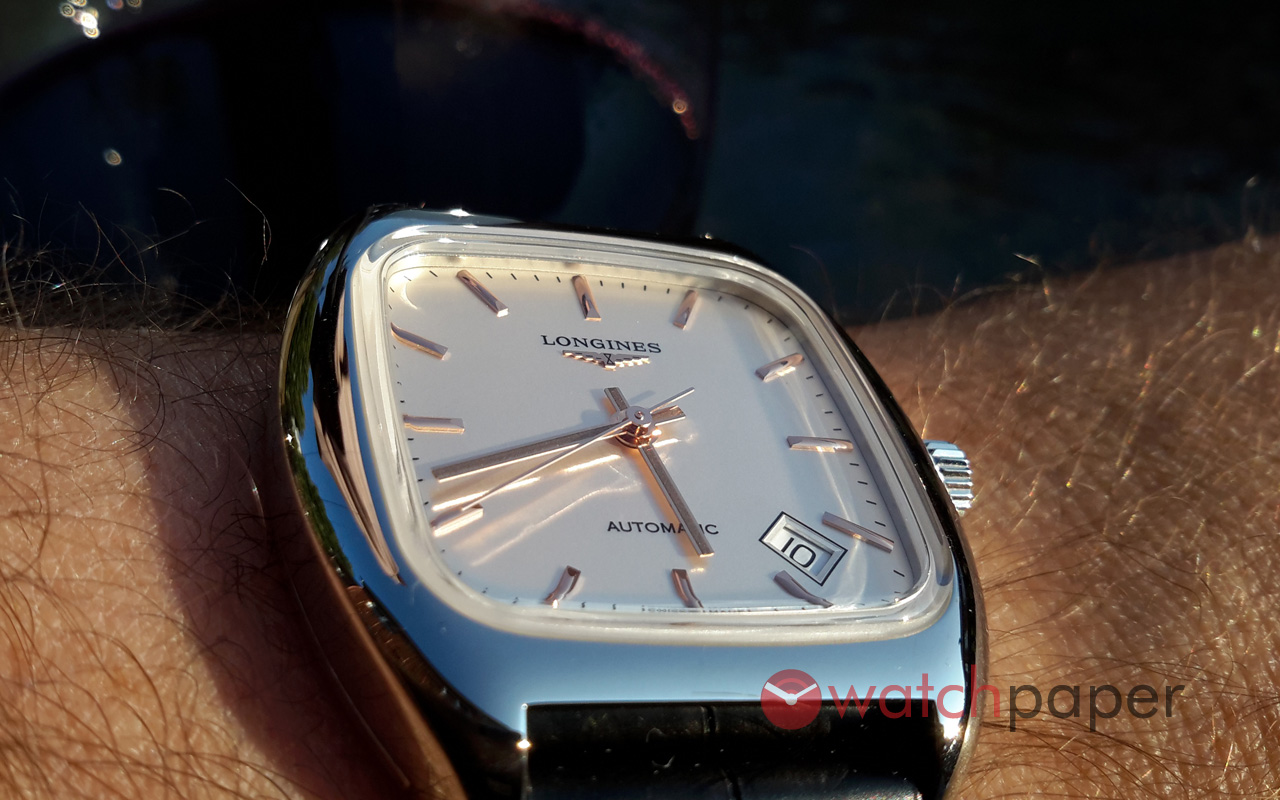 Buying your first Longines
I could, and probably should write an entire blog about why you would choose Longines in the first place.  You can learn a lot about Longines by analyzing their winged hourglass logo, for example.  This is said to be the world's oldest patented logo and it is a huge part of the Longines cool factor.  But let's assume that you have already decided to add a Longines to your arsenal.  Where do you start?  Let's figure this out together.
For me, Longines is all about two extremes. At one end, Longines has its Heritage watches. These are gorgeous tributes to various Longines of yesteryear. These are typically well-priced and super cool timepieces that provide real mechanical timekeeping experiences.
At the other end, Longines offers state-of-the-art quartz technology in sporty and contemporary packages with its V.H.P. Lineup.
And I think your first Longines should come from one of these two extremes.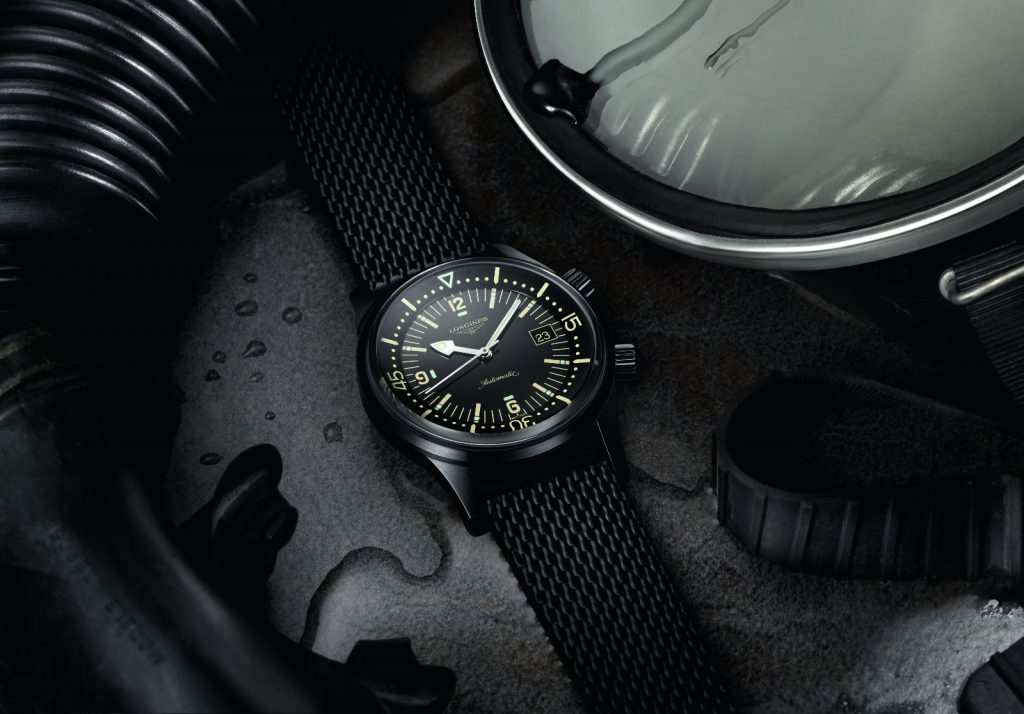 If you are looking for a purely mechanical movement, then we will focus on the Heritage watches.  This collection includes the dressy Heritage 1969 and the retro-sporty Big Eye chronograph.  But if you want the most iconic mechanical Longines ever, go for the Legend Diver.  Launched in 2007, this 300m diver is a close reproduction or homage to the original diving watch from the 1960s.  The Legend Diver uses a modern movement and is now available in black case as well as 36mm versions.  The Legend Diver has a cult following and is just a great, versatile, ultra-cool timepiece.  Whether on a strap or the new mesh bracelet, the Legend Diver offers unparalleled hipness at an attractive $3000-ish price.  The Legend Diver is THE mechanical Longines to own.
Another Heritage watch worth noting is the Big Eye chronograph.  It is not much more expensive than the Legend Diver and it offers a wonderful chronograph with no date.  This is an ultra-stylish retro pilot and could make an awesome addition to any collection.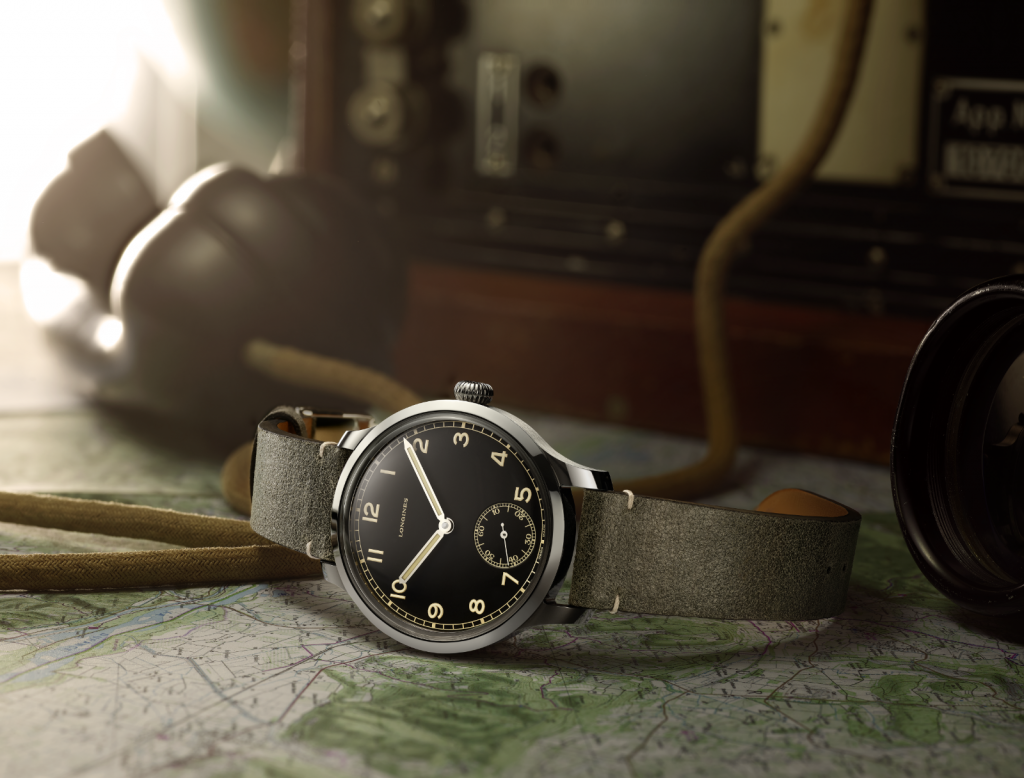 You should also consider the Heritage Military 1938, which can be viewed as an affordable PANERAI substitute.  This watch is inspired by a vintage military watch, albeit in a modern 43mm size.  The Heritage Military is a beauty- and it is powered by a manually wound ETA engine, which is appropriate for such a timepiece.  While it is not a cheap watch, the Heritage Military is a pretty good value at around $3,000.  In fact, all of Longines' Heritage watches offer good value, timeless designs and huge cool factor.
But now, let's look at the other end of the spectrum – the V.H.P.  These watches embrace Longines' tradition of precision timekeeping and technological innovations.  The V.H.P. Watches are powered by Very High Precision quartz movements with perpetual calendars.  Wow!  If you thought quartz was uncool – think again.  The technology and utility are awesome and you can get an entry-level V.H.P. For $1200!  Put THIS model on your list:
This 43mm watch is wonderfully versatile and beautifully made. Its V.H.P. Engine will run within 5 seconds per year and the battery lasts for 5 years. This could be the first Longines for you- it is an incredibly well-priced timepiece for all occasions.
And for about $2100, you can get the chronograph.  All V.H.P. Watches are available in two different sizes and the chronograph comes in either 42mm or 44mm.  The movement is just full of technology and the style is one of the sexiest I have ever seen.  The V.H.P. is a modern, sporty, yet understated timepiece for the urban adventurer.  A V.H.P. Chronograph would be an excellent first Longines as it offers loads of features for a great price.  And it just looks amazing.
I currently own four Longines watches.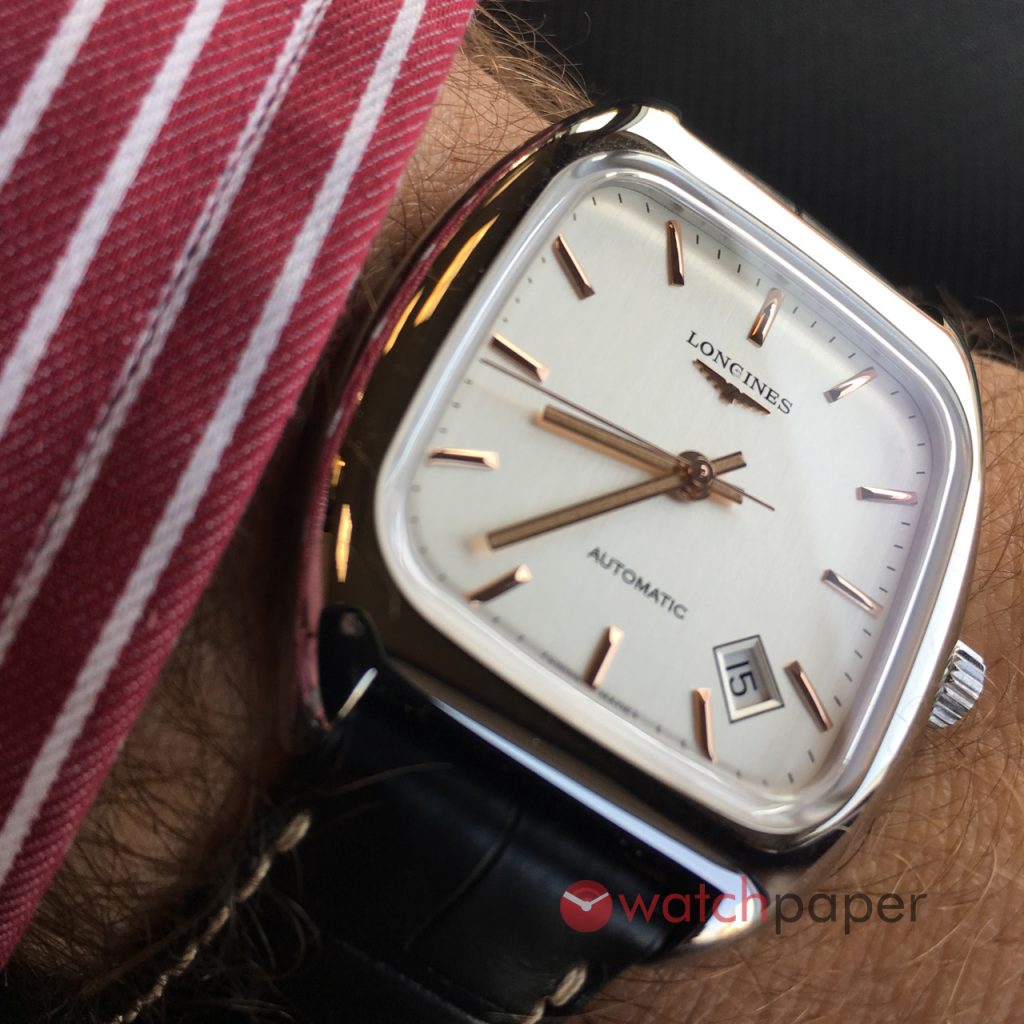 Heritage 1969
I don't wear this one often, but it is an essential piece of my collection as it provides an elegant dress watch.  The style of it makes it stand out as funky and different and the $2,000 price makes it realistic.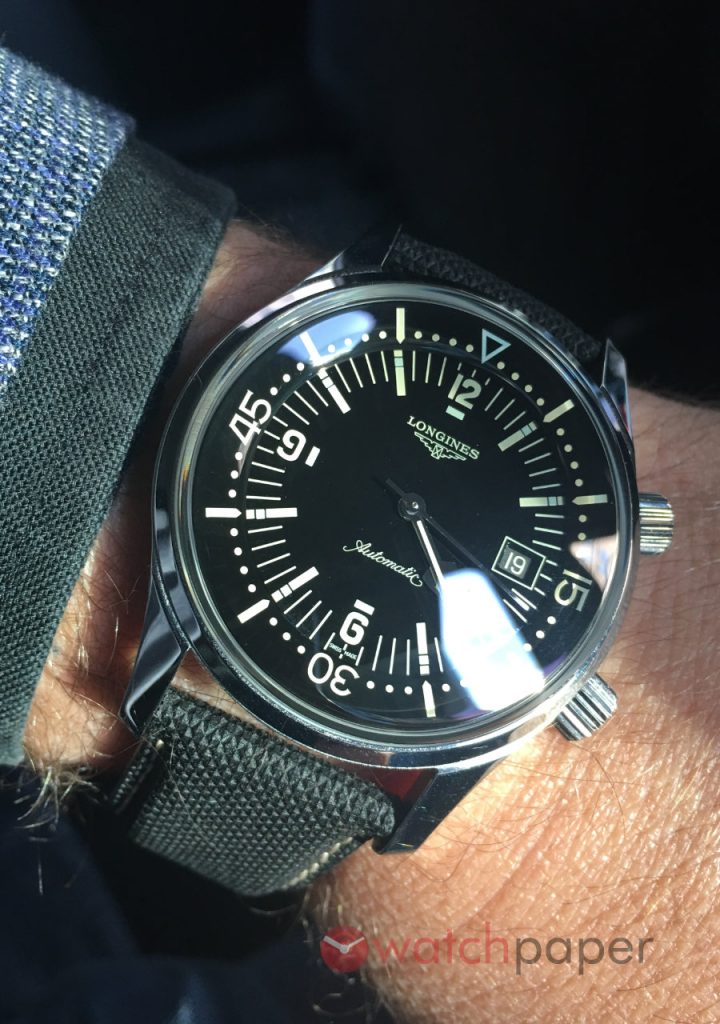 Legend Diver
This is the third Legend Diver I have owned- I had both the date and no-date versions before.  This piece is epic, epic, EPIC.  The Legend Diver ranks among my most favourite watches ever, regardless of price.  It is just elegant, sporty, beautiful, retro, cool…… THIS is one masterpiece.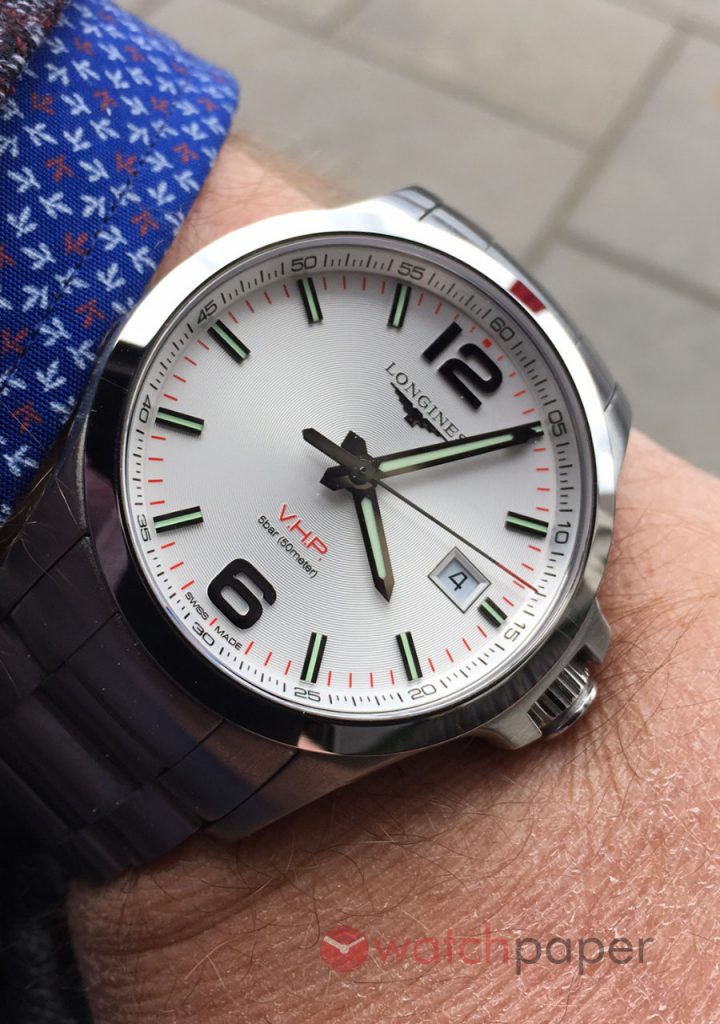 V.H.P. 43mm
Of all of the V.H.P. Models, this might be the most attractive.  The white dial looks almost silver and makes the watch so versatile- perfect size, gorgeous style, great bracelet….. for a bit more than a grand, this is a no brainer.  The movement is brilliant and the watch itself is magnificent.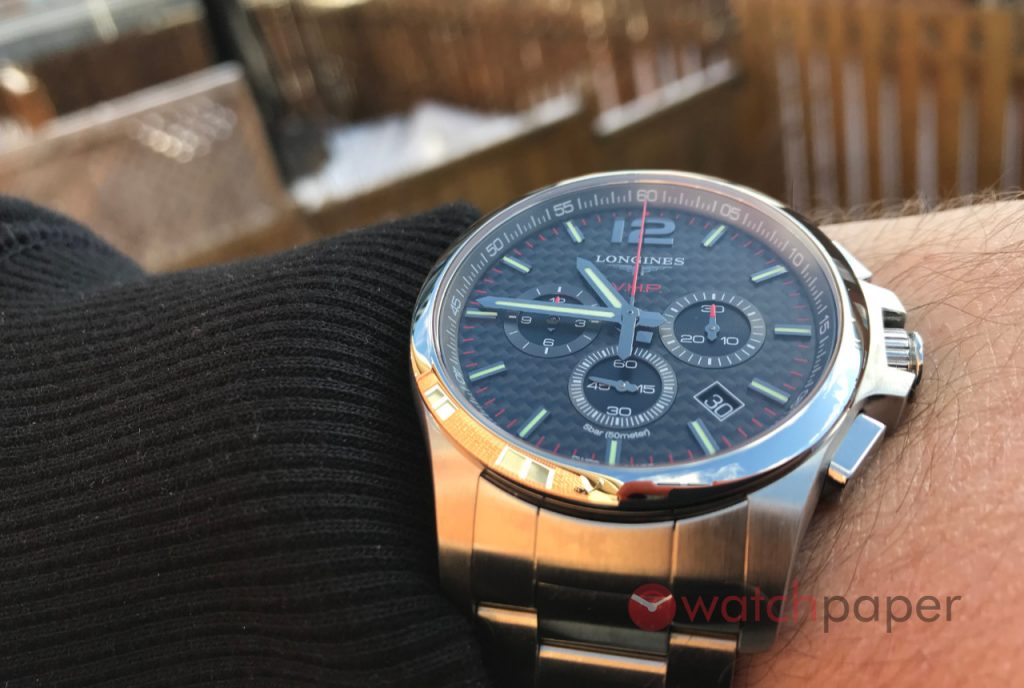 V.H.P. 44mm chronograph, carbon fibre dial
This watch is really my ultimate timepiece- perpetual calendar, chronograph and ultra-precision.  The style fits my love of racing watches.  This watch was a real treat for me.  This is my power piece- this is what I wear when I need the full technological abilities of the famous Longines house.
Will it be a Heritage Military 1938 or a V.H.P. Chronograph? For sure, the V.H.P. Models allow into Longines ownership at a low price. And they offer high tech movements that complement your mechanical watches. Meanwhile, the Heritage models offer true luxury watch experiences at quite accessible prices. Whichever Longines you choose as your first, you can get the other one next time! As always, the fun is in the search…
Yours truly,
TimeCaptain