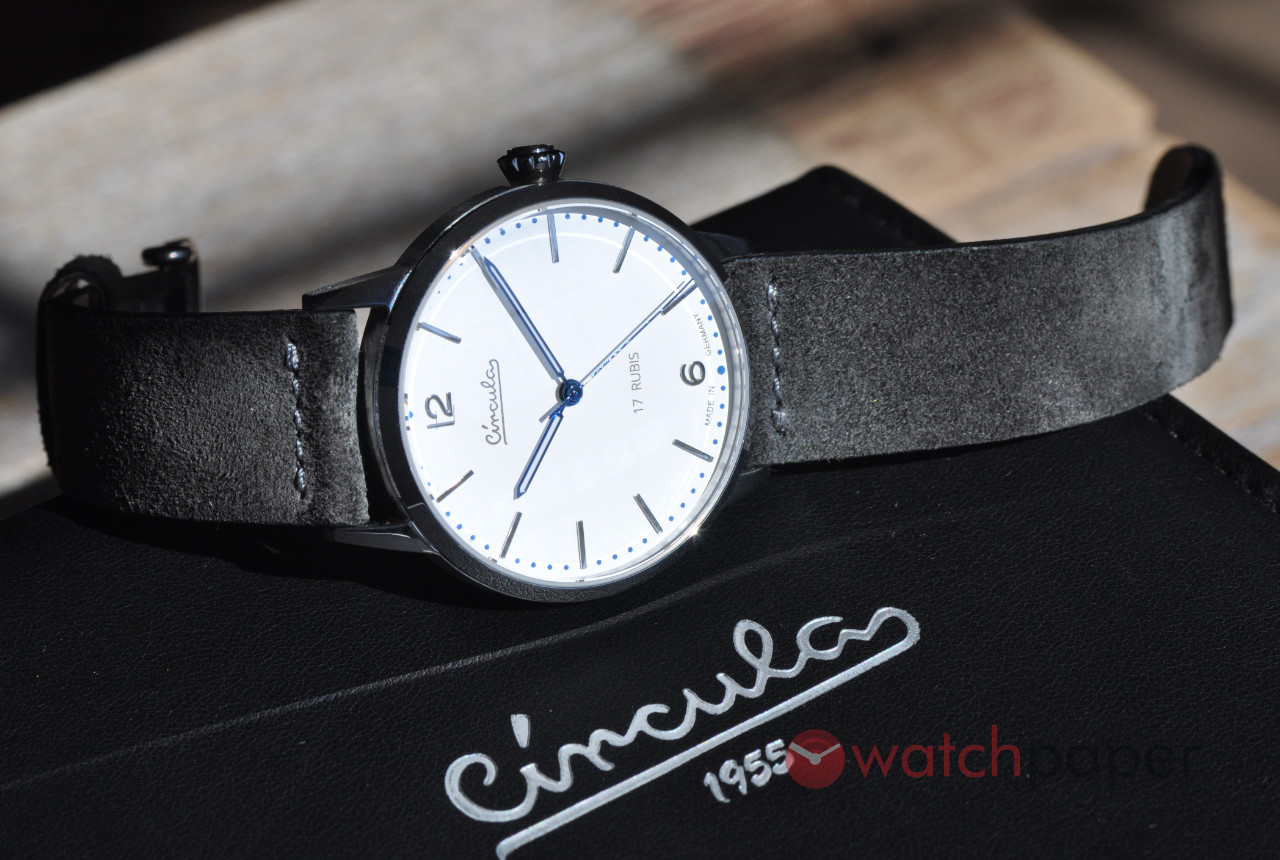 Circula Heritage Hand-Wound Review
I'm really excited to introduce you to a "new" microbrand, Circula, from Pforzheim, Germany. It was new to me, but this is not a new brand. But before we go into more details, let's start with Pforzheim. 
There two major watchmaking powerhouses in Germany, Glashütte in Saxony, that everyone knows for Adolf Lange & Söhne, Glashütte Original, Nomos, Tutima, etc., and Pforzheim, not far from Stuttgart. Historically, it is interesting that watchmaking was introduced to both of these two German towns as a job creation initiative.
In Pforzheim, it all started in 1767, with the establishment of a watch and jewelry factory at the local orphanage, known as the "Institution for orphans, the mad, the sick, for discipline and work". Watchmaking was soon dropped in favour of jewelry making, we have to wait till early XXth century for watchmaking workshops to pop up in Pforzheim. We have two famous brands that are still around and flourishing, Laco and Stowa and the founder of Laco, Erich Lacher, was also the founder of the movement manufacture, Durowe, that really cemented the reputation of Pforzheim as a watchmaking town.
In 1932, we see the opening of Pforzheimer Uhren-Rohwerke GmbH (P.U.W.), another movement manufacturer. Because of its strategic importance, Pforzheim was destroyed by allied bombers during WWII, but soon after the war, thanks to the Marshal Plan, Pforzheim's watchmaking started flourishing again, until the quartz crisis that brought many mechanical movement makers to their knees.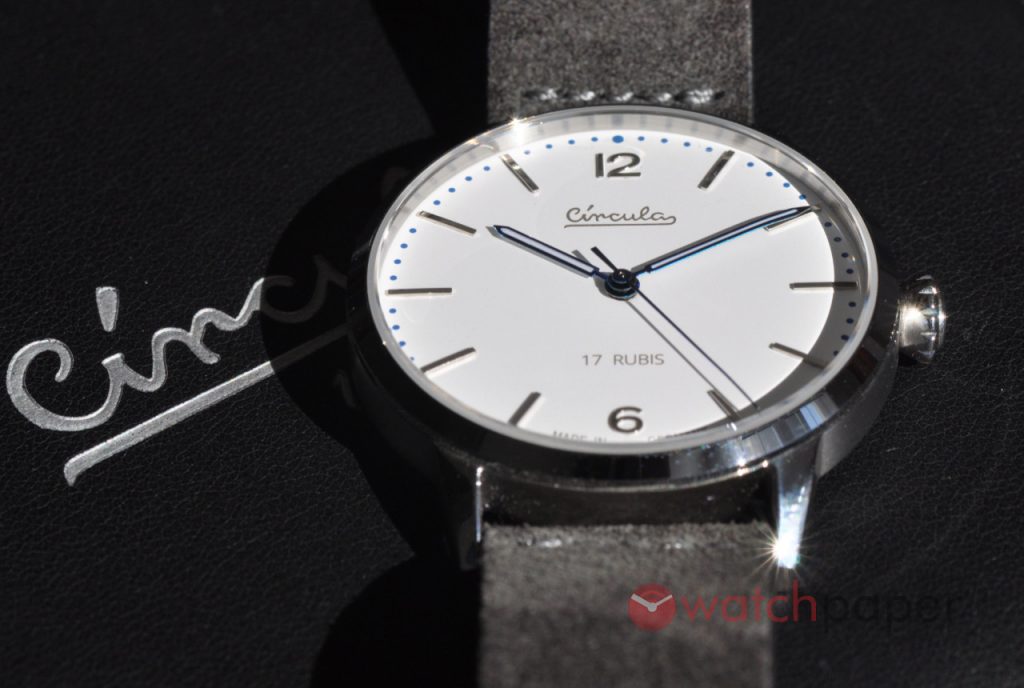 Why all this historic introduction to a microbrand review? Well, Circula was started in 1955 by Heinz Huber, owner of the jewelry and watch wholesaler Huber & Co. in Pforzheim. He wanted not only to sell but also to be involved in the design and manufacture of its watches. Throughout the years, Circula was relying heavily on the local watch industry, as the suppliers got squeezed out during the 80s because of the quartz crisis, Circula too had to go dormant.
These days, the Circula name is revived by Cornelius Huber, Heinz Huber's grandson. He started with a Kickstarter campaign in 2017, offering Swiss-made quartz watches. The campaign was a success and it permitted Circula to expand into automatic and hand-wound models too.
The model I'm reviewing is powered by a new old stock (NOS) P.U.W. 561 hand-wound movement from the 1970s. This makes this Circula even more interesting, as it has a beating heart from the past, a piece of Pforzheim's history inside. Of course, these movements were completely rebuilt by an experienced watchmaker… in Pforzheim. It's not a surprise that this is a limited edition model, of only 499 pieces. I found interesting that it's not just the case back, but also the movement inside bears the number, in this case, 025/499.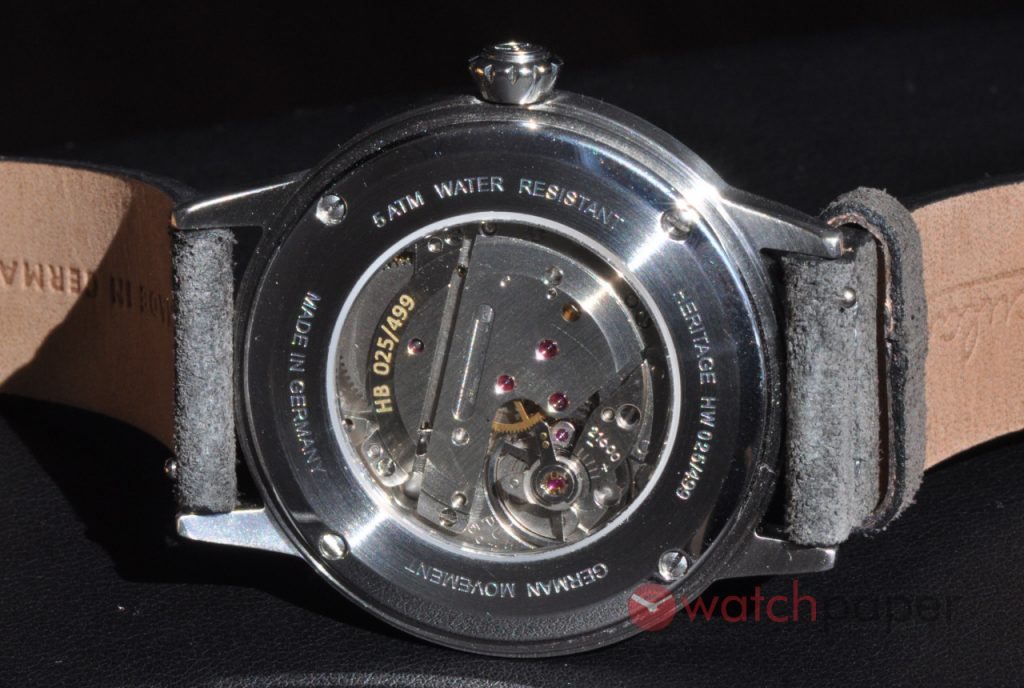 I don't usually start a review with the movement but with the Circula Heritage, I had to make an exception. It's been a long time I did not handle a hand-wound watch, and this Circula just reminded me of my first watches that were all hand-wound. Like a pet asking for attention, or a plant that needs watering, hand-wound watches remind us more than any other watches the passage of time, carpe diem, memento mori.
When it comes to the design, you can't go wrong with the tried-out, functional German aesthetics — beautiful and practical. The stainless steel case has a diameter of 39 mm, with a total height of the watch of less than 10 mm. Absolutely comfortable, works well with a shirt or a t-shirt. The case features both polished and brushed surfaces, adding to the sophistication of the design. The crown is particularly interesting as design and really easy to handle.
Under the slightly domed sapphire crystal, the dial is really elegant in its simplicity. The blue hands are complemented by little blue dots serving as minute markers while the stainless steel indexes and numbers add a little sparkle to the white dial. Text is kept to a minimum, Circula, 17 rubies, Made in Germany.
The grey leather strap complements nicely this neutral looking watch. A lowkey watch reminding me of those quiet people that you meet sometimes at a party, and you only realize how interesting they actually are when you start talking to them. The Circula Heritage has this quality of surprising with little details and secrets that probably only the owner will know, like the origin of the movement, or the shape of the crown.
For fans of German watches and not only, the Circula Heritage is a very interesting choice. The price is €664 and it includes shipping and two years warranty.
More about Circula at https://circulawatches.com/