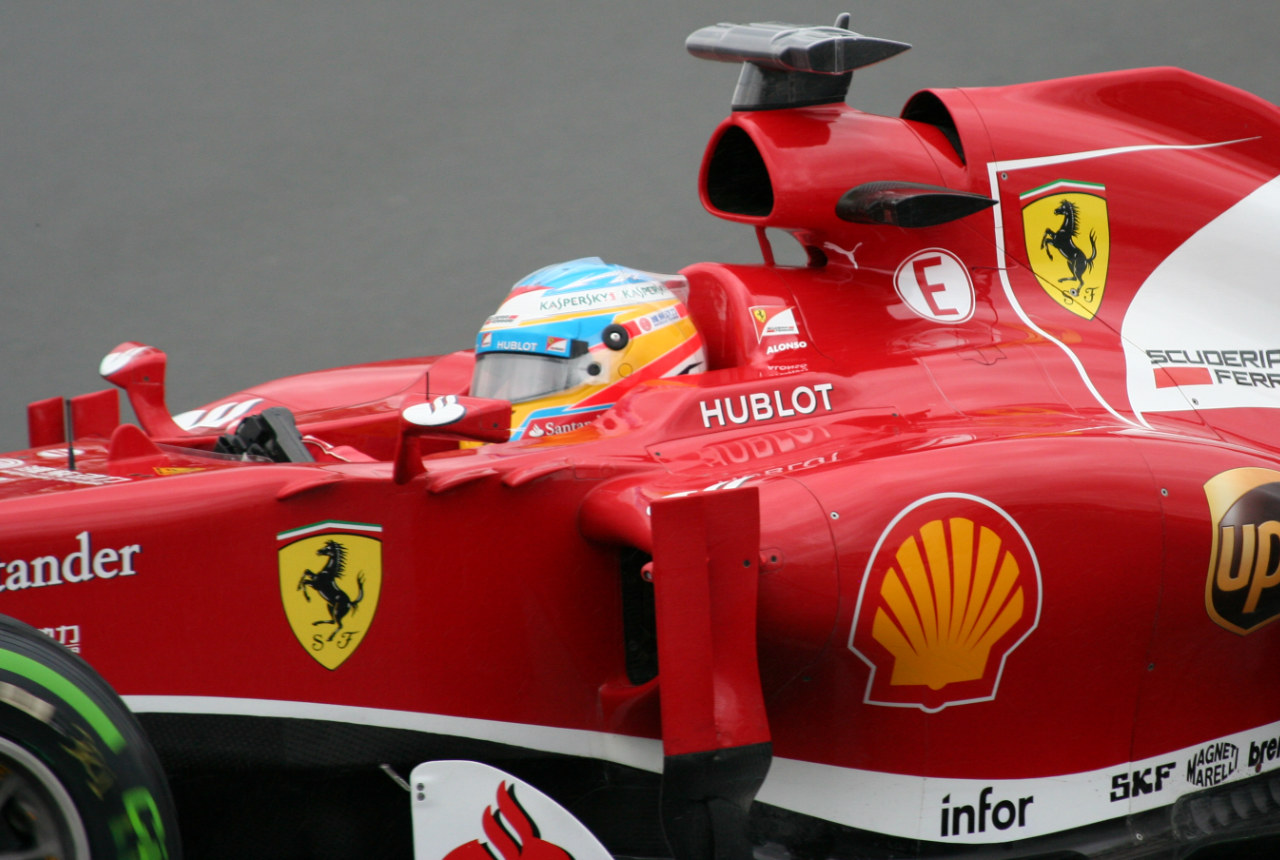 A Ferrari for the wrist
Well, it finally happened. Ferrari has a new watch partnership with Richard Mille. The ultra-high-end watchmaker has been sponsoring F1 teams and drivers for years. Richard Mille appropriately uses the tagline, "a racing machine for the wrist." Haas, Alfa Romeo and McLaren drivers have been sporting RM watches in and out of the cockpit while legendary commentator, Martin Brundle, wears an RM during his grid walk. Richard Mille has made special, limited edition watches for F1 personalities such as Jean Todt, Felipe Massa and Alain Prost (the Prost watch was designed for cycling). RM watches are made with F1-type cutting edge technology and space-age materials and designed to withstand the impacts of extreme sports. An RM watch was worn by an NFL player during an actual game. Pro golfers play tournaments while wearing RM timepieces. Tennis stars have done the same. With such a high tech, high price and high profile, it was inevitable that RM would team up with Ferrari. I am quite excited to see this new partnership play out.
Back in the late 1990s, I had yet to move to Montreal. I was at school about two hours away. I would visit Montreal for shopping, movies and, of course, the Grand Prix. On one visit to Montreal, I was walking down Sainte-Catherine street with my friends when a particular vision stopped me dead in my tracks. In a store window, there was a Girard-Perregaux watch with a Ferrari logo on the dial. And I still remember the price tag- $9,995. A few things were going on here. First, we had a Ferrari watch and Ferrari was an all-consuming passion at this point in my life. Second, we had a watch costing 10 grand, which was unthinkable (for me) at the time. I was just getting interested in watches back then and the idea of a 10k watch was strange and exciting. A few ideas were born that day. There was a dream of owning a Ferrari watch. There was a dream of owning a very expensive watch. And there was a dream of owning something connected to the world of Formula 1. Little did I know that my own blog about watches would one day get me INSIDE the Ferrari garage at the Grand Prix!…
I would imagine that many WatchPaper readers are like me. I bet some of you are dreaming of (or saving for) a Ferrari. And until that becomes possible, you would like a nice wristwatch that somehow represents Ferrari or has some connection to the famed Maranello dream factory. You are searching for your "Ferrari for the wrist." So let's discuss Ferrari watches and look at some options.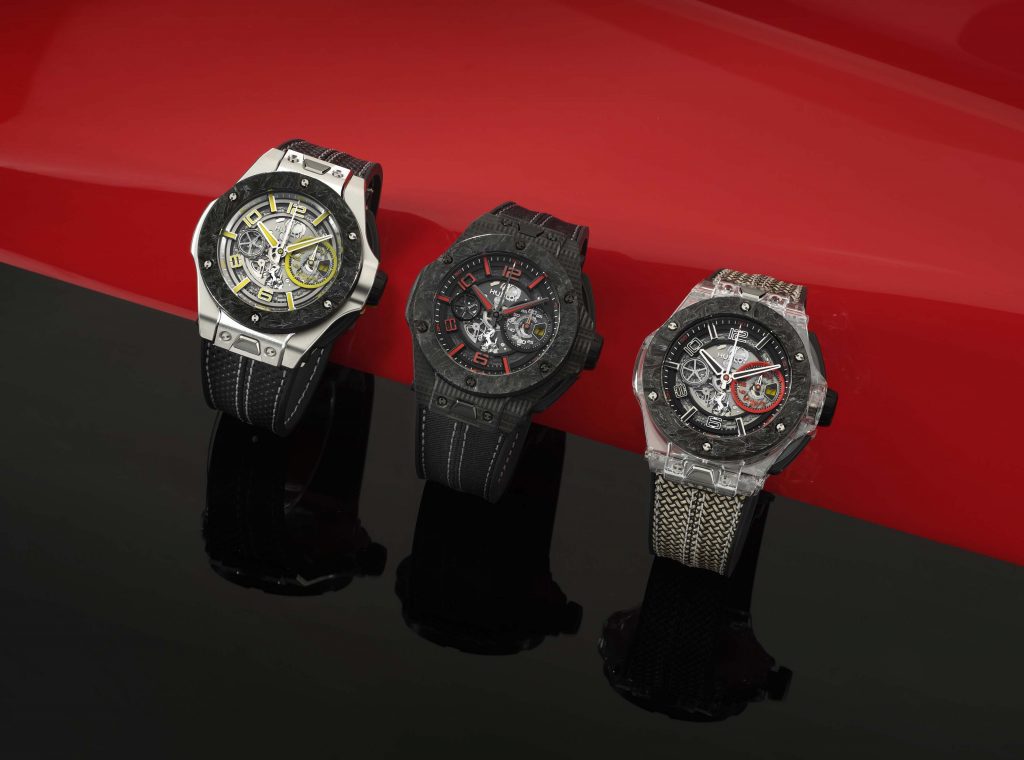 Until last year, the official watch of Ferrari was Hublot. That partnership began in 2012 and saw Hublot sponsor the Ferrari team and drivers. When I was in the Ferrari garage in 2018, the top Ferrari brass, including Laval native Gino Rosato, were all wearing Hublot watches. The drivers, of course, wore Hublot watches for official public appearances such as press conferences and interviews. Hublot logos were placed on the Ferrari cars and on the drivers' racing suits. Hublot had a range of Ferrari watches and many of them are probably still available at AD's. These watches were not exactly elegant, although they were quite high-end and featured the famous Prancing Horse logo. With price tags in the $30,000 range, Hublot Ferrari watches are out of reach for most people.
With this in mind, Ferrari had launched a line of watches by Movado for the mass market. These watches are fun and colourful, but not exactly high end. Most models use inexpensive quartz movements, although I have seen at least one automatic model, which is really quite nice. The Movado Ferrari watches are sold at shopping mall kiosks and are made of plastics, which seems to degrade the famous logo that adorns them. Nevertheless, such a watch could be an affordable option for anyone looking for a Ferrari watch to sport during televised Grand Prix or during backyard BBQ parties.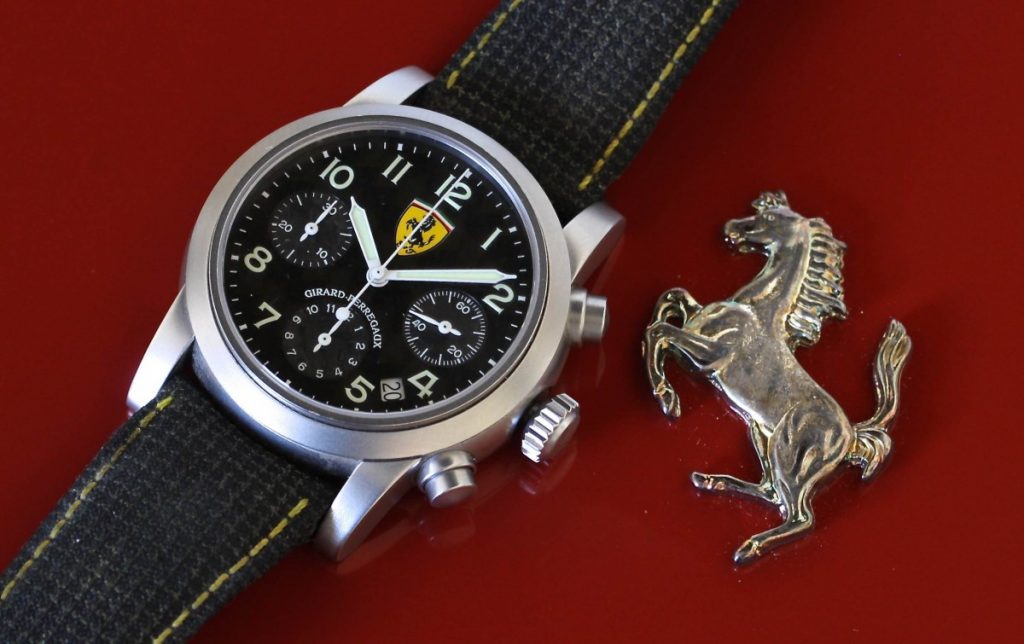 What about the $9,995 Girard-Perregaux Ferrari watch? GP was the first high-end watch partner of Ferrari and their connection lasted from 1994 until 2004. GP had a "Pour Ferrari" collection of pretty high-end watches. These pieces look quite dated today, but they offered real high horology with a Ferrari badge. Some watches had only the Prancing Horse. This Ferrari symbol came from the plane of a WWI fighter pilot whose parents gifted it to Enzo Ferrari for his bravery behind the wheel of a race car. Some GP Ferrari models had the triangular Scudetto, which represents the Scuderia Ferrari racing team. We covered the meaning of Il Cavallino Rampante (Prancing Horse). The S.F. stands for Scuderia (team or squad) Ferrari. The stripes at the top are the Italian flag. And the yellow shield is the town shield of Modena, where Ferrari began before moving to Maranello. The GP Ferrari watches featured some awesome complications.
Ferrari had been presenting gift watches as far back as the 1950s. These watches would have a Ferrari logo and would have been offered to important people by Enzo Ferrari himself. When Formula 1 began to receive media coverage and become a global sensation, sponsorship took over. This paved the way for eventual watch partnerships with Formula 1 teams. Heuer, the legendary forerunner to TAG Heuer, sponsored Ferrari in the 1970s. If you watch the film Rush, you will see Ferrari's Niki Lauda with Heuer logos on his overalls. I have a painting of Gilles Villeneuve in my house and his scarlet Ferrari has the Heuer logo on its nose. More recently, TAG Heuer has been a title sponsor of the Red Bull team, which even had its engine branded as TAG Heuer one year! That has to be the greatest marketing coup in the history of mankind! But you could make a strong case for TAG Heuer as a Ferrari watch. They have a retro Monza model named after Ferrari's home circuit in Italy. And TAG Heuer has some of the coolest racing watches on the market. They also have entry-level racing watches. With a rich history in F1, TAG Heuer can always be linked to Ferrari by its mere presence in the sport which is Ferrari's raison d'etre.
Moving into the early 1980s, Ferrari were sponsored by Longines. I have pictures of Gilles Villeneuve driving a Ferrari with Longines logos on the sides of the cockpit. It looks good- that logo is the oldest patented logo on Earth and has not changed in all these years. That was 4 decades ago, but it is real history. While Longines does not offer any "racing" models, their entire V.H.P. catalogue SCREAMS racing sporty vibes and cutting edge technology. A basic V.H.P. like mine can be had for 1200 bucks and can, in my view, be considered as an F1-worthy watch with some genuine Ferrari connection. Push your budget to about 2300 bucks and you can buy the same chrono model that I added- "very high precision" quartz movement, perpetual calendar and racy carbon fibre dial. Say what you want about quartz, the modern technology in these V.H.P. movements is a great fit for F1. Surely, a Longines V.H.P. can be a Ferrari for the wrist on a budget?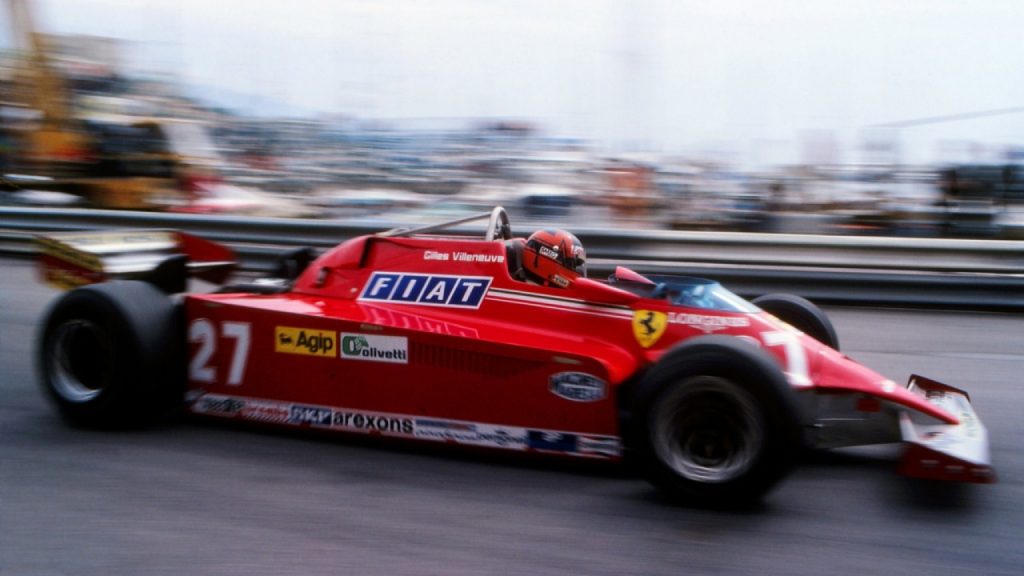 What if you need a luxury MECHANICAL Ferrari watch? I see no reason to avoid quartz, but ok- I'll play along. After the Girard-Perregaux partnership ended in 2004, Panerai became the official watch of Ferrari. This is the most interesting chapter of the Ferrari watch story. It could also be the greatest missed opportunity of any commercial partnership…ever. The Panerai Ferrari watches were dubbed "Ferrari Engineered by Officine Panerai." The watches were absolutely awesome but featured no Panerai branding on the dials. This led to a perception that these were overpriced fashion watches with a Ferrari badge. Nothing could have been further from the truth. The Panerai Ferrari watches have reference numbers beginning with FER, such as FER00011 and FER00013. These are true Panerai watches with gorgeous racing styles and real PAM wrist presence. Panerai and Ferrari- two legendary Italian names. What could be better? Have you ever seen a Panerai logo on a Ferrari F1 car from 2005 to 2010? There was no sponsorship! It boggles the mind. This thing could have been promoted and branded better and Panerai Ferrari watches could have been the most sought-after racing watches of all. Today, the FER-reference Panerai are the very least expensive Panerai options on the grey market. So, you might consider one as your Ferrari for the wrist.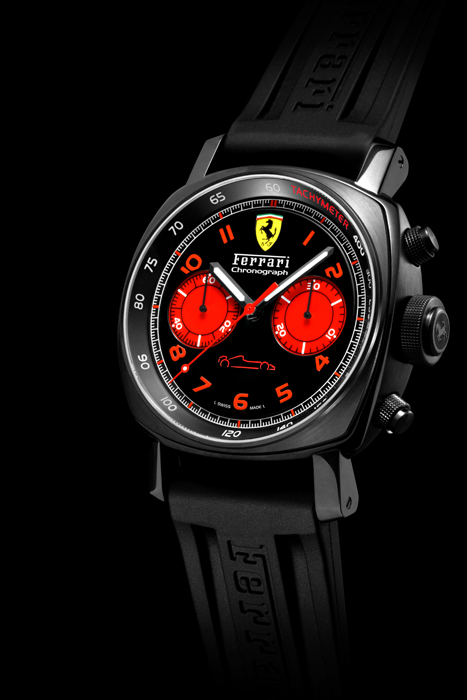 There are a few more obscure watches in history such as Cartier from the 1980s. There was also a series of 60 watches by Cabestan that cost as much as an actual Ferrari. But I have to assume that you are looking for a contemporary, functional timepiece that costs less than a Portofino drop-top. So, let's review our options.
You can purchase a Ferrari-branded Movado from your local jeweller for a few hundred bucks. I almost bought a stylish all-silver model on a mesh bracelet. You can sport the Ferrari Scudetto without breaking the bank. At just over $1,000, you can obtain a Longines V.H.P.- a high tech, gorgeous device with a vintage link to Maranello. For less than $2,500, you can get the chrono- ooh baby! In the $3,000-$5,000 range, you can find a TAG Heuer racer. They sponsor Ferrari`s competitors, but they have so much history with F1 that they can always be linked to Ferrari. In that $5,000-ish range, you can find a pre-owned Ferrari Engineer by Officine Panerai. In the $6,000-$10,000 range, you need to check out the TAG Heuer Carrera Calibre Heuer 02 models…unbelievable. If you can spend over $20,000, then you can shop for a Ferrari watch from Hublot. And if you have more money than a small nation, you MIGHT be able to buy any upcoming Richard Mille for Ferrari.
And what about Rolex? While Rolex does not sponsor a Formula 1 team, it is the official watch of Formula 1, the sport, making it a true candidate as a Ferrari-themed watch. At every Grand Prix, there are Rolex clocks all around the circuit. And they show one on TV as the race time approaches. The clocks look like a Datejust with a fluted bezel. So I think any Rolex from the Datejust family could work. A Daytona? Of course- if you can find one!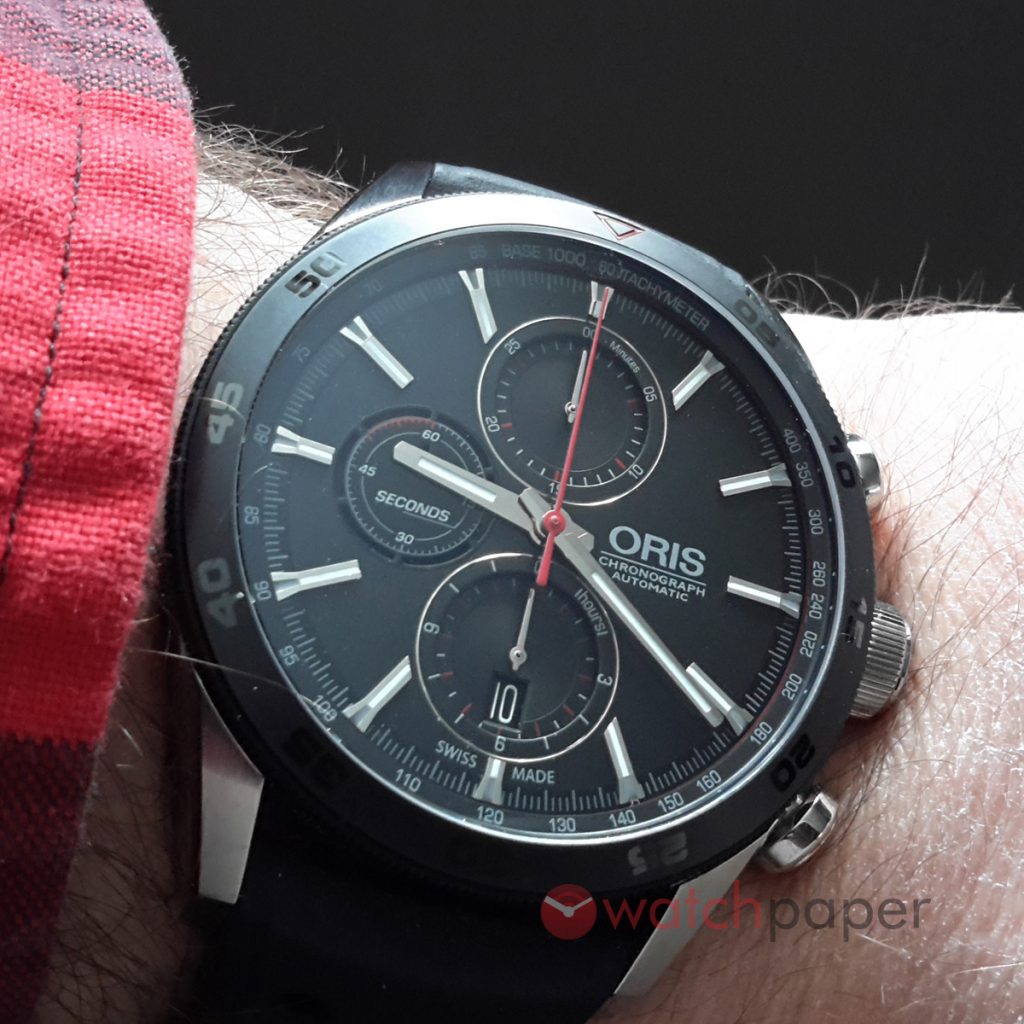 I do not foresee a Richard Mille in my immediate future. But I have my own Ferrari watch. In 2018, I treated myself to an Oris Artix GT chronograph for my 40th birthday. Oris was still a major sponsor of the Williams F1 team and I was thrilled to have a bonafide F1 watch. Oris invited us to the Paddock Club at the Grand Prix that summer, which was one of the highlights of my life. While we were guests of the Williams team, I managed to spend most of the day inside the Ferrari garage. So I wore my new Oris racing chrono inside the Ferrari garage during free practice for a Grand Prix. And I even discussed WatchPaper with Ferrari boss, Gino Rosato! After that, my Oris will forever be "my" Ferrari watch. But I promise you all that I will keep working on the Richard Mille idea and report back to you as soon as it happens (be patient!). And what about your own Ferrari watch? As always, the fun is in the search…
Yours truly,
TimeCaptain