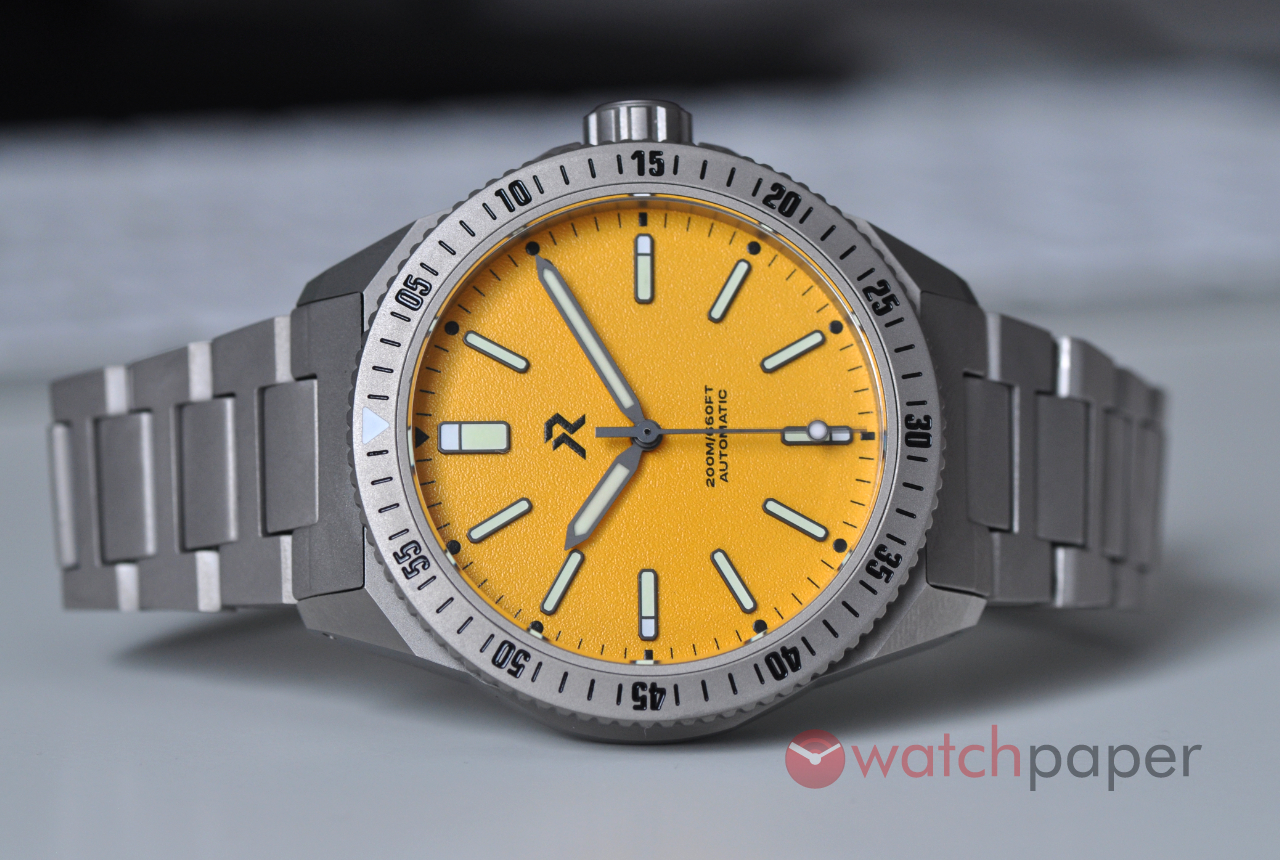 RZE Endeavour Hands-on Review
The last time I reviewed an RZE, the name of the brand was Reise, but following some feedback, the brand owner, Travis Tan, decided to shorten the name and give it a more universal sound. While I liked the Reise name, which means travel in German, I do like RZE too and I think it fits well the DNA of the brand. Less than a year after its debut with the popular Resolute collection, RZE is back with a new model, the Endeavour. It shares many design features with its precursor, further crystallizing the unique visual identity of RZE watches. If the Resolute was designed as an everyday companion, the new Endeavour as a dive watch is more purpose-built. 
For this review, thanks to a lucky shipping mistake, I ended up receiving two prototypes of the Endeavour instead of one, the lively Medallion Yellow and the mysterious Pacific Blue. It is quite striking to have two watches from the same collection with so different personalities. 
We are used to diving watches that are big and heavy, especially if they are on a stainless steel bracelet. The Endeavour, on the contrary, is feather-light, both the case and the bracelet are titanium with UltraHex coating, making them about 8x harder than stainless steel. Since I have my Resolute, which is also titanium, I grew to love this material more and more. It is so comfortable, I often forget that I have a watch on my wrist. I have the same feeling with the Endeavour too, and it is even more remarkable that it comes on a bracelet that is also very light. The first time, I put the Endeavour on my wrist, I could not stop smiling. A diving watch, with a water resistance of 200 m, on a bracelet and it only weighs 110 g… It is quite something.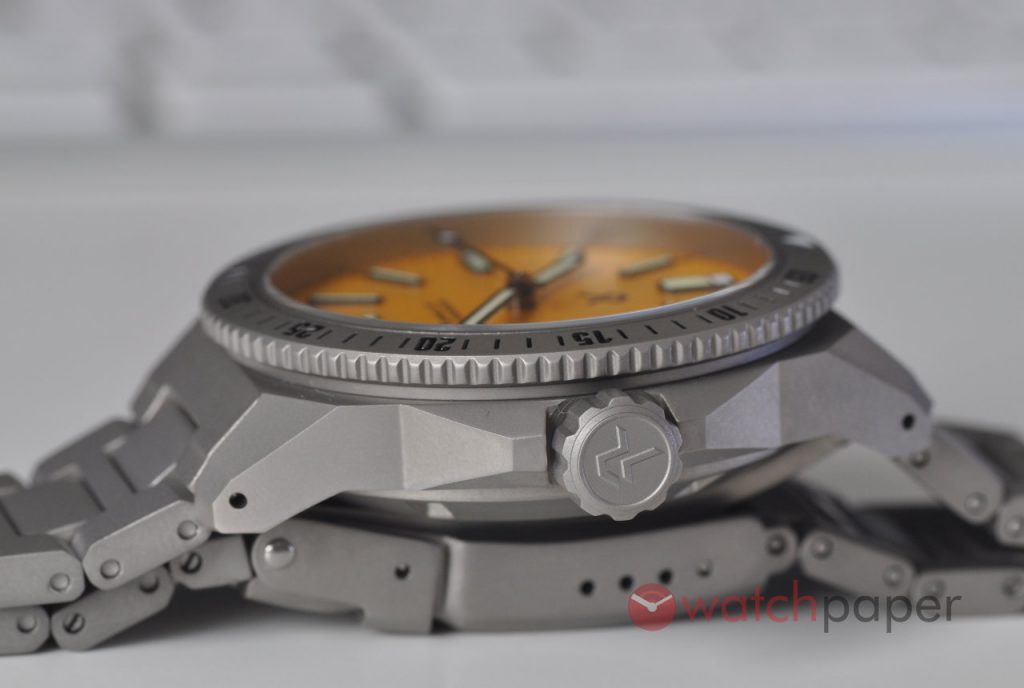 Before we talk about the dial, let's take a closer look at the RZE case. There are so many watches out there, some coming from big established brands working with an army of designers, others dreamed up by microbrands that are popping up every day. In this crowded market to come up with something unique and original is not an easy feat. I'm really impressed by the RZE case because it manages to create a beautiful balance between sharp angles and curved shapes, its entire architecture is fresh and enduring. We are miles away from the comfortable, well-beaten path of recycling old designs from the 60s or 70s. Travis took some risks to go and find a new path and he ended up with something unique, that stands out from the crowd. The titanium case with its UltraHex coating has a uniform matt surface, that unveils its intricate volumes in a subtle way. In an art class, students could study shading by drawing an RZE Endeavour, I'm sure many of them would have a hard time reproducing such a complex shape.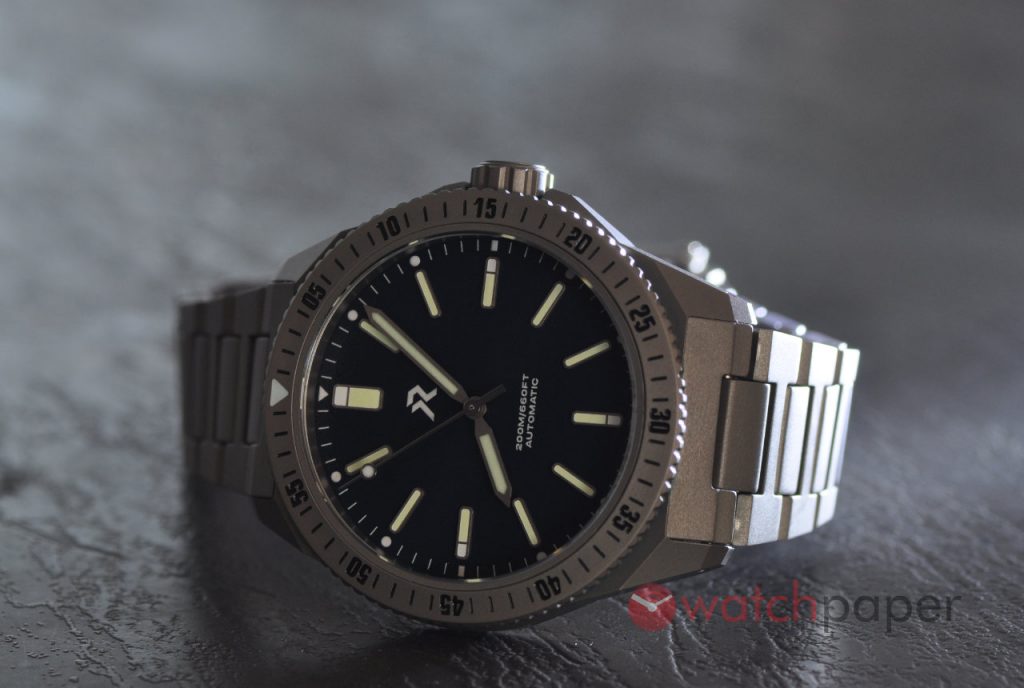 I really like the low-key approach to the rotating bezel, there is no ceramic or aluminum insert, just pure titanium engraved and a lumed marker.
When it comes to the dial, there are four colour choices, black, white, blue and yellow. They all have a textured surface that gives the watch an industrial look. It's minimalist without being boring. The applied baton index markers have a black contour, creating a fantastic contrast between the dial as a background and the lume on the index.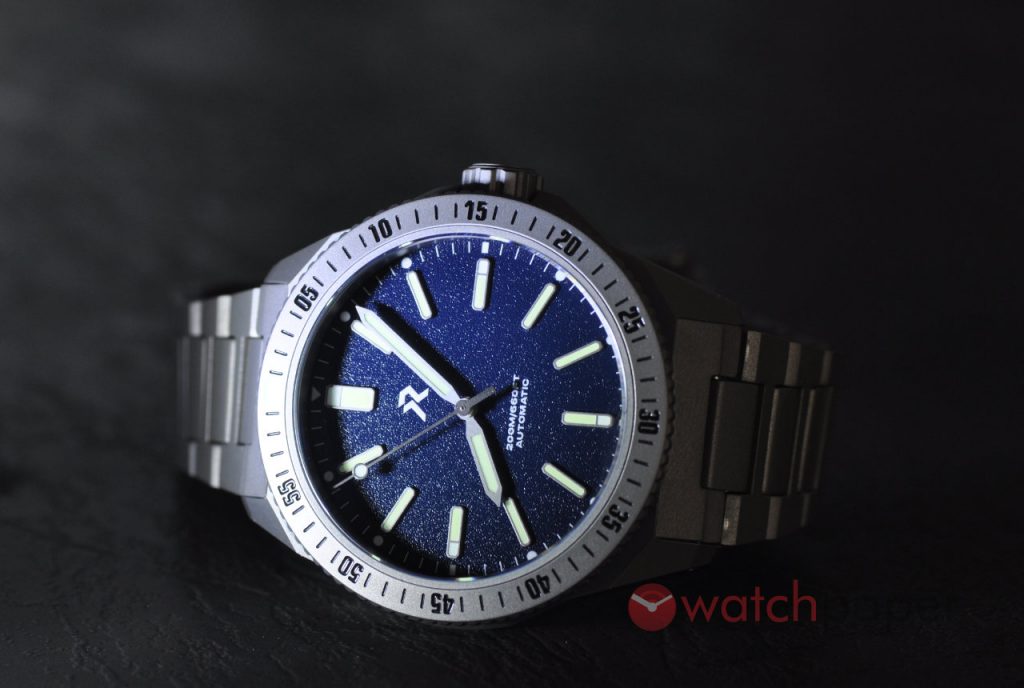 The yellow is bright and happy, it's like wearing a sunny day on the beach on your wrist. The blue is really dark and it was quite challenging to find an angle where it would reveal its true colour. I find that there is quite a big difference in style and personality between these two watches and in the end, it will be a very personal choice for everyone buying an Endeavour. The yellow is bold, the blue is mysterious. The yellow is loud and clear, the blue is reserved and it will rarely show its true colour.
With the Endeavour, RZE proved that diving watches can be reinvented. Probably it's too early for me to say that this is the diving microbrand watch of 2021, but for sure, it is on my shortlist. It is not in production yet, still in the pre-order phase, but if you reserve yours now, the price is $399, which is a fantastic price for a watch with these specs and design. Delivery is expected for May-June, 2021.
Technical specifications
40.5mm case width
12.5mm case thickness
46mm case length /lug-to-lug
20mm lug width tapers to 16mm at the buckle
Weight: 100-110g (with bracelet)
Solid Titanium with ULTRAHex Coating (up to ~1200Hv hardness)
SII NH38A Automatic Movement
200m (660ft) / 20ATM
Screw-down crown with custom reverse engraved logo
Sand textured dials with applied indexes
Swiss Superluminova C3 & BGW9
Sapphire Crystal with inner-side Super-AR
Solid Titanium bracelet with ULTRAHex Coating (with 316L stainless steel buckle in titanium coating)
Screw-down solid titanium caseback with VITON® gasket
Included extras: Tarpaulin watch pouch