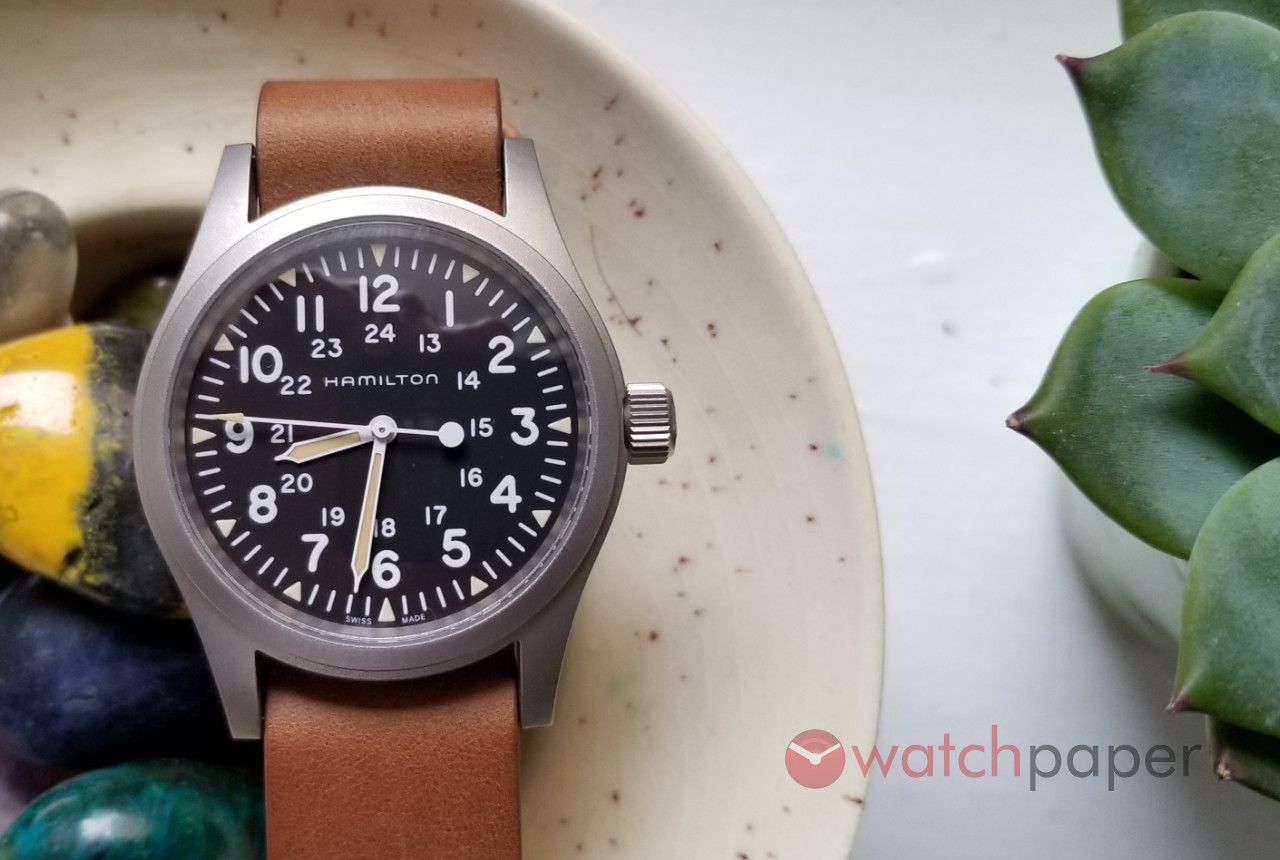 Hamilton Khaki Field Watch Review
"Military influence on fashion is so pervasive we are almost blind to it."
Alice Fisher
There is a built-in contradiction to wearing a military-themed field watch. Wearing a watch (any watch) is a choice these days. It, hopefully, says something positive about you when you wear it. But the military field watch is originally based on almost the opposite of choice, individual expression, or in the larger sense, fashion. Built to a general specification (the 60s update to GG-W-113 and MIL-W-3818B), the ancestor of this Hamilton field watch was meant to be mass-produced for soldiers who were themselves reduced to interchangeable parts in a vast military apparatus. So, wearing the Hamilton Khaki field mechanical is both a personal statement and the borrowed symbol of a military/industrial structure that mostly precludes things like "statements" or "fashion."
No one – certainly not the watch industry at large – expects this paradox to stop you from buying a watch based on a military specification. Gear and garments that started their life as practical solutions to specific problems faced by the military at war have disappeared into fashion so successfully that their origins are all but forgotten. From cargo pants to trench coats, to aviator glasses to the humble tee shirt, military-style persists as a kind of background and foundation. Amongst watch nerds however, there's a twist: being able to spit out the actual specification is table stakes, part of the ephemera that must be mastered in order to be taken seriously. The details aren't lost, but the symbolism sometimes is.
There are other virtues that recommend something like the military field watch to watch lovers. Author William Gibson pared his collection down (when his mania had passed) to, he told me, just five pieces. Two of the "keepers" were vintage military watches. Why? Because of their singularity of purpose: "I had no particular interest in military provenance, but rather in how these designs were so entirely about functionality, in an utterly life-and-death way. Very much form following function. And, as a result, in my opinion at least, often very beautiful." Military watches, like the ancestor of the Hamilton, represent a functional and even aesthetic purity because they do their job and nothing else.
The latest Hamilton Khaki field watch (released earlier this year) taps into the appeal of perfectly merged form and function in a big and respectful way. This watch is a very faithful homage to its predecessor. Time-only, with an internal 24-hour set of indices, it simply and purposefully does its job while sitting on your wrist. At 38mm in diameter, I thought the double hour indices would crowd the face and get in the way of time-telling, but I quickly grew used to the smaller form factor and had no trouble reading it even at a quick glance. Even if you have larger wrists, the long lug length counterbalances the vintage-sized case. The bead-blasted finish of the case reinforces the rough-and-ready feel. Also utilitarian is the leather NATO strap it comes on.
The major advantage this Khaki has over its predecessors (even recent ones) is its engine. Still hand-wound, the H50 movement offers an 80-hour power reserve between full winds. While convenient, I wouldn't necessarily count this as an improvement. I found myself missing the necessity of the winding ritual each morning. Though not strictly necessary, I still wound it anyway. The only other letdown was the seeming lack of anti-reflective coating on the crystal. In brighter conditions, I had to fight past reflections of the sky or ceiling lighting to get at the time. In low light conditions, the lume held up and made reading the time easy.
But these are small complaints about a watch that does its job so well. A big bonus is its price: at around $600 you can get a more than reasonable facsimile of a piece of history.
Visit Hamilton Watch.