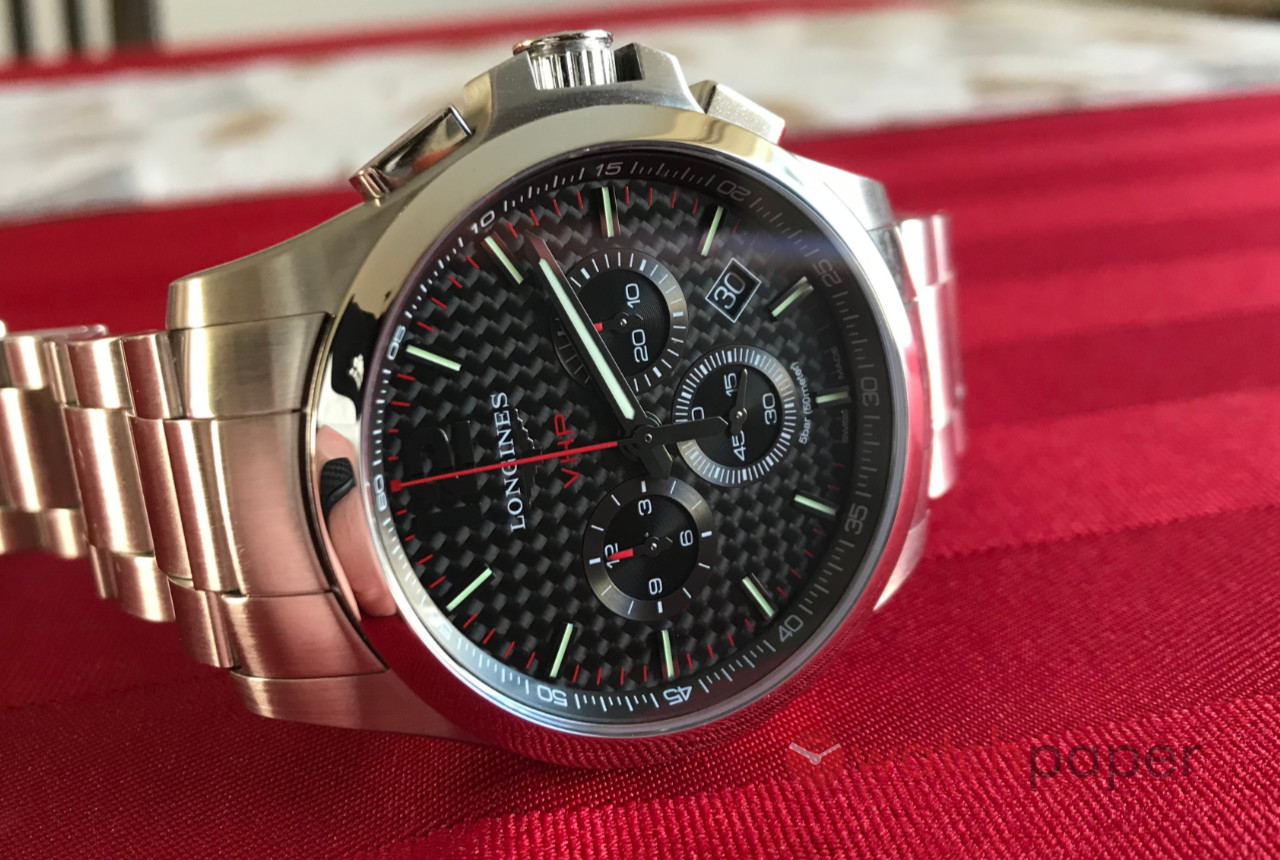 Longines Conquest V.H.P. chronograph – the ultimate holiday piece
As the holidays approach, I have been thinking of suggestions for the top watches to give to your loved ones for being good boys or girls. And with value being my theme this past year, there is one watch that just stands out for me (now available in ladies models too).
Let me present the Longines Conquest V.H.P. chronograph. Yes, this is a quartz. And yes, it is at the top of my target list. To get some background on the V.H.P. family, look at my review of the 43mm three-hander.
Some of the themes I look for in new watches are versatility, motor racing styles, chrono functions, brand history and contemporary style. Well, the V.H.P. chrono has these in spades. And what about the quartz movement? As you can see from my earlier reviews, I regard the quartz engine as an advantage, not a negative. Plus, this is what keeps the price so low. And with resources being limited, a low price is key.
The V.H.P. chrono is available in different sizes and colours. I prefer the 44mm model with carbon fibre dial, and the blue model with black case and blue rubber strap. These are $2100 CAD and about $2500 CAD respectively. Your comfort with price is going to be very personal. But I think we can all agree that $2500 CAD is more than "reasonable " by today's luxury watch standards. For this price, you can actually buy some very nice mechanical watches. But if you don't "need" a mechanical or if you have other mechanical watches already, the V.H.P. chronograph offers a ton of horological features for less money than an entry-level Tudor.
I first zeroed in on the steel bracelet model. While it is not a racing watch per se, it has the sporty style and character of a true racing watch. It is gorgeous and passe-partout. With this watch, the time is always perfectly synced, and you can just grab it whenever you need it. At two grand, this is a no-brainer.
For the modest price, you get a chronograph – the best complication ever. You can time your steaks on the BBQ, time your commute, or time Charles Leclerc's hot lap around Circuit Gilles-Villeneuve. The V.H.P. watches are accurate to within 5 seconds per year. The seconds hand moves in 10-second increments and is perfectly synced to the minutes hand. This is my favourite feature of the watch by the way – sensational precision! The hour hand can be adjusted independently of the minutes hand. The battery has a 5-year life – more on that later. The V.H.P. watches even have a sleep mode so that the hands rest, while the watch still keeps time, and saves battery power. Waking the V.H.P. after sleep mode is the best party trick ever – the hands whizz into place from their 12 O'clock resting position to the EXACT time, to the second. Then, the date adjusts, forward OR backward, to the proper position. It is awesome to watch. There is also a reset if the watch is exposed to shock or strong magnetic fields. And then you have… a perpetual calendar! From February 28 to March 1, for example, the date will adjust itself. An interesting note – after 31, there appears a date display with the winged hourglass logo in place of the date. And after less than a second, it is gone and replaced by the 1. This is a very cool little detail.
I am out of breath after describing all of these technical features! Phew! And all of this for two grand. I have so many mechanical watches that I would be perfectly happy to add another quartz to my lineup. And if the quartz engine is still an issue for you, consider this.
Lots of guys think they are too sophisticated for quartz. They would not dare show up to a cocktail with a battery-powered watch. But most of those guys cannot describe the difference between a quartz, automatic, or manual-winding watch. They just think they are above petty quartz. Now, do you want to be one of those guys? Do you want to follow the herd? Or are you sophisticated enough to make your own choices based on the actual features of a watch? A real connoisseur can see past the hype, and the price stigma, to find his own favourite watch.
A typical quartz watch will require a new battery every two years or so. This battery change can be done at your local dealer within a couple of days if not on the spot. A V.H.P. battery will last for 5 years and will require a little more attention to change.
Our friends at Longines recommend taking your V.H.P. to a SWATCH Service Center for a battery change. If you don't have a local service center, your AD can send it to a SWATCH Service Center. From there, the battery change will be done at Longines' corporate service center. This is necessary because of the V.H.P.'s perpetual calendar. A dead battery or battery change could throw the date off and only a trained technician can safely adjust the calendar. The battery change can be done within 15 business days – or faster if taken directly to a service center. The cost will be similar to a regular battery change.
The V.H.P. can be put to sleep when not being used. This will conserve power and extend the battery life somewhat. The V.H.P. will wake up from sleep mode and adjust to precisely the correct time, down to the second. And then, you just give it up for 2-3 weeks, every 5 years or so, for a battery change to keep it running.
A V.H.P. does not replace your mechanical watches – it complements them. I do not wear my own V.H.P. every day. I wear it once or twice a week. I love my mechanical watches, but there are always days where I just want to grab my V.H.P. and go – no fuss, no setting, no winding, just go. And the style is so powerful that I often crave it just for its looks. But I will never give up my mechanical timepieces. The appeal of the V.H.P. chronograph models is having all of that awesome timekeeping technology set, synced, and ticking at all times. That would be amazing on a weekend, as it would be when dashing out of the house on a Monday morning.
Two grand is a lot of money to most people, but not as unrealistic as the price of many other luxury watches. For this reason, I name the V.H.P. chronograph as the holiday piece for 2019. If the man in your life is in line for a BIG gift, then this could be it. The watch is expensive, but real-world expensive, and could be offered as a BIG gift for someone. If that person has a bunch of mechanical watches already, why give him another one? It is time for something different but incredibly cool.
Once you have decided on a V.H.P. chronograph, there are lots to choose from. There are 42mm and 44mm, and different colours with either steel bracelets or rubber straps. There really is a model for everyone. Take a look at the Longines catalogue. As always, the fun is in the search…
Yours truly,
TimeCaptain