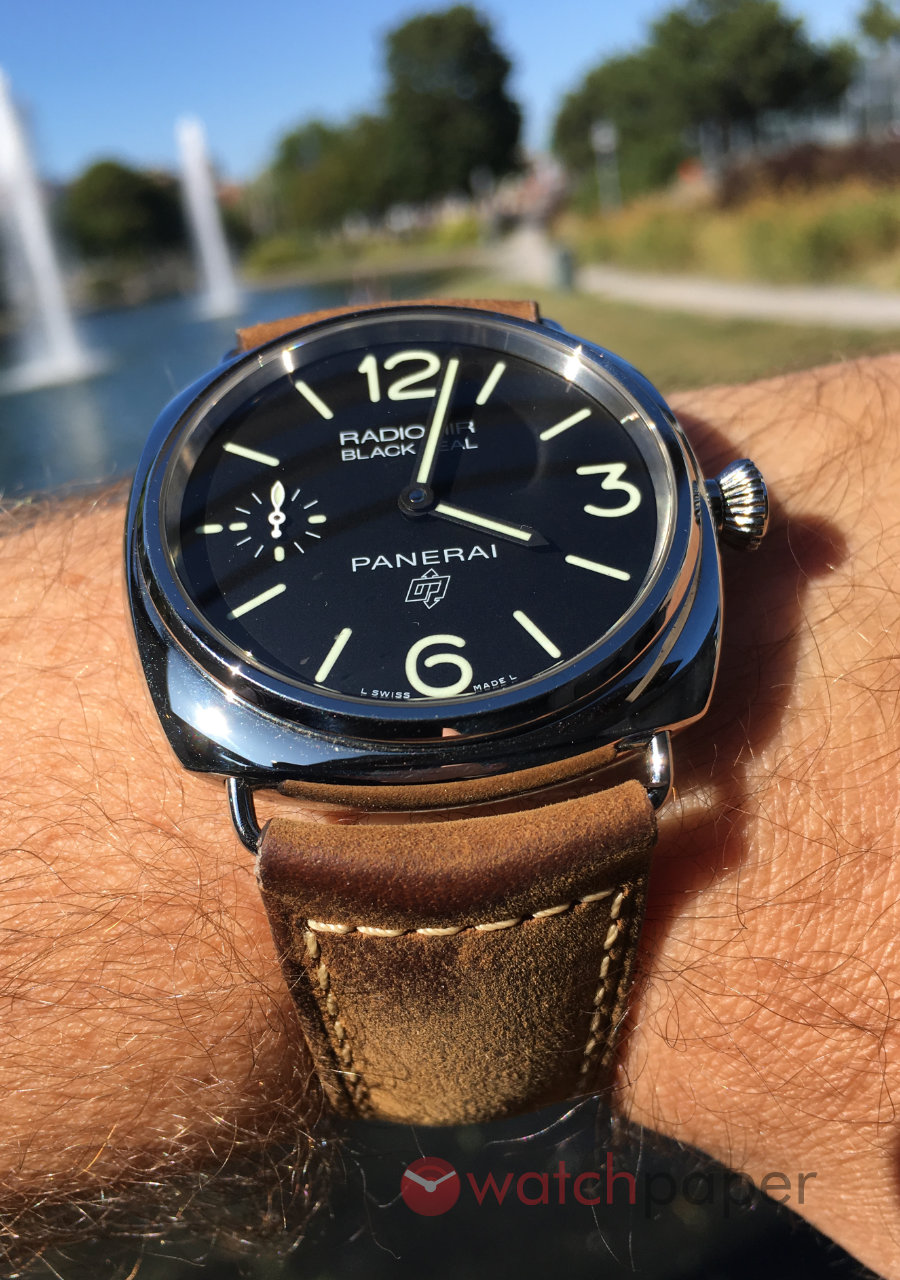 Using Your Best Watches
Years ago, my friend and I each got identical TAG Heuer Monaco watches. I wore mine all the time while my pal kept showing up everywhere wearing his Citizen Eco-Drive. I made fun of my friend for "being afraid" to wear his Monaco. If it was raining, or too hot, or too cold, my pal would have an excuse to NOT wear his "best" Monaco. I found this ridiculous. I have also criticized Mrs TimeCaptain recently for not wearing her Rolex daily. But today, I have changed my view slightly. Interestingly, I also have my own Citizen Eco-Drive now, like my pal… Who is laughing now? Ha, ha.
So why the change of heart? Check out my posts about my new Panerai. I recently put it on a new Assolutamente Panerai strap and flipped out over the stunning new look. Without really thinking about it too much, I started to keep the Panerai wound while only wearing it for more special days. This was partly to keep my watch and strap in pristine condition and partly because it became quite fun to "save" a watch for big occasions. I use my Panerai less often now, but I get a big psychological boost on the few days where I strap on the PAM. It's like Kramer said — "I really like depriving myself of things. It's fun! Very monastic". Giddy up. While "depriving" myself of my Panerai most of the week, I really enjoy the few occasions where I call it into service.
On the days where I am not enjoying my Panerai, I am wearing and enjoying other great watches in my collection. And this is another huge benefit of my Kramer strategy – enjoying everything else. I can rotate through my collection. I can designate a couple of other watches as "daily" pieces. I can choose automatic watches, with date displays, as daily pieces whereas my Panerai is hand-wound with no date. The daily watches are the workhorses of my collection – they do all the heavy lifting and really get used and abused while my Panerai sits on my showcase. If "saving" a Panerai is fun, there is also a lot of satisfaction from wearing the hell out of certain other watches. And all the while, my awesome Panerai is ready for night out or the big lunch meeting.
A good "daily" would be my Seiko Prospex PADI diver on steel bracelet. Automatically wound, with a date, I can just keep wearing it without adjusting the time and it is great for all occasions. It is rugged, too. My Longines V.H.P., with its quartz engine, is always ready when called upon. My Panerai then comes out for the special occasions. And my TAG Aquaracer, which was a wedding gift, is also for special events when I need the extra confidence of an all-dressed movement (that is what I call an automatic chronograph with date).
Way back when we got our Monaco's, my pal may have really exaggerated. But I now get the general idea. Most of you reading this, like myself, will never be one-watch guys. You will seek to acquire and collect different watches. I can now tell you that "saving" your "bigger" watches for special days, while putting more mileage on your "daily" is a very effective and satisfying strategy for enjoying your watch collection. And if your collection lacks either category of watch, then I have just given you an excuse to shop for a new one. As always, the fun is in the search…
Yours truly,
TimeCaptain