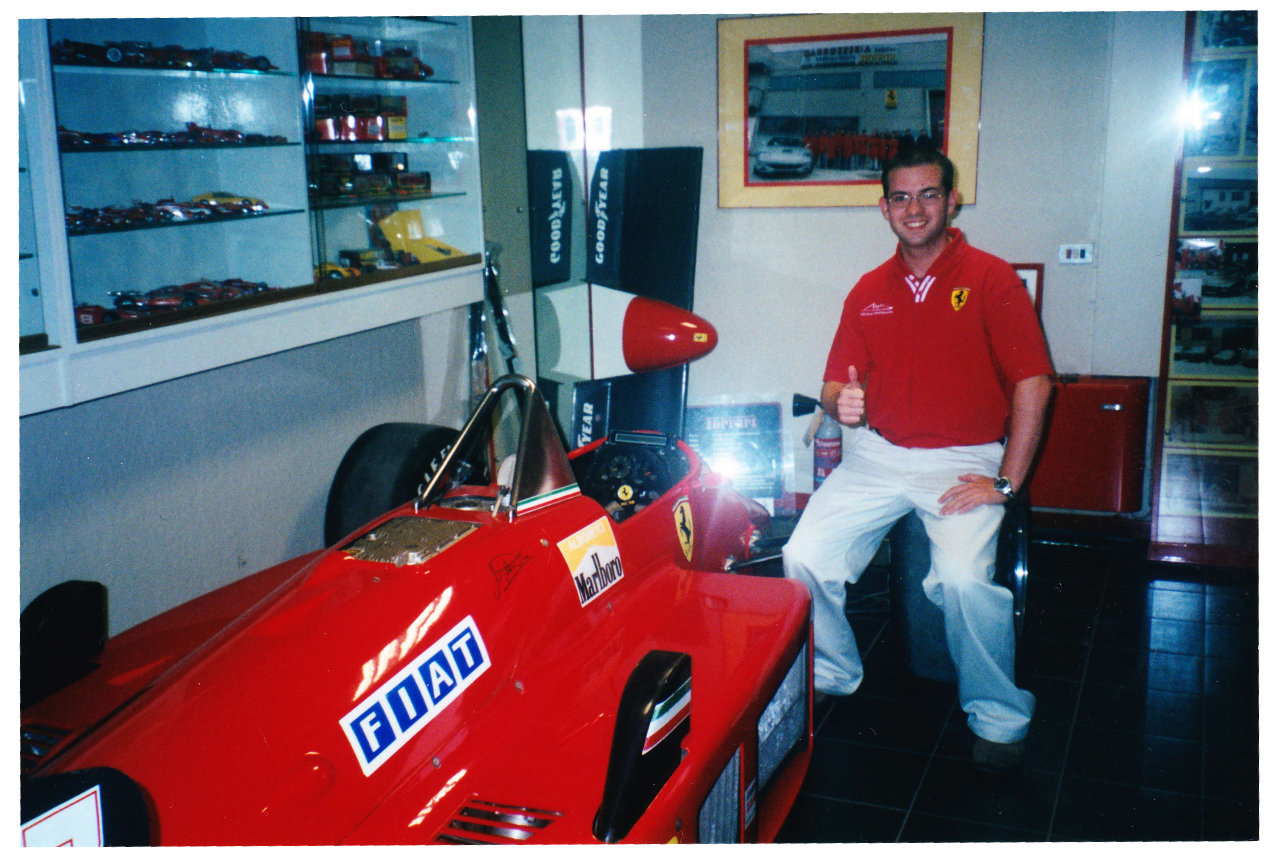 Sempre Ferrari – always my team
Io sono tifoso della Scuderia Ferrari.
This translates to, "I am a Ferrari team supporter". This was the first thing I learned to say in Italian — I studied Italian for two years at university for the specific purpose of one day visiting Ferrari. I even tried to get a Minor in Italian, along with my Finance degree, so you can tell that my interest in Ferrari's Formula 1 team goes a bit beyond that of a casual fan. This passion would play a large role in my life and lead me directly to the passion and hobby that I focus on today. But let's start at the beginning.
In the early 1980's, my family moved from England to the state of Georgia in the U.S.A. I was already mad about cars by that time. Everything was about cars, with me. In the fall of 1986, I was 8 years old and my family returned to England to visit our relatives. My uncle was a real car nut, like my dad. And I was already aware that my uncle liked Ferrari- he had driven one before. My uncle, who is also my godfather, was my favourite uncle and he would spoil my sister and me rotten. My uncle was pleased that I had such an interest in cars and he planned some time to develop this.
One day, during our visit to England, my uncle sat me down and told me the story of Enzo Ferrari. As a young man in the 1950's and 1960's, my uncle had been to motor races all over England. He loved Ferraris and the glorious sound of their V12 engines. He had been a Ferrari fan ever since. The story of the great Enzo Ferrari hooked me instantly- especially the epic battles with Ford at LeMans. I begged my uncle to tell me more and he bought me a book about cars with some good Ferrari history. Then, we went to visit the local Ferrari dealer, where we took some great photos. Yes, a monster was created on that trip…
And something else happened to me after returning home from that trip. I saw Weird Science on HBO. Now, I cannot overstate the effect that this film had on me as a kid. The scene with the Ferrari blew me away – little did I know that I would later drive that exact model of Ferrari myself. Soon after seeing Weird Science, I got my first Bburago model Ferrari from Kay-Bee toy store. It was a red Testarossa and I still have it. This model fanned the flames and I was now reading books and magazines and memorizing every statistic of every Ferrari ever made.
Television would continue to feed my Ferrari frenzy. There was Magnum P.I., of course. And there was the white Testarossa of Miami Vice. I would actually stay up past my bedtime every Friday night to watch Miami Vice – just to see the Ferrari. And then there was Ferris Bueller. A Ferrari played a key role in Ferris Bueller and this contributed to my infatuation with the legendary Italian marque. By now, I was totally mad about Ferrari cars, but not really following racing. That would come soon as my family relocated to a small town about an hour outside of Montreal.
I started watching F1 in 1990 and, in 1991, I was invited to the Grand Prix in Montreal to watch qualifying. This was an absolute pleasure overload. From then on, I would attend the Grand Prix each summer and follow every single race on TV.
In case anyone accuses me of jumping on the bandwagon and cheering for established winners, consider the following. I became a fanatic tifoso in 1991 – the year that marked the beginning of the worst period in Ferrari's history. They failed to win a single Grand Prix from 1991 until a very lucky win in 1994. I was still bonkers about Ferrari during that time. While their lack of success in F1, was disappointing, it was clear to me that there was something very special about the Scuderia. Enzo Ferrari had passed a few years earlier, but there was magic in Maranello nevertheless. This magic came to Montreal in 1995.
While the 1995 season was dominated by the Schumacher Benetton powerhouse, Ferrari scored an emotional victory in Montreal- right before my eyes. In the footage of Alesi's victory lap, you can see a 17-year-old me waving my Ferrari flag at the hairpin. The 412 T2 was the last F1 car to win with a V12 engine and I will never forget that day. We did not know it at the time, but a new era was about to begin in F1 and a new chapter for Ferrari was coming…
While other teams were winning F1 championships, they were not building drool-worthy, seductive road cars. They did not have the legend of Enzo Ferrari. They did not have gorgeous logos or consistent team livery. Church bells did not ring in their home towns after every win. The lack of on-track success did little to cool my enthusiasm for Ferrari. What they lacked in results, they made up for in style and passion. The V12 Ferraris of the 1990s achieved little on the track, but they certainly seduced me. In life, it is not just what you achieve that matters, but how you achieve it. And Ferrari inspired my love of F1 even though they struggled to win anything.
That would all change with the Michael Schumacher era – but not until after 4 heart-breaking seasons and season-finale disappointments. It was great to finally see Ferrari win again. The team were now led by some non-Italian megastars who, along with the epic Schuey, dominated Formula 1. While I enjoyed these dominant years, my love for Ferrari was formed many years earlier. And when the success later dried up again, my passion for Ferrari remained.
I eventually made my pilgrimage to Maranello in 2002 with my dad. I could write a book about that trip. I drove to my wedding in a red Ferrari. I spent an entire day inside the Ferrari garage at the Grand Prix last year. I have collected all sorts of memorabilia over the years and I have infected friends and family with a passion for the prancing horse.
Supporting Ferrari and cheering for them at each and every Grand Prix is not a choice. It is inside me. I have so much history that involves Ferrari that supporting La Scuderia is just a given. Even my daughter recognizes Ferrari and knows the names of their drivers. The cycle continues, it seems.
As I finish writing this, with a Visconti Monza fountain pen, Ferrari have just scored a 1-2 victory. So this seems an appropriate moment to close off this article. I should point out that Ferrari and F1 are what brought me into the watch hobby. My role as a blogger got me invited into the Formula 1 Paddock Club. I spent most of that day inside the Ferrari garage, wearing an Oris racing chronograph. And when Ferrari's manager, Gino Rosato, came to chat me with me, we ended up chatting about watches and WatchPaper. So you can see how everything is connected for me. While I am quite certain that nobody in Maranello knows my name, or reads my blog, Ferrari has always had a great significance in my life. And today, after this superb victory, I am going to have an extra reason to enjoy a nice vino rosso. Forza Ferrari!
Passionately yours,
TimeCaptain