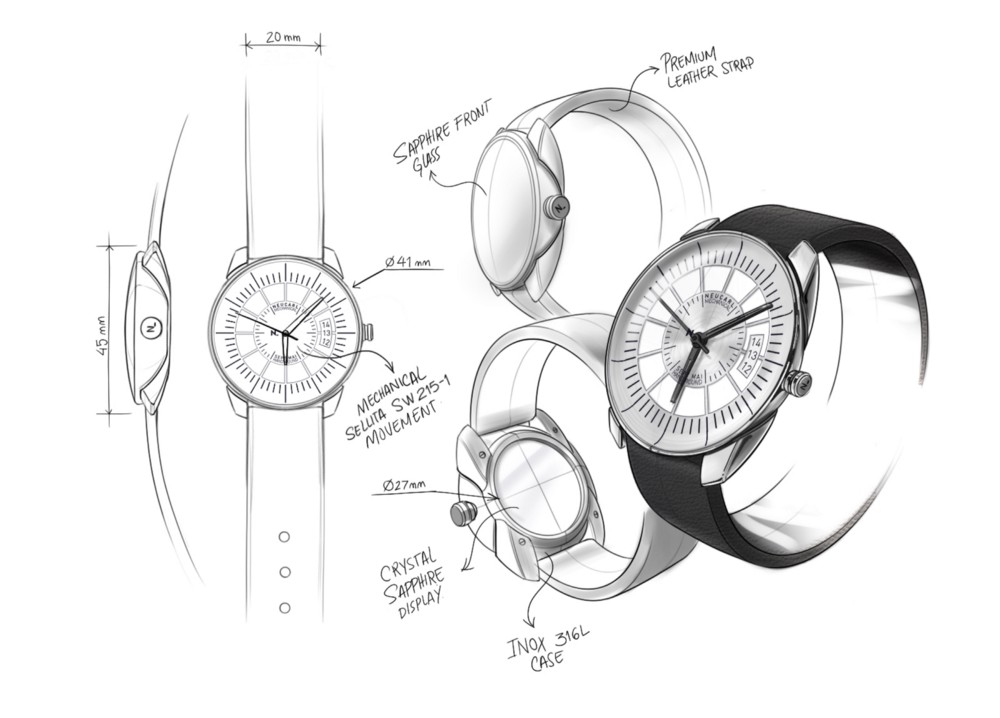 Q&A with Francois Carlier, the Founder of Neucarl
When I get to handle a watch with a fascinating look, I'm always curious to find out more about the person who designed it. Unlike with big brands, when it comes to microbrands it is a lot easier to get in touch with the person who designed it and who, in most cases, wears all the hats in the company. As I was preparing the Neucarl The Sept Mai review, I was curious to find out more about Francois Carlier, the founder of the brand. I like his watches and after this short interview, I really like him too.
I would like to start with you, who is Francois Carlier? What's is your professional background?
I am 41 years old and I live in the south of France. I am an entrepreneur at heart, even if I have made some deviations to work for others with commercial responsibilities in the industry – optics, printing.
When and how did your relationship with watches start?
I am, above all, passionate about design, contemporary art, architecture. This last theme fascinates me to the highest point.
The watches arrive later, but the whole forms a coherent whole: does a 40mm diameter circle offer more or less space for expression than a development plan for a real estate complex of 500,000m2?
I designed a few houses, circulation plans and interiors, gardens, furniture, and other objects to have fun. And then I decided to tackle smaller, more demanding. With watches, you only have a few surface centimetres to convey an emotion. It is magic.
I saw your article on Mediumwhere you explained the name "The Sept Mai" comes from May 7, 2015, the day when you decided to escape the rat race and start a more meaningful life. Can we presume based on your story that the name Neucarl is a shorter form of "New Carlier", the new you?
Absolutely yes. There is no storytelling here. There is only me, my personal and professional history, the difficulties of a period, and the solutions I put in front to change things for the better. "Neu" is a nod to German culture, which I love.
What makes Neucarl different from other brands?
I don't know if Neucarl is different from the others because I am not so much in the comparison. But to answer your question, let's say I move forward on my own terms, doing what I do with my guts, and I try not to take the easy way out.
Neucarl does not use any catalogue parts, for example. I'm trying hard not to be in the tribute or fall for the Submariner or Pepsi type ease if you know what I mean. Even if it is certain that the sales would be there, I do not see the interest, if not to shoot myself in the foot for the continuation.
What was the most challenging part of creating a new watch brand?
When you're a die-hard optimist like me, you believe that anything is doable, that you can handle it all. The reality is, building a brand from scratch is difficult when you have no network, no knowledge, no seed capital, and a full-time job. I made progress on all these points, but it took me years, really. So I think the real difficulty is knowing how far you are willing to go in the pain, the sacrifice, and the disappointment before seeing the first encouraging sign. It's a story of resilience, in fact.
How did the pandemic influence your business?
If I look at the facts, 2020 was a good year for me. Could she have been better? Definitely. But I took my project to the starting line. You know, like in every moment of life, you have those who see the opportunity and those who see the risk. I am part of the first group: when I saw the disaster arrive in February, I accelerated as much as I could to be able to deliver the first three editions Founders, Roma, and Berlin of the series The Sept May before the end of 2020 because the risk for me was to wait for better days, which might not come for a long time. A priori, history proves me right.
Neucarl is influenced by Streamline Moderne, quite a rich source of inspiration. When it comes to watches, what are the models that left a strong impression on you?
We look back at Streamline Moderne, Bauhaus, and other styles and currents of the early 20th century with admiration. How do you think people will look back to our days 50 or 100 years from now? We don't have any more "isms" and currents in art, design and architecture, what will define our time? When you design a watch, do you think of the people who might see that watch a few decades down the road?
I think 50 or 100 years from now, there will be almost nothing left of our present time. I'm still not old enough to dwell on "it was better before …," but I have a feeling that everything that is done today is trendy, instant, single-use. This will likely last a few more generations, making the transmission of an asset, an era, a style very difficult.
When you read the forums, how many get bored of their last watch after a few weeks, a few months?
I'm not too fond of the concept of fashion in any industry. That someone can try to get into my head that I should use or own this or that thing and that this thing might seem unnecessary or irrelevant to me a little later seems completely crazy to me.
When I start something – whether it's a house plan or a new watch case – I wonder if I will still like it 30 years from now. If I have any doubts, I start over. This is the Style. It must provoke the same satisfaction when you watch or use the subject, even years later. And it's not limited to cubic buildings or minimalist watches.
Maybe that's why I needed to look into the Modern Streamline, so far back in history.
Let's get closer, what are your plans in 2021 for Neucarl?
In 2021, I am closing the limited series The Sept Mai with the last three editions New York, Paris, and Reykjavik, all produced in 99 pieces. These now six editions, including the Founders edition, Roma, and Berlin, are all stages that I have taken in the process of creating Neucarl. As many journeys as fortuitous encounters, time for reflection, adventures, and perspective.
I have also been working since January 1 on the preparation of a series on the great names in architecture that fascinate me, whether they are already classic or contemporary. Again, I'm working on 100% new designs, from cases to hands. It's a hell of a job, but I hope we can talk about it again in the second quarter.
---
For a hands-on review of The Sept Mai, click here.
More about Newcarl at https://www.neucarl.com/