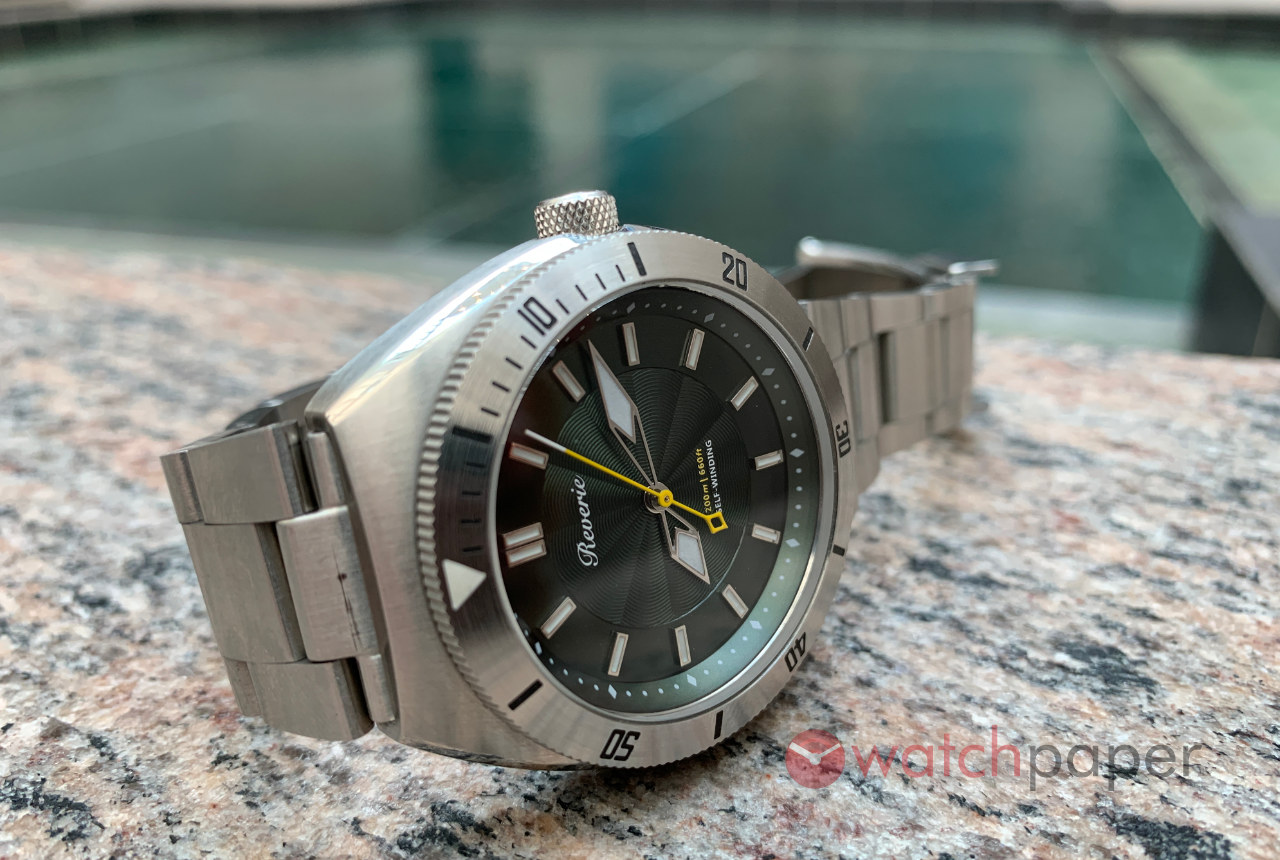 Reverie Diver (p)Review
In a previous article, I sent the alert about a fantastic diver coming to Kickstart, the Reverie Diver. Luckily, that campaign went very well and I hope you are one of those who took the opportunity to pre-order one at a fantastic price and you are here, to see if it was the right thing to do. In this review, we will take a pre-production model for a spin to see how it actually looks in real-life settings.
My first contact with Reverie was through their debut model, the Sea-Spirit (you can find that review here) and I fell in love immediately with its gorgeous guilloche dial. It was followed by the Reverie Classic, with a day-date movement and again a beautiful guilloche-decorated dial. The Reverie GT is an autosport-inspired chronograph, you guessed it, with an intricate dial. As you can see, Reverie watches have a very well defined style and personality. They are more on the elegant side, with any decoration being toned down to a subtle sophistication.
I remember, about a year ago that Samuel Tay, the founder of Reverie, was telling me about his plan to create a diver watch. It made me curious, we all know that the diver segment is super crowded and it's not easy to come up with something that would stand out. As Samuel started sharing pictures of the prototype, I was quite impressed, but the truth is that seeing photos of the Reverie Diver – even if they were done by professionals – and having it on the wrist is not the same experience. This Reverie too is loaded with details that you only notice at a closer look but once seen, you will keep staring at them with admiration.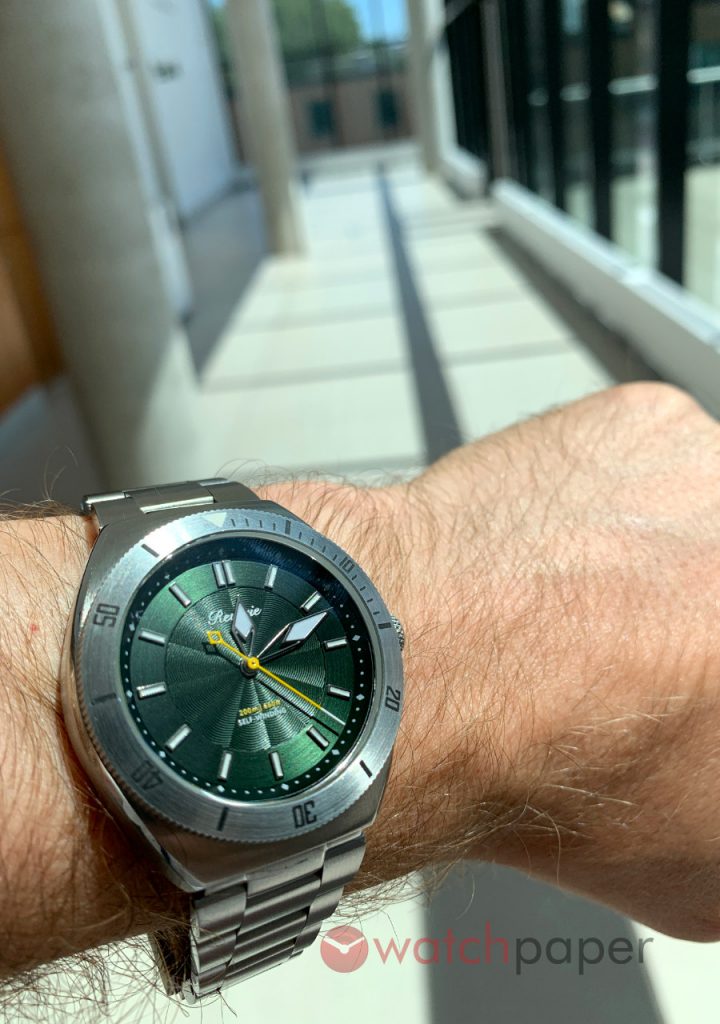 With its diameter of 40 mm and a height of only 11 mm, the Reverie Diver is the perfect candidate to become the everyday beater you were looking for. Not only because of its specs but also thanks to its versatile design.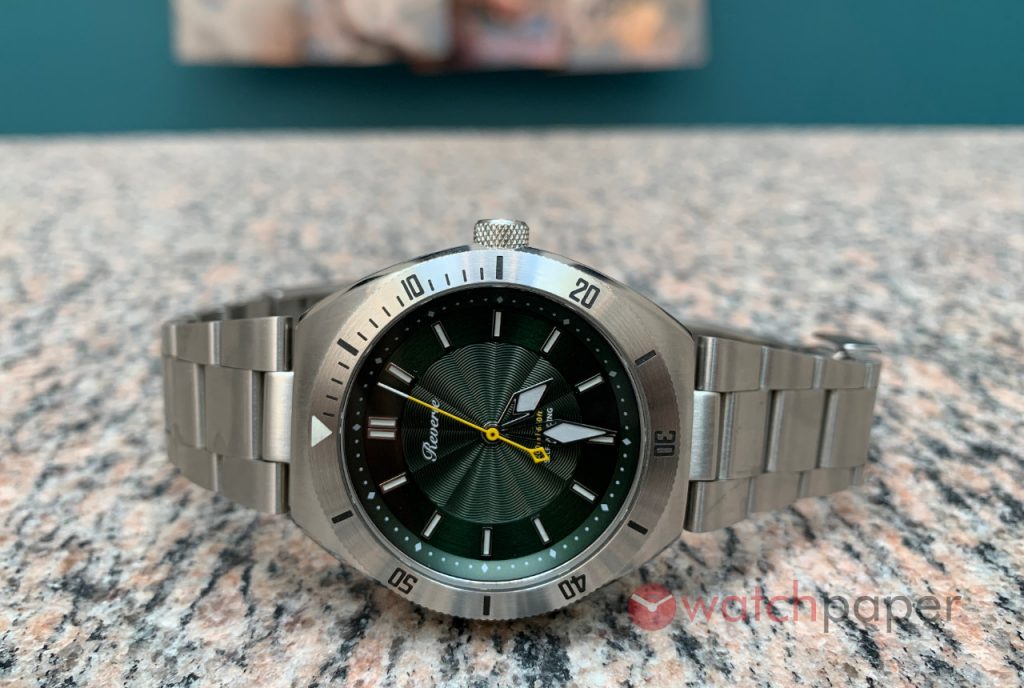 First of all, I am madly in love with this plain metal bezel, no unnecessary colours to distract, only the brushed matt surface and the engraved numerals of the diver-style bezel remind you that despite its dressy elements, the Reverie Diver is still a tool watch. How can this bezel get better? Samuel just found a way to spoil us even more. When reserving your Reverie Diver, you can choose between the diver bezel or a 12-hour bezel. Personally, I would go with the 12-hour, just for practical reasons, when travelling, 12-hour bezels are really useful.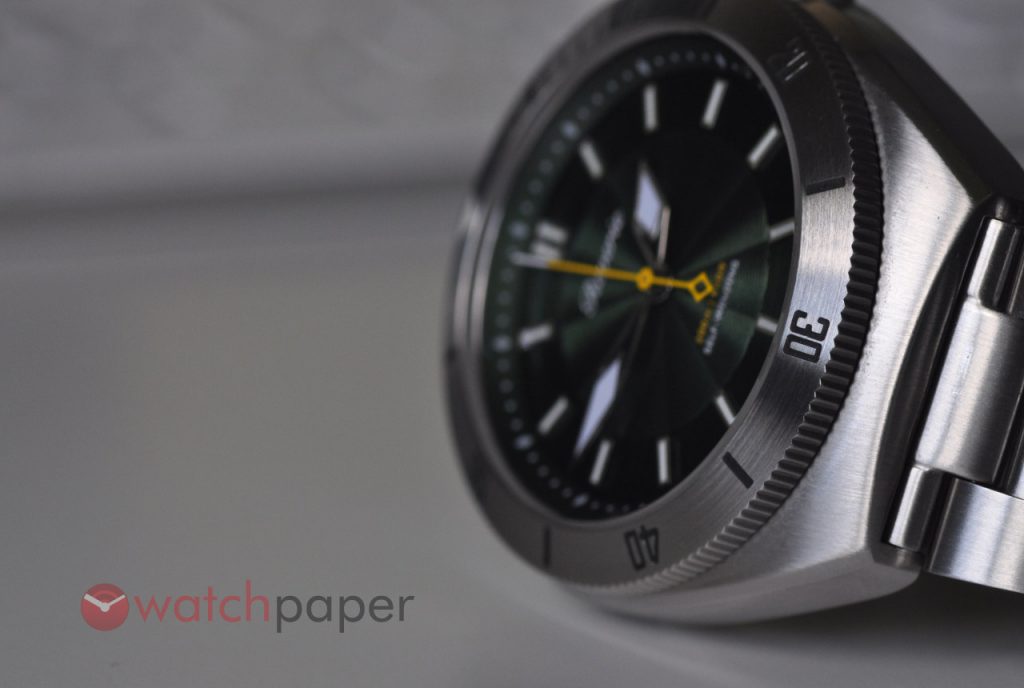 Now let's focus on the dial and try to imagine it with a different case, without the rotating bezel and a different set of hands, it could be the dial of an elegant dress watch. The guilloché with every new Reverie model is getting better and better. Check out this short video to see how beautiful it is on a sunny day.
I find it quite interesting the way the skeleton hands are designed as they bridge the guilloche pattern of the dial and lume-filled indexes all around. The yellow second hand with its white tip creates a nice contrast with the dark green dial.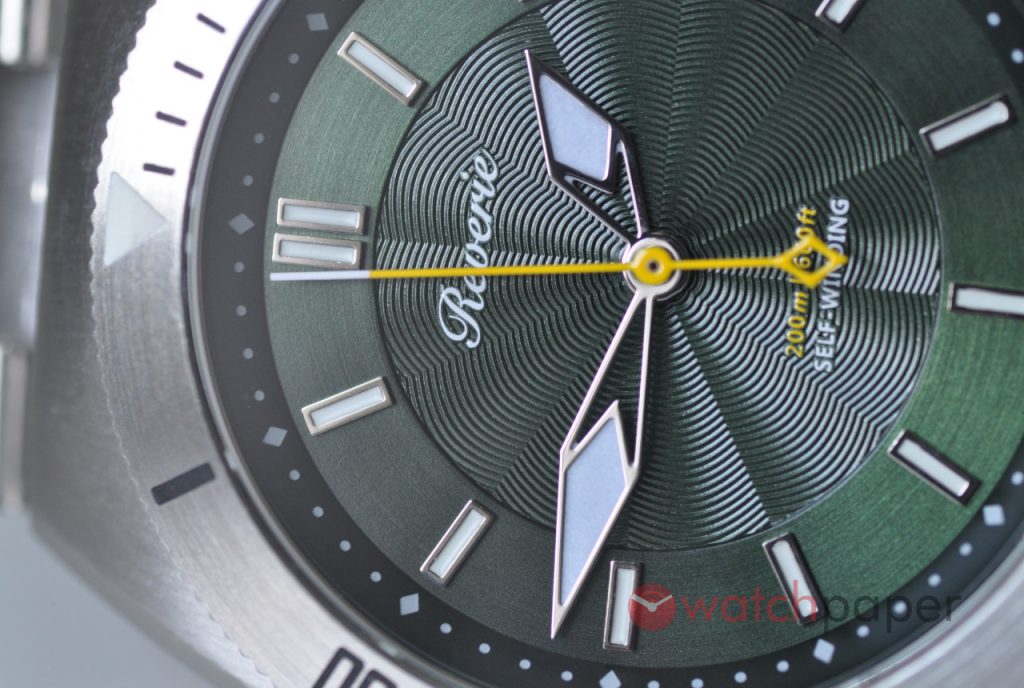 The backside of the watch is engraved with the Reverie logo, the serial number of the watch and as with every Reverie, in Latin, Soli Deo Gloria, all three separated by wave patterns.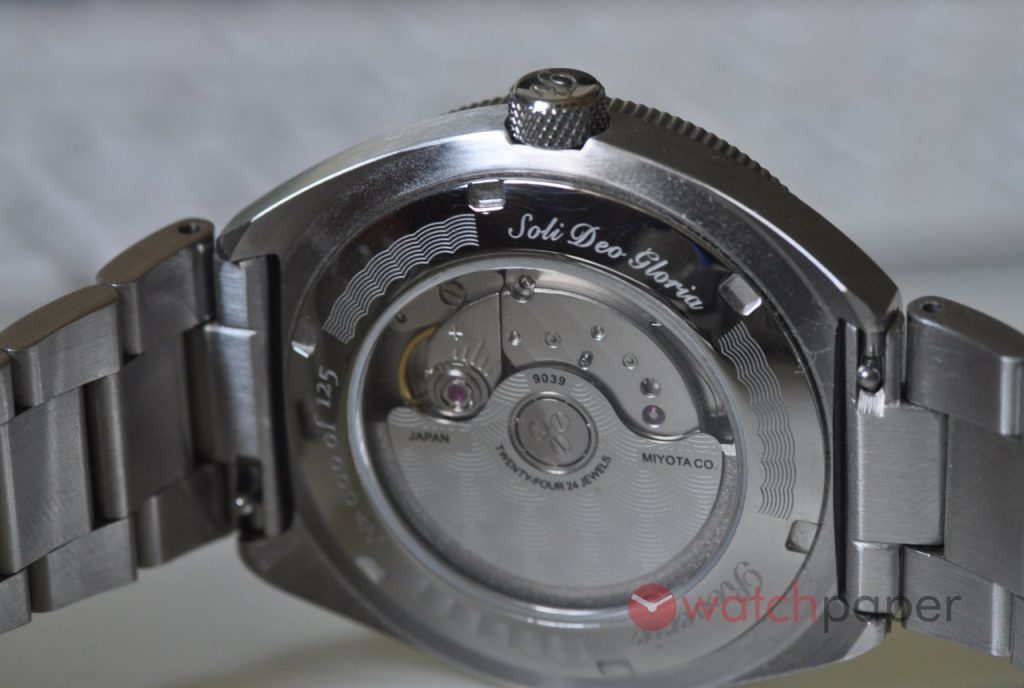 Despite being a diver watch with a water resistance of 200 meters, it has a see-through back and the rotor of the Miyota 9039 is also decorated. It's always refreshing to handle watches where the back was given just as much attention as the dial.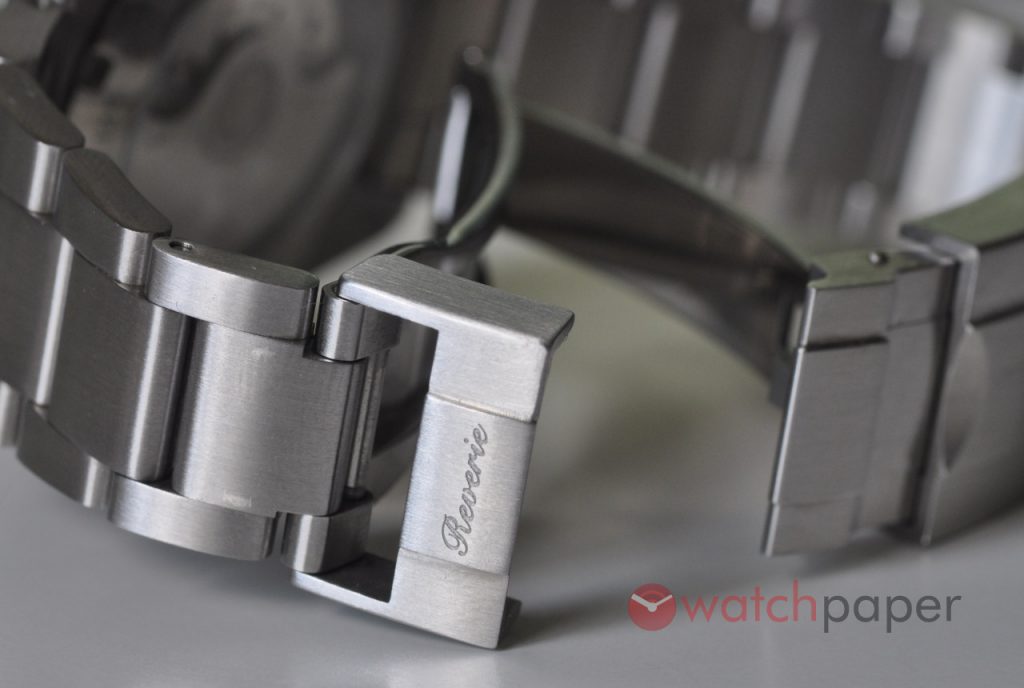 The bracelet was comfortable and the clasp is solid, but if you ever get bored with it, it is attached with a quick-release pin and you can easily try out a different strap.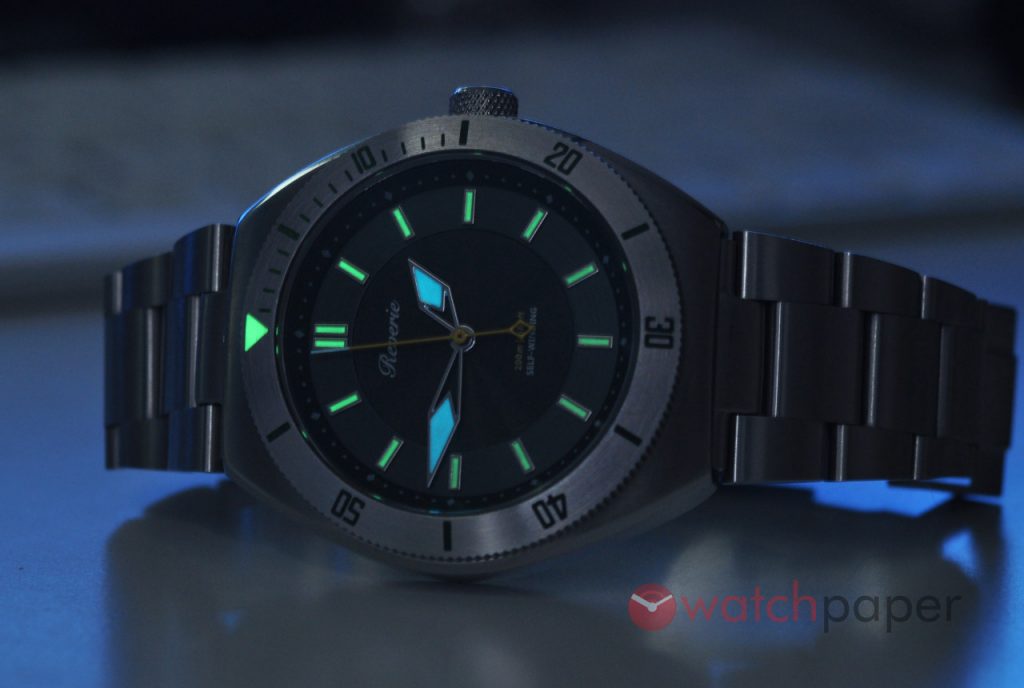 The watch I'm reviewing has the serial number of 000 of 125, it's a prototype. Besides the green dial, there are three other variants, navy blue, warm grey and burgundy, all limited to 125 pieces. Unsurprisingly, the Kickstarter campaign was a success and the production models are expected to reach their owners by the end of the year, early 2021. If you missed the Kickstarter, it's still not too late to preorder one at $375, instead of the regular $500. Don't delay it, there are only a few left!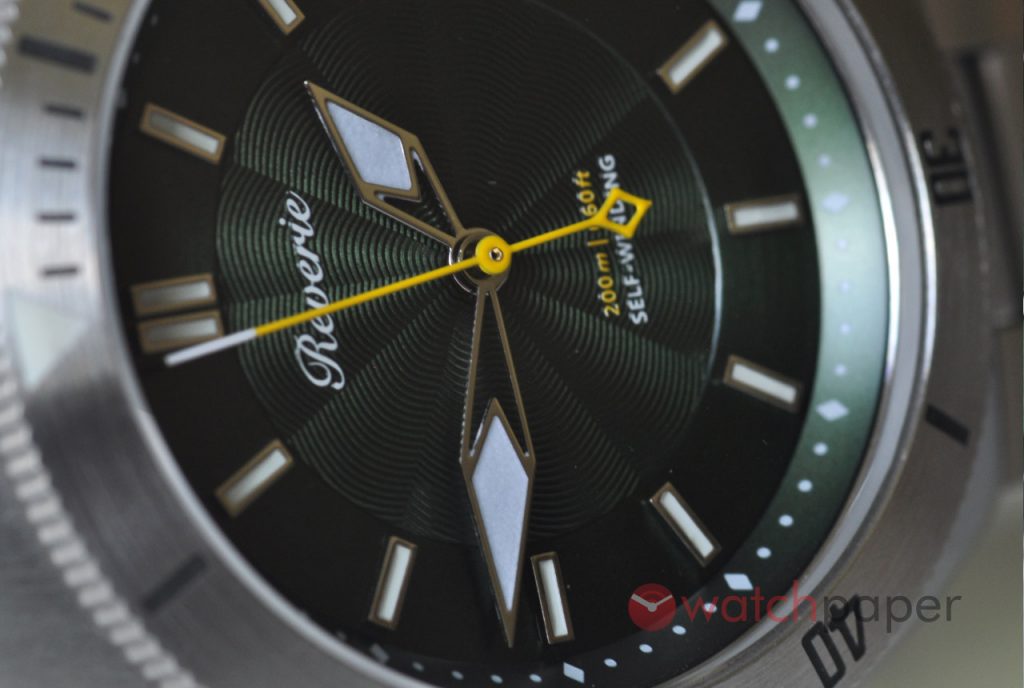 For all the specs of the Reverie Diver and to reserve one, go to: https://www.reveriewatches.com/store/p24/Diver.html