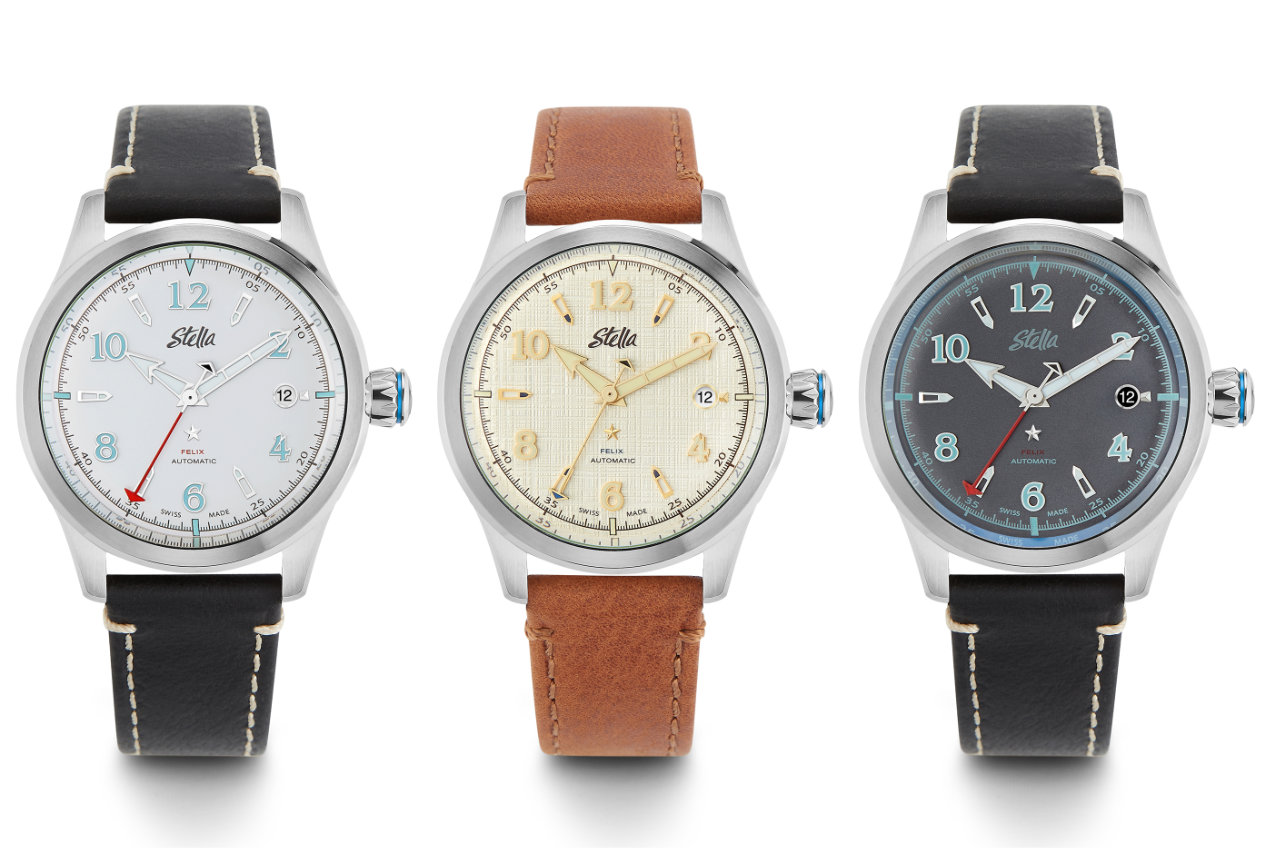 Q&A with Marcella M Dolan Co-Founder of Stella Watch
Watch lovers should lookout for a new star, soon to appear on the microbrand canopy, Stella Watch Company from New York City. They will launch on Kickstarter in the next few weeks and before that, I wanted to have a bit of background info on the brand. Marcella M Dolan, one of the co-founders and a seasoned watch designer was kind enough to answer my questions:
Why Stella – Part 1 – Why starting a new brand?
I've been in the watch industry for almost 25 years now. I started as a graphic designer at a small watch company and immediately fell in love with the idea of creating something so simple yet so complex at the same time. Through the years I was always eager to learn and that eventually led me to VP of the watch division for a large global fashion company. Through this journey I have learned just about everything there is to know in the watch business and I've built some very solid relationships with the best manufacturers. Creating Stella was the perfect way to use that knowledge and experience and to bring my take on design to the watch industry. I have a ton of respect for what's being done by some of the micro brands but I felt there was a place for Stella as something unique and cool. Not another homage or diver or pilot. A watch that could be worn by everyone.
Why Stella – Part 2 – Why this name?
When my partner and I started this project, we knew we wanted to design a watch that everyone could enjoy. I have a star tattoo which for me symbolizes humanity in that everyone is a star regardless of fame or fortune. I was in New York for 9/11 and I've witnessed an entire city of strangers come together for each other. I had a brother who struggled with addiction and eventually died of an overdose but would have given a less fortunate man his last dollar. I believe that people are inherently good and that's what makes us all stars. Stella is Latin for star so for me, it was the perfect name.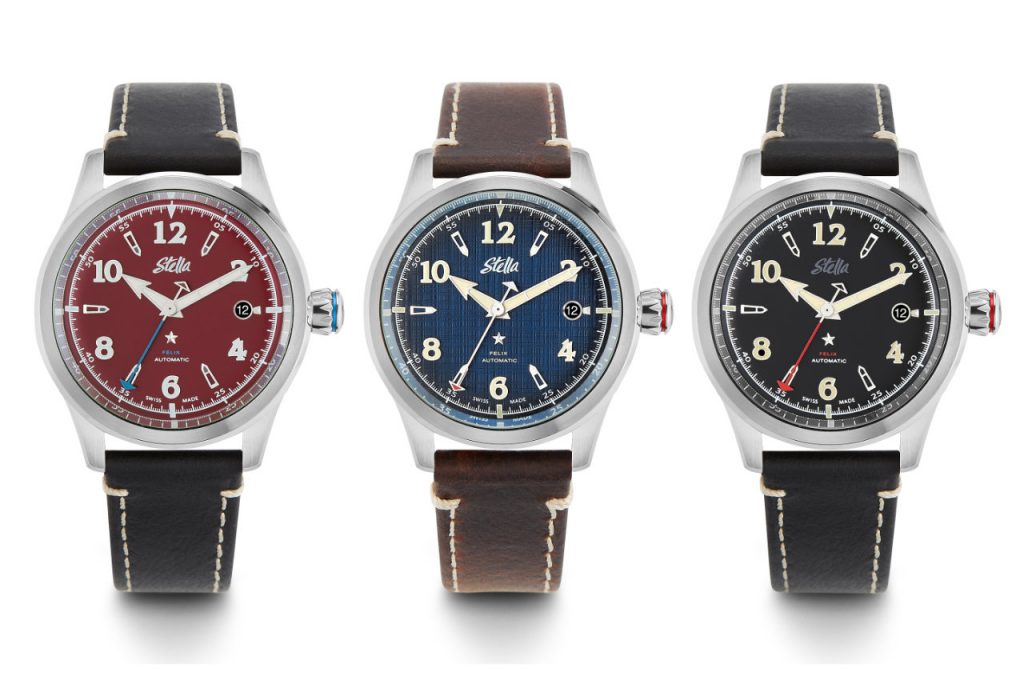 You have a lot of experience in watch design working for others, how was it different to design a watch for your own brand?
With any watch I design, I will not move forward until I feel it's perfect and I carry that same ethos to Stella. But when you work with other brands, you are limited by that brand's aesthetic. Designing a watch for myself was the kind of freedom you can only experience when you do something for the pure passion of it. I was able to immerse my heart and soul into it the way I never could before. The only brand DNA I needed to follow was my own and it is an amazing and liberating experience.
When it comes to watch design and designers, what are the models or designers that had an influence on your work?
There are so many! But two people immediately come to mind.  The first is Jean Claude Biver and in a watch nerdy kind of way, he is my hero. Partly because he was born in Luxembourg, where my mother is from. But mostly because his enthusiasm and passion for watches are apparent in everything he touches. He created a very serious watch, the big bang and it was a success, but then he took it even further and had a lot of fun with it. Look at the Pop Art series or the Sugar Skull.  Rolex would never get away with this!  He has a "savoir-faire" that is exceptional and admirable.
The other person is not in the watch industry at all but Yvon Chouinard, the CEO and founder of Patagonia has always been a person I greatly admire. When he was a young rock climber, he couldn't find the right climbing tools he needed so he created his own. They were an immediate success. But then he found out that those same tools were actually damaging the rocks and he just stopped making them. He cared more about protecting the natural environment than he did for his own fortune. Of course, he eventually found a way to make better equipment and the rest is history.
For me, these two amazing men are the epitome of what it means to truly be passionate about something. They are stars because of their honesty and integrity and courage and this is something I greatly admire.
But if all you wanted is a list of watches I love, I'll say I have a penchant for beautifully simplistic designs with a sense of balance. A few are (in no particular order):
Zenith El Primero Chronomaster
Oris Big Crown Pointer Date (especially the blue dial)
Tudor Black Bay (Red, which I own!)
The Rolex Cellini, (without the date) a highly underrated watch in my opinion
The Bell & Ross BR V1-92
Sinn 104
Rado Captain Cook (which I also own). Divers from the '60s were simple, classic and cool!
Hamilton Khaki
Omega Railmaster (my favorite of the trio)
In Micro Brands, Christopher Ward, Farer, Nodus, Collins, Baltic. I really could go on and on!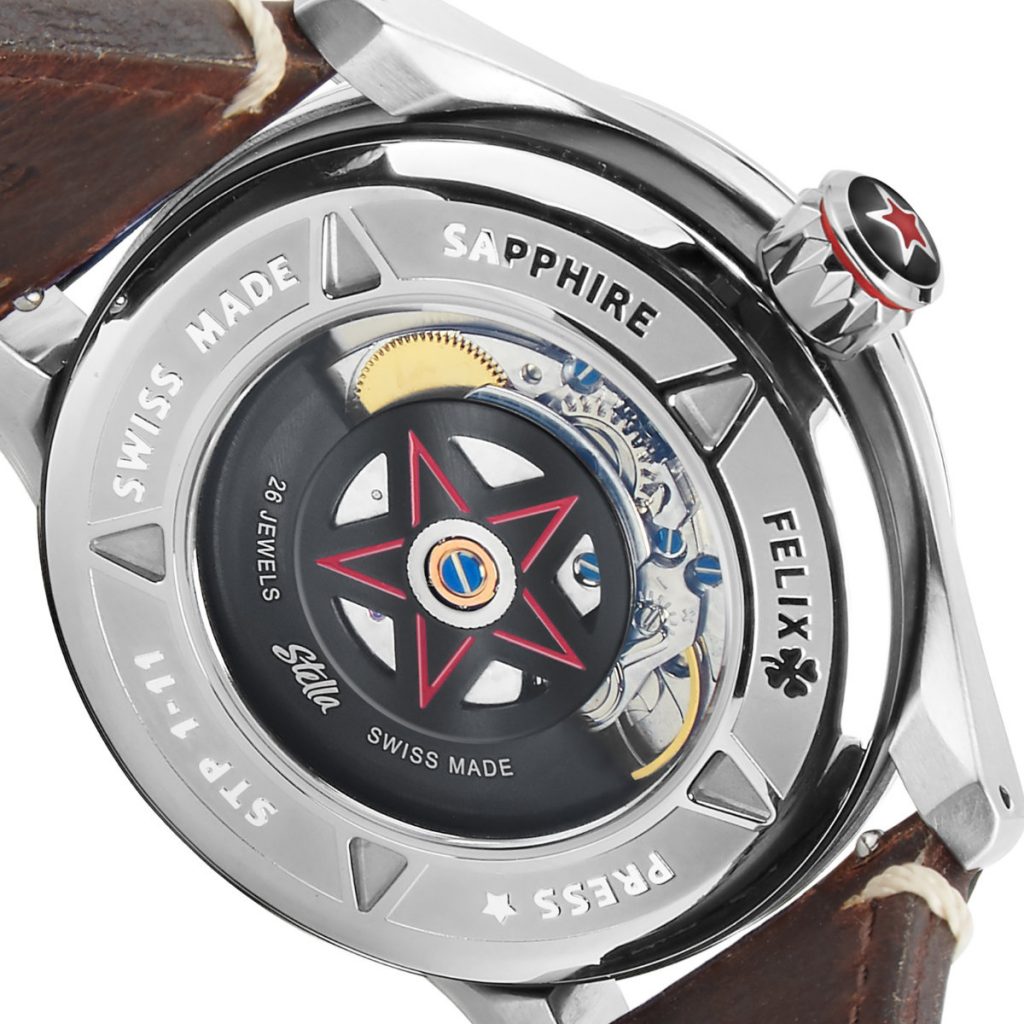 When will you launch on Kickstarter and what will be the starting price compared to retail?
Our launch is planned for mid-March. Discounts will range from 40% to 20% off the full retail price of $1185. We also have something special to offer for our first 50 backers! In place of the FELIX name on the caseback, we will custom etch the customer's name of choice, so you could have, say the Stella ADAM!
After Felix, what is next for Stella? Do you have ladies' models in the pipeline?
If by ladies you mean a cool 38mm to 40mm slightly retro skin diver or a sweet GMT, then yes! I want to create watches that I enjoy and I'm not a typical "ladies" watch wearer. I don't believe all women want mother-of-pearl and diamonds. If I want to wear "bling" I put on some fancy earrings.  I want my watch to be handsome and stylish and of great quality! Stella is inspired by New York and I think that a sophisticated yet cool vibe will carry through in all future designs.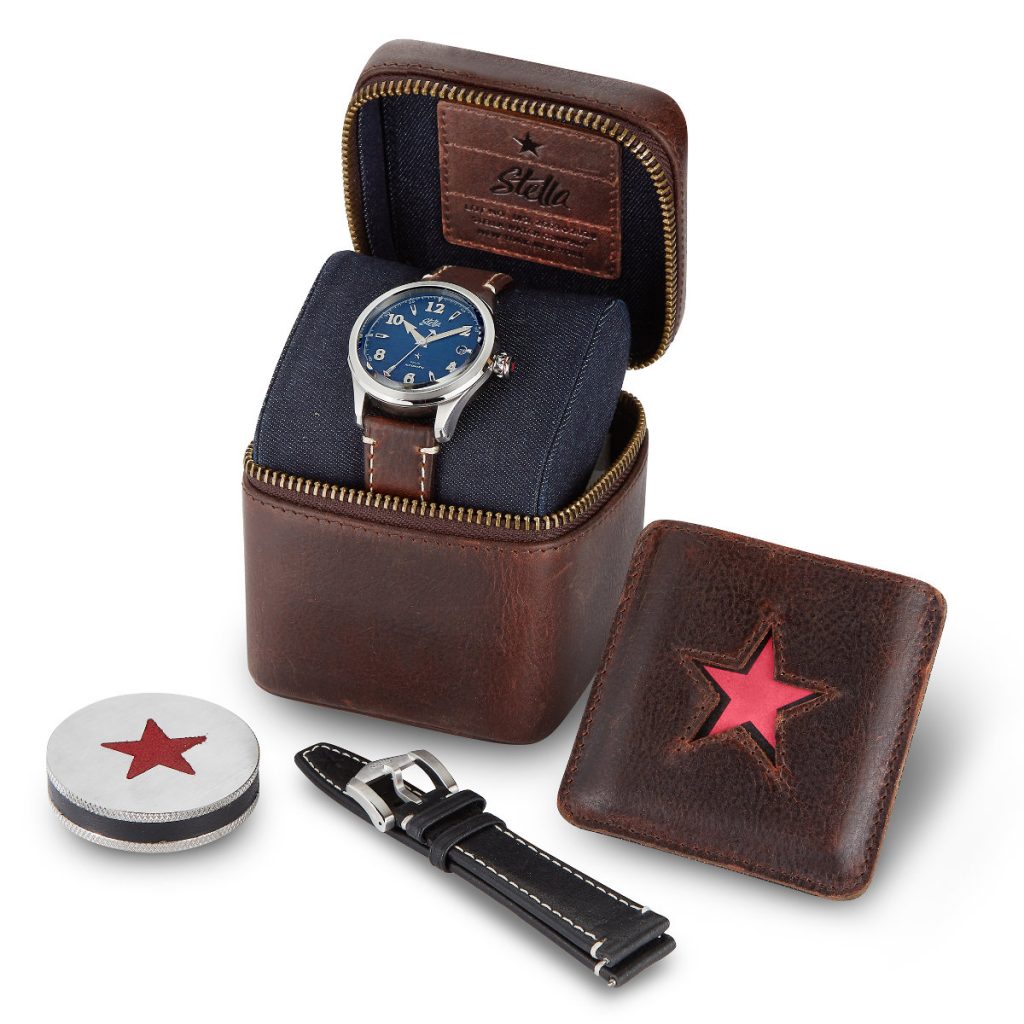 Technical Specifications
Diameter: 40mm
Lug to lug: 48mm
Thickness: 13.6m
Lug size: Drilled. 20mm
Case: Brushed and polished 316L Stainless Steel, Four-piece case construction with PVD plating on the case body
Lens: Semi-Domed Sapphire with 3 layers of AR undercoating
Caseback: Exhibition with Sapphire crystal
Movement: STP1-11, 26 Jewel, 44 Hour Power Reserve, Date, Hacking Seconds, Hand Winding, Custom Stella Rotor, Blued Screws
Dial:
V1. Dress Blues – Linen Texture
V2. 77 Blackout – Matte finish
V3. Times Grey – Matte finish
V4. Grand Central Silver – Metallic finish
V5. Downtown Red – Matte Finish
V6. Gotham Gold – Linen Texture
Lume: Swiss Super Lumi-Nova C3 and/or C1
Strap: Genuine Leather front and back in pull up or veg-tanned leather. 20mm to 18mm taper. Quick Release
Crown: Screw Down
Water Resist: 10 ATM/100 Meter
Unique serial Number
SWISS MADE
Retail: $1185
Packaging: Leather Box
Additional: Custom Stella Caseback Tool included for Kickstarter backers
For more details and to subscribe to their newsletter, go to www.stellawatchcompany.com