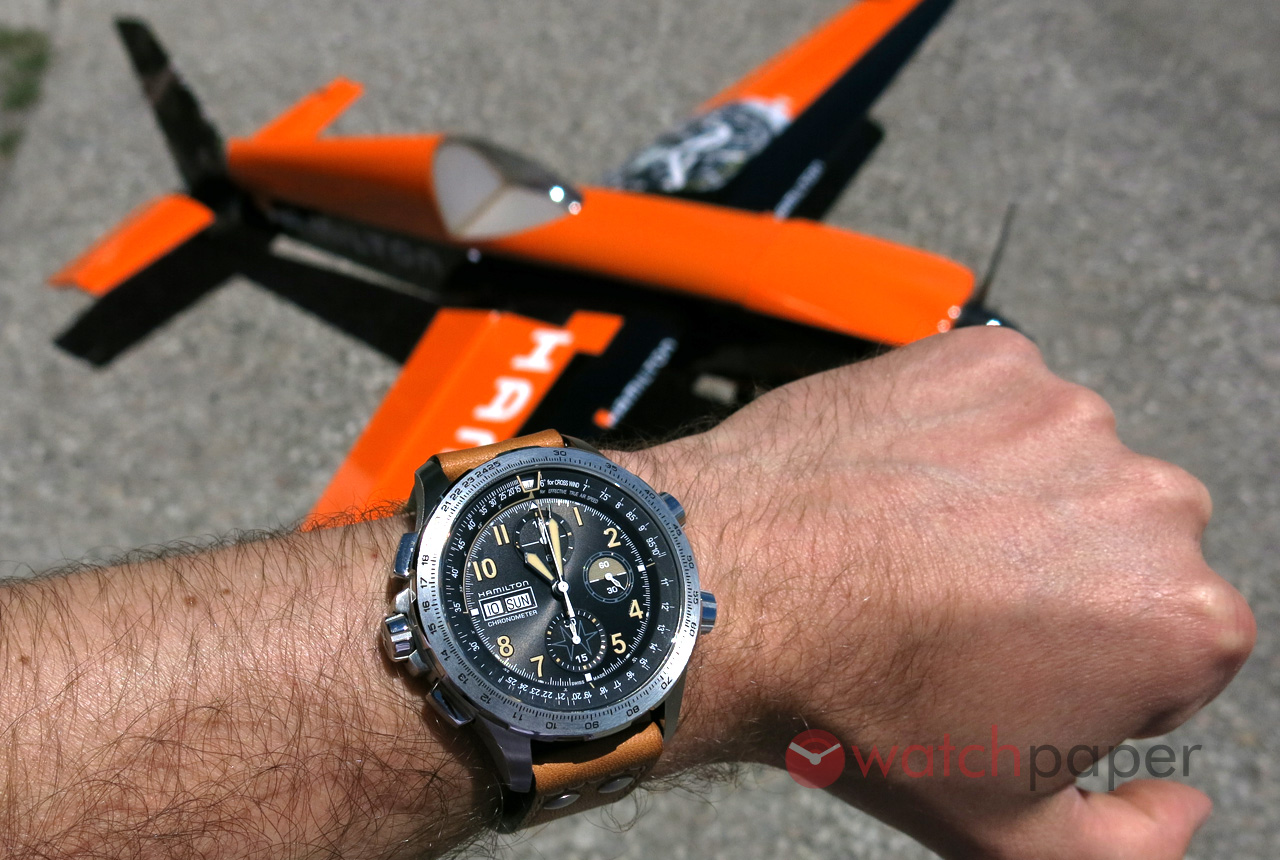 Hamilton celebrating 100 years of timing the skies
When I think of Hamilton as a brand, there are two things that come to my mind, Hollywood and aviation. I have to admit, this is a rather schematic image of a company born in 1892, in Lancaster, Pennsylvania, that over the years laid several watchmaking milestones — the first electronic watch, the Ventura or the first LED digital watch, the Pulsar — and whose contribution to WWII played an important role in the victory of Allied forces – more about it here. Still, when I see a Hamilton on someone's wrist, what comes to my mind are movies like Interstellar and The Martian, or the daredevil pilots of the Red Bull Air Race.
Well, it seems that in 2018, Hamilton is celebrating, as they put it, "100 years of timing the skies", a poetic way to describe a century of involvement with aviation. Their love story with the sky begins in 1918 when Hamilton was chosen as the official timekeeper of the first U.S. Airmail flights. Since then, Hamilton watches accompanied pilots in several aviation milestones: the first flight over the North Pole in 1926, the first flight from California to Hawai in 1927, later to become the official watch for four major commercial airlines in the U.S. in the 1930s. Today, they are the official timekeeper of the Red Bull Air Race World Championship, in addition, there are four pilots in the race that are also Hamilton brand ambassadors: Nicolas Ivanoff, Juan Verde and our Canadian Pete McLeod in the Master Class and Dario Costa in the Challenger Class.
To mark this anniversary Hamilton Watches Canada invited a few journalists and bloggers to an exclusive event at Toronto's Buttonville Airport. The program for the day was rather enticing, there was no way for me to miss this, even if it involved driving from Montreal and getting back the same day, I had to be at the office the next day. Who needs an energy drink when you get to meet with a Red Bull Air Racer, or with the first female pilot to fly for Air Canada and also enjoy a flight over downtown Toronto and the CN Tower. I was so pumped that morning, I woke up at 4 a.m. before my alarm clock would go off. By 5 o'clock I was on my way to Ontario, on a rather dark morning with thick clouds and a constant rain. It was hard to believe that blue skies and sunshine was in the forecast for Toronto and indeed by the time I got to Kingston, the rain stopped and as I was entering Toronto and the traffic got thicker the sky became completely clear. I could not have asked for a better weather!
Once at the airport, a Hamilton employee showed me the way to Hangar 3, our rendezvous point. Inside the hangar, among the aeroplanes, there were several showcases with the entire 2018 collection of Hamilton, plus another one with a few historic pieces, including the custom watch worn by Murph in Interstellar.
In the new collection, the watch that immediately caught my eye was the Khaki X-Wind Day Date Chrono, limited to 1918 pieces. Besides the good looks — the X-Wind collection, in general, has a badass look — this is the first Hamilton chronograph to have a silicon hairspring and it is COSC certified. Maybe because of the aeroplanes in the hangar, or me getting ready to fly over downtown Toronto, but I fell in love with it. I have a small wrist and the X-Wind Chrono is a 45 mm watch. Normally, I would steer clear of anything bigger than 42 mm, it just grew on my wrist, I loved the feeling, just give me the clearance, I'm ready for takeoff.
But first…
Pete McLeod
I always try to prepare for interviews, trying to get to know the person beforehand and doing my best to avoid stupid questions. With Pete, I didn't have time to properly prepare and I was quite nervous about meeting him. But as soon as we shacked hands, all my worries dissipated. Such a down-to-earth guy – can I even say something like this about a RedBull pilot?
His story is absolutely fascinating, it deserves an entire article on its own, which I hope to be able to nail in the near future. In the meantime, let me just give you an appetizer… He's from Red Lake Ontario, this is as far as you can get by car, anything further North is pristine wilderness. Pete's family had a side-business flying fishermen and hunters to remote locations in search of new adventures. This is how at six-weeks-old, he was already airborne in the family airplane and by 3, on his father's knees, Pete was already playing with the control wheel. For him, flying was normal, a natural state, it didn't occur to him until later that he has a unique experience that other kids don't have. At 16 when he was getting his pilot licence, while others were learning how to take off or to land, at his father's advice, Pete started learning basic acrobatics, at the time, in order to become a safer pilot who can react to emergency situations. Pete fell in love with acrobatics immediately and later when he started competing, he was quickly noticed for the experience he had at such a young age. At 25 he became the youngest pilot and the first Canadian to enter the top level of the championship.
As I'm writing these lines, I can't help but think of Pete preparing for his next race this weekend in Budapest, Hungary. The Red Bull Air Race is like the F1 of aviation, a motorsport of extreme precision and crazy speeds. If in F1 at a corner there are somewhere between 3 to 5, maximum 6 g, when Red Bull pilots take a corner there are 8 to 11 g, because they don't have to break. Besides the g-force, Pete has to deal with stress, and he has focus, so that Sunday, even if he's on the other side of the world, jetlagged, not sleeping in his bed, eating strange food, he still performs at his best. There are only eight races per year, not 21, if a pilot has a bad day, it will have a huge impact on his score.
Besides this, there are other challenges, Pete doesn't have another racing plane at home to practice. The last time he flew his plane was during the race in Japan at the end of May. There is no way an F1 driver would spend a month between races without driving, but this is the reality of Red Bull pilots like Pete and he has to deal with it.
Northern Lights Aero Foundation
Also present at the event were several ladies from the Northern Lights Aero Foundation, whose mission is to attract women to enter careers in any sector of aviation and aerospace. I was told that there is a huge shortage of pilots all over the world, including in Canada. Since Canadian pilots have a great reputation, they are often poached by foreign airlines, leaving Canada in an even more difficult position. Considering that the first woman was hired as pilot 40 years ago, today there are still only 5% female pilots flying commercial airlines. Northern Lights would like to mend this problem by presenting girls with the carrier opportunities in the aviation sector and also by presenting them with role models by rewarding excellence and achievements by women in this field.
Their biggest event is their annual gala and award ceremony in September where the entire industry is invited. In the past 10 years, there were 49 winners, among them Captain Judy Cameron. She was the first female pilot to graduate from Selkirk College's Aviation Technology Program in 1975, later to become the first female pilot hired by Air Canada in 1978. In her 40-year career, she was flying aeroplanes ranging from Twin Otter and Douglas DC-3 to Boeing 767 and 777, starting with shorter internal flights and finishing with transatlantic flights. In 2015 she was one of the ladies winning a Northern Light award and a year later she joined Northern Light as a director.
I asked her about what it meant to be a pioneer as a female pilot.
In the beginning, there were no female role models and I was laughed at. My two years at the college were probably the most difficult. Once I got to work at the airline, I was well treated but I always felt that there is a lot of attention and pressure being the only one. I knew that my actions will reflect on the women that come after me.
She was also the one to hook up Northern Lights with Hamilton. In her first year as a director at the foundation, she was doing a lot of fundraising and this is how she was introduced to Hamilton. Part of their agreement is to offer a gorgeous blue-dial Hamilton Jazzmaster Seaview to every recipient of the Northern Lights Rising Star award.
It is worth mentioning that apart from Northern Lights, here in Canada, Hamilton is also involved with the Air Transport Association of Canada and the Air & Army Cadet League of Canada. They also give awards at different local competitions and they supply multiple Canadian Forces Squadrons, like the Snowbirds.
Above Toronto in a Cessna
The highlight of the day was a tour above downtown Toronto in a Cessna. The smallest aircraft I ever flew with was a Bombardier Q400 and I remember that it was quite a bumpy ride. With the Cessna, we were warned that it will be like going with a small boat on the sea, we should just think of the turbulence as wawes. Yes, they might surprise us because we can't see turbulence and prepare for it like we would in a boat when a wave is approaching, but there is no reason to worry, airplanes are built to withstand them.
I was sitting behind our pilot, Jeff Page, listening to the communication with the control tower. He went through his checklist and asked for permission for takeoff. Permission granted and before I would know, we were in the air. Jeff was navigating toward downtown following the Don River Valley, leaving Markham, North York, and here we were above the city, circling like a bird above the skyscrapers and the CN Tower.
I borrowed the new Khaki X-Wind for the flight, it just made the experience complete. Flying in a tiny airplane, feeling the air and a pilot watch on my wrist! Unforgettable!