Christopher Ward Trident C65 Trident Automatic – Review
Luxury brands sell you an experience as much as they sell you a watch. The vicarious adventure-by-association experience of climbing a mountain, diving beneath the waves, or of piloting an airplane is a large part of many watch brands' DNA but the purchasing experience is as important. Whether it's the opulence of a boutique where you sit in a plush chair while attentive salespeople bring you watches to try on or the tactile, Russian doll-like experience of unboxing layers of increasingly expensive materials to the actual watch sitting comfortably on its pillow, finding and buying is almost as engineered as the watch itself. The boutique or AD buying experience is, let's face it, rare and restricted to those who can afford it. In these days of isolation, it's out of the question entirely. Watch nerds get their buying thrills in the hunt and through the moment of arrival and unboxing, but what the high-touch buying experiences add to a major brand's cost structure is clearly something that gets passed on to you.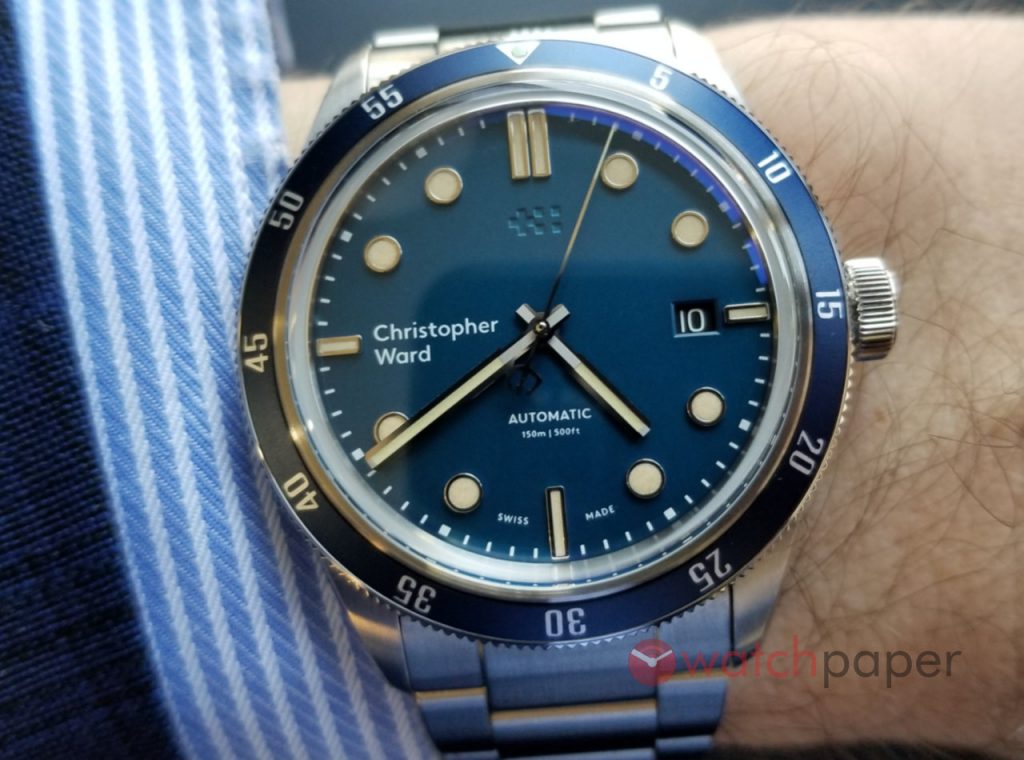 Christopher Ward was one of the earliest adopters of an online buying experience that eliminated the need for bricks and mortar retail. Importantly, a large part of a traditional watch brand's costs was removed from the equation, allowing Christopher Ward to focus on offering watches whose price/quality ratio is surprisingly good. What's striking about the Trident Automatic is how very well Christopher Ward executes on its packaging and presentation with the unboxing part of the buying experience. When I went to collect the package, I thought some other delivery had arrived. Instead of the small cardboard shipping box I was expecting, a larger, heavy, box got handed over. I've performed this ritual many times over the years and this was definitely not what I was expecting. Far more prestigious brands have delivered far more expensive watches rattling around in plastic containers. I'm stressing this part of the experience because Christopher Ward cared about allowing me to have the complete buying experience as part of my time with the Trident. What I got was a complete set, including a very sturdy and elegant box complete with a full set of documentation, including card. All were first-rate in terms of quality and tactile appeal.
So, how is the Trident Automatic C65 as a watch? An evolution of the Trident Diver, the Automatic 65 is definitely in the "inspired by" category…in this case the increasingly crowded 60s skin diver watch. Christopher Ward is unabashedly enthusiastic about mash-ups of the best elements of these watches. Larger brands like Longines, Oris, and micro brands like Halios have all found these designs rich veins to mine for inspiration. With its sensible design and diver-but-not-too-crazy technical virtues the skin diver's smaller case sizes, straightforward dials and human-capable depth ratings are a powerful antidote to some hulking try-hard divers that have dominated the category in recent years. They have a place, but are sometimes just too much. At 41mm, the Trident C65 is slightly larger than some of the other entries in-market and the spaciousness is reinforced by the thin bezel and by the "white space" of the dial itself. Uncluttered and functional, the blue-dialled version I test-drove was highly legible with applied indices and stick hands that were very easy to read at a glance. The counterbalance on the seconds hand is Christopher Ward's signature trident. In fact, the overt branding on the dial, despite being reinforced by the name at 9 o'clock and by the embossed logo hinted at 12 o'clock, still seems understated.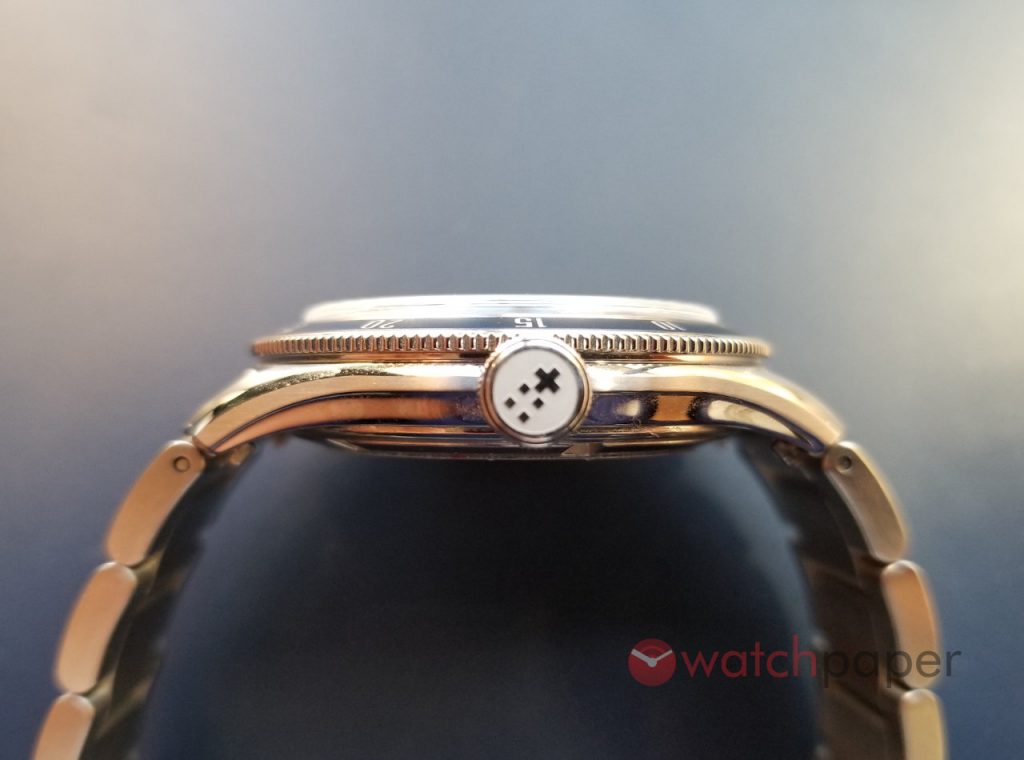 Most impressive was the case itself: a sleek blend of polished and brushed surfaces, the shape and curvature were pretty near perfect for my wrist. The watch sat flat and snug with look-at-me lugs best viewed from the crown-on position. I often took it off my wrist just to admire the shape of it. It's that wonderful.
My review copy came with a bracelet. That was a mistake, but it was mine. I asked that it come that way. No fault of the bracelet, which was seriously impressive with its no-tools adjustable clasp and brushed H links, but because a bracelet seems at odds with this genre of watch and the spirit a skin diver is meant to evoke. Not to worry, you can go all-in with the retro-diver vibe and get it on leather or rubber as well.
Where the previous iteration was hand-wound, the Trident 65 Automatic is powered by the Sellita SW200-1 which is, as the name implies, automatic. Christopher Ward decorates it but it's hidden by the caseback. I had no issues with accuracy, and the 38-hour power reserve is adequate if not record-breaking. At around $1000 on a strap and $1200 (CDN) on the bracelet, the Trident C65 Automatic is a lot of engineering for the money, but that's only half the story. The experience Christopher Ward provides at this price point is what sticks. Apart from walking into an actual store and being helped by an actual human being, Christopher Ward comes closest to providing a complete luxury buying experience at non-luxury brand prices I've ever encountered.