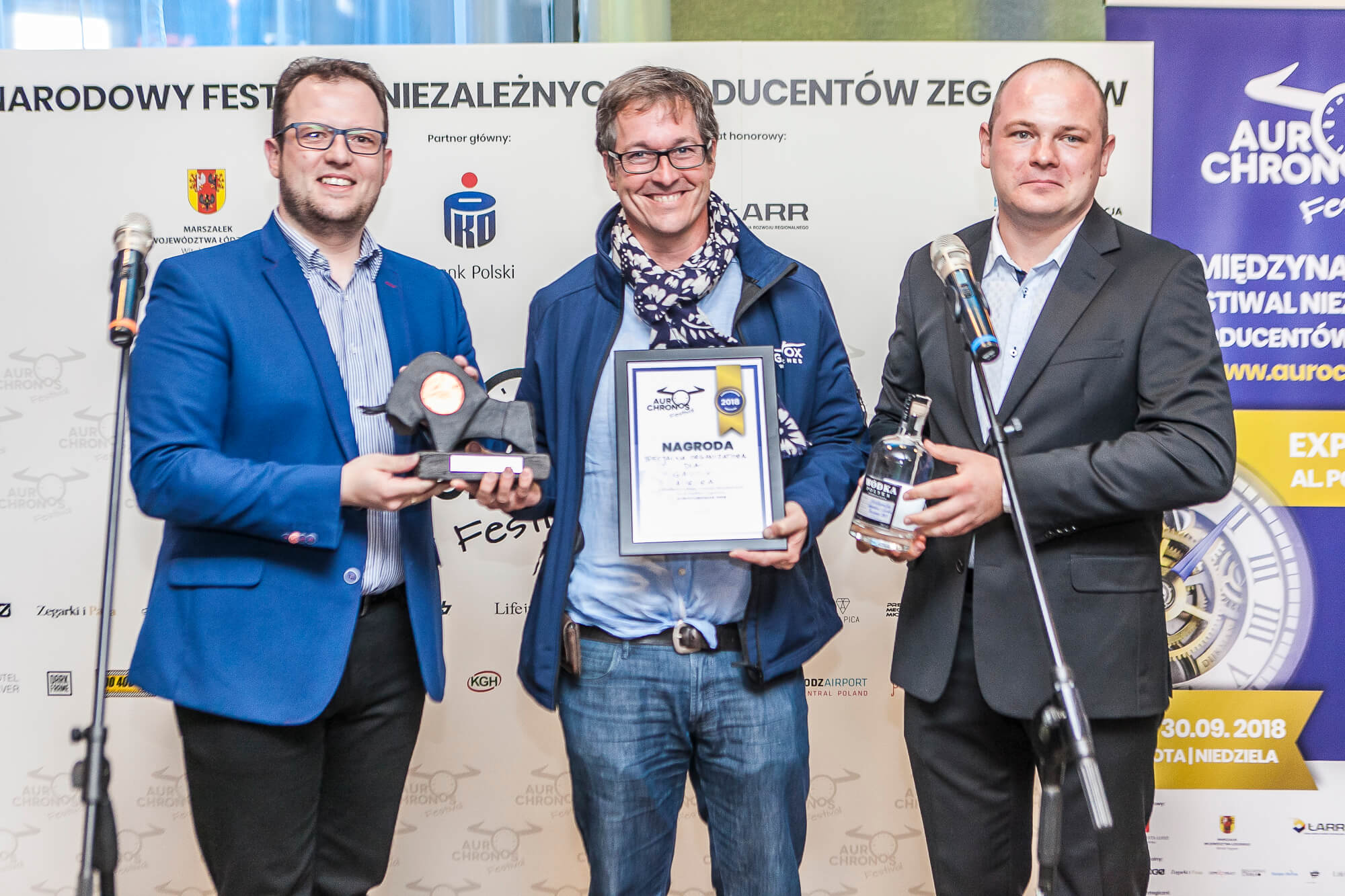 Interviewing Maciej Mazurkiewicz about AuroChronos
Two years ago, I got a message on Facebook from Maciej Mazurkiewicz, inviting me to the first edition of the AuroChronos Festival… in Lodz, Poland! A watch show in Poland, focusing on microbrands and independent brands? I was dazzled by the audacity of the idea to create such an event in Poland and while I could not attend, I was happy to offer my support via WatchPaper and Microbrand Watches Facebook group. To me, AuroChronos was another proof that things are changing in the watch universe, where microbrands and independent brands, popping up all over the world, find support from watch events organized in the most unexpected places.
While other watch shows, the big ones, the old one that everyone knows, struggle to survive, last year's Aurchronos saw the list of exhibitors became a lot longer and the program even more impressive, with speakers and workshops given by industry heavyweights, such as Theodore Diehl from Richard Mille, Dirk Dornblüth from D.Dornblüth & Sohn, watchmaker and instructor Kalle Slaap and others. At that point, AuroChronos became a household name among watch brands interested in reaching out to Polish watch collectors and this year's edition — scheduled for the weekend of October 5 and 6 — is on the right path to surpass the previous editions on all fronts. I wanted to know more and Maciej was kind enough to get back to my long list of questions, giving us a better understanding of this fascinating event.
WP: While I did cover Aurochoronos in the past, based on the info from the press release, I never had the occasion to ask you, please tell me a bit about your background? How did you get into watches?
AuroChronos Festival is a brainchild of two friends. Pawel and I go way back. We met thanks to our wives who studied together. We got along well and became friends. I am a doctor who specializes in oncology and Pawel is a business trainer and translator. A couple of years ago, Pawel got his first mechanical watch which was a G. Gerlach "ORP Dzik". That was, more or less, the time when we both got into watches. I have always been more present in social media watch groups and communities so one day I realised that independent brands in Poland have not been given sufficient exposure. I called Pawel with an idea to change that. Six months later the first AuroChronos Festival took place.
I suppose you have a soft spot for independent watches, please tell us about your current collection.
We both appreciate the distinctive character of independent watchmaking and the fact that very often you have a chance to stand out from the crowd wearing unique pieces that don't cost you an arm and a leg. It is important for us that, quite often, independent brand creators have no limitations in their creativity and sometimes, just like us, ignore the "right way" to make a watch. Going back to our collections, among other watches, between the two of us we have a handful of independent ones like Belgian Gavox, Havaan Tuvali from Taiwan, Undive (currently Crafter Blue), Maison Celadon, Spinnaker, and of course G. Gerlach from Poland.
I saw on the website that it only took you guys six months to organize the first festival. How did the idea of creating a watch event was born?
As I mentioned, the idea just popped into my head one day. I knew that this endeavour would require at least another person to pull it off so I immediately called Pawel. Now, preparing the third edition, we know that organizing the first one in just six months was possible just because no one told us that it was not. Looking back, it was a crazy idea, even crazier ride and a couple of near-heart attack experiences but nonetheless, well worth it.
This year, the number of exhibitors has almost doubled compared to the first edition, in 2017. Where do you think lays the key to this success?
We like to think that it is simply the fact that we are passionate about what we are doing and that people can see that. We both have the gift of the gab and are happy to spread the idea of the AuroChronos Festival to others. Perhaps it is also because our event is something fresh. Adding the fact that we have really reasonable pricing policy and friendly atmosphere contributes to the growing interest of both visitors and brands.
Please tell us about your visitors. Who they are and how they know about this event? Do you get many people from outside Lodz? How about visitors from abroad?
Our main goal concerning visitors is to attract not only ones that are already interested in watches but also to open the world of horology to the general audience. That is why we are trying to make it a family-friendly place. Way too often we have seen shows that were designed with only men in mind so we advertise in all the "typical" places but we are also addressing the untapped groups of potential watch enthusiasts. Last year we had over 1300 visitors in two days with many of them coming from all around Poland. We also had foreign visitors and would like to attract more this year too.
How is the independent watch market in Poland?
It is a rather young but definitely booming. Poland is a growing market. First and foremost, during communist times, we were stripped of the so-called good living and of access to luxury goods. From 1989, Poles started to explore the world of quality living which can be seen in all its aspects like cars, clothes, travelling, good food or quality alcohol. The consumerism of prestige is ending. Poles are no longer interested in the biggest brands and want to know now where is the true quality and uniqueness, the true art of goods. In other words, where is the real deal. That's why people are searching for it – also in the world of watches and our idea is to educate the general public about it.
I really like the idea of Aurochronos setting up an award and I'm sure our readers will agree, it is a beautifully designed trophy! It's a great way to acknowledge the extraordinary work of independent watchmakers. If it's not a secret, may I ask who are the members of the jury this year?
Thank you for the kind words and the compliment on the work of Sylwia Czerwińska who designed and created the trophy. The idea of awards has been with us from the very beginning and that is why AuroChronos is followed by the word festival. This year, we are going to have a couple of surprises in the jury so I wouldn't like to say everything straight away. What I can tell you is that Theodore Diehl, the spokesperson and a watchmaker of Richard Mille, is joining us this year as the head of the jury. He came to us last year as a special guest, gave two fascinating lectures and gave us a lot of useful insight.
For those who can't attend Aurochronos, will there be live broadcasting or videos that you will post after the event?
We will certainly present videos after the Festival. We will also try to offer live broadcasting but with a very limited manpower every new thing that we add, even the smallest one, is quite a challenge. Nevertheless, we are always open to new suggestions and will seriously consider that.
Going forward, what are your long-term plans for Aurochronos?
Our long-term plans are to keep growing in a smart way and to reach out to more and more people that might be interested in watches. We would like to further educate our visitors about the beauty and importance of promoting independent watch brands.
3rd International Festival of Independent Watch Brands
AuroChronos 2019
Date: October 5 and 6, 2019
Venue: Expo-Lodz Sp. z o.o., al. Politechniki 4, 93-590 Lodz, Poland