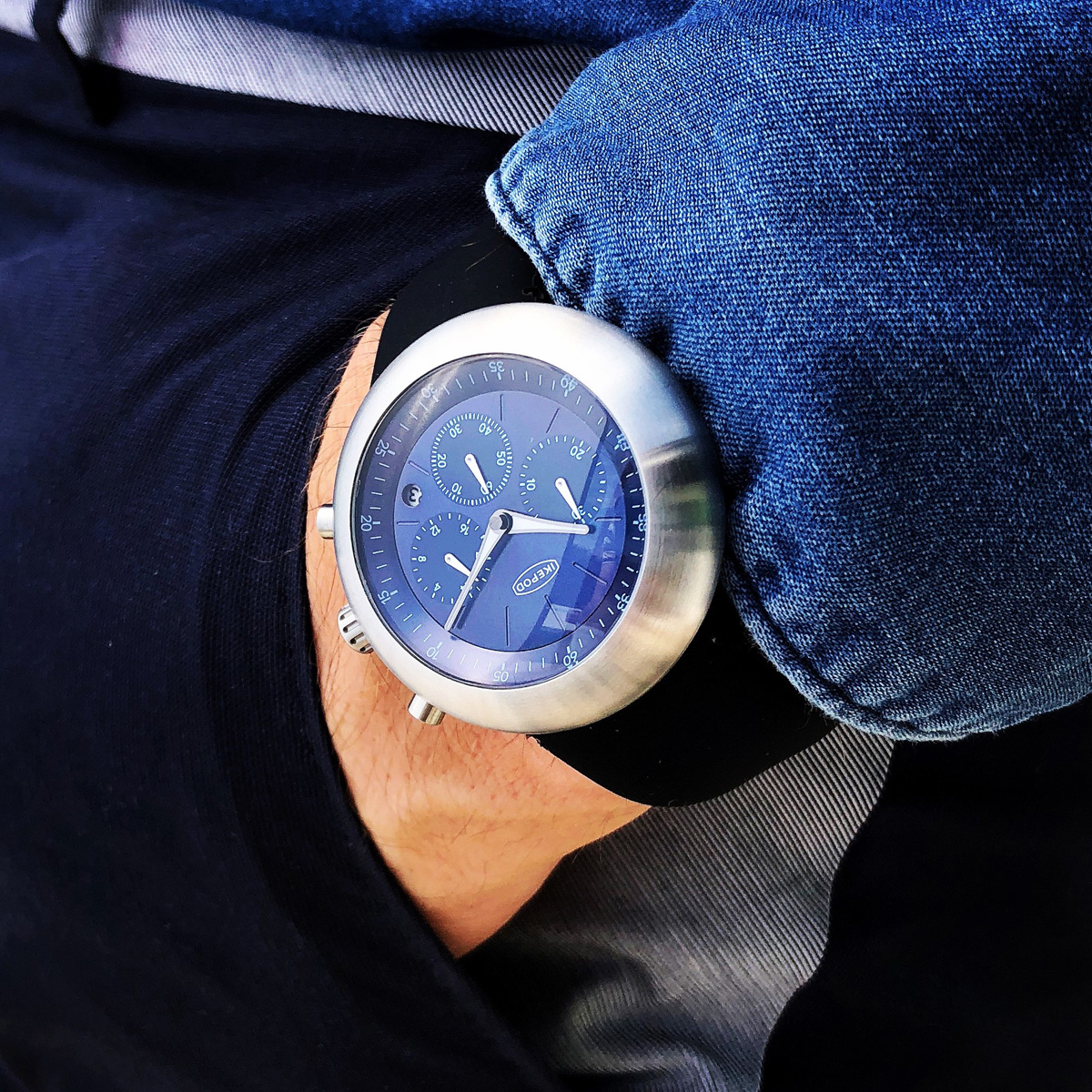 Christian-Louis Col on reviving IKEPOD
If you are going through old watch albums from the 90's, there a watch that will stand out from the lot thanks to its unusual vintage UFO look, the Ikepod Hemipod. Ikepod, a watch brand founded by Olivier Ike and Marc Newson in 1994, has quickly attained a cult status that did not save it from going into bankruptcy protection after the turn of the century. It was relaunched in 2008 as a luxury brand with exclusive collections in gold and platinum, with a network of premium retailers (Colette, Westime, The Hour Glass), but this time too, but Ikepod ended up dormant after Marc Newson quit the brand.
Last year, a group of luxury and watch veterans decided to revive the brand and they bought Ikepod and they are about to launch in the coming weeks (September 18) a Kickstarter campaign to raise funds for a chronograph inspired by the iconic Hemipod — the Chronopod, and a two-hands model — the Duopod which is an updated version of the Horizon.
The Swiss Made label is gone from the dial as both watches will be powered by Miyota quartz movements and will be assembled in Hong Kong, making the Ikepod affordable for a larger fanbase. Judging from the photos the new Ikepod watches kept the essence of the original models but there is a fresh twist thanks to famous watch designer Emanuel Gueit (lead designer behind the Audemars Piguet Royal Oak Offshore and the Rolex Cellini).
Let's hear what Christian-Louis Col, a watch industry veteran and one of the new owners has to say about the relaunch of Ikepod.
WP: To better understand who is the person behind the revival of an iconic brand, would you mind sharing with our readers a bit about your background?
I come from the mountains, (Col mean the path between two peaks) and my ancestors were pedlars. As a child, I was in auctions and flees market with my father all year. Later I became a Swatch hunter as it was possible to sell a chrono or a special edition bought in France for three times the prices in Italy.
I began my career at Richemont in France and then navigated in so called selective distribution with commercial and managing positions (shoes, diamonds, watches, cristal till two years ago) but I love watches.
Please tell us about your first contact ever with an Ikepod?
I saw Ikepod in a magazine, in the late 90's but these watches were rare and when I joined Golay in Lausanne (diamonds and pearls) as MD, some creative staff were wearing Ikepod. We were in 2006 and it was really fun to try one.
Why do you think Ikepod run into difficulties?
Well, Nicolas Foulkes explain it quite well in an article about Ikepod, during some years, the watch industry was booming and access to movements and parts was difficult. Also the watches were difficult to produce due to some radical technical choices. I really think that the pricing has always been out of the real market.
Why did you decide to acquire the Ikepod brand and revive it?
It was just a matter of chance, I was looking for a new position and finally, I found a brand to buy. Not just any brand, but Ikepod! I could not let this opportunity escape. People like or dislike Ikepod, and I like when things are clear, different. Having something this strong today is very rare, especially in the watch industry.
Kickstarter is the favourite crowdfunding platform of microbrands, producing the watches in the far east is also typical to microbrands. What are your plans for the new Ikepod, will you follow the microbrand business model and mainly focus on online retail or building up a brick and mortar retail network is important?
Producing in the far east is very common, even for big brands, CNC are running everywhere and assembly could be done elsewhere, it's no longer a secret for watches under 3000 CHF.
If we will have success, we will go for an online retail, and if not we will go for traditional distribution. No matter the network, the most important is to be on the path of your potential customer, this is the main issue. We are in line with microbrand with small margins and multiplicators. We are also like a microbrand, in direct contact with the customers, the co-owner replies on Instagram, Facebook, and email.
What was the mandate of Emanuel Gueit as lead designer of the new Ikepod?
A lot of good and famous designers wanted to work on the Ikepod relaunch. After a while, I was not satisfied with propositions which were too global. We were looking for someone to design new dials, not touching the cases already developed. Emmanuel received a very small brief, said yes, kept the original logo and did a fantastic work. This guy is a genius, as long as you let him free.
Let me quote the About page on your website: c'est parce qu'Ikepod doit (re)vivre, continuer son chemin et changer pour que rien ne change. Should we expect upcoming models to take Ikepod in a new direction?
Ikepa is a design brand, not an high horology one. We changed to quartz and Hong Kong-made, we will bring later on an affordable automatic. We have some projects with watches but not only. It 's a long way to go.
But all should change to remain the same.
As an observer of the watch industry, I find it fascinating to witness the revival of a high-end brand as a microbrand. I hope it will open up the door to other amazing brands wiped out by their inability to adapt to ever-changing market realities.
I would like to thank Christian-Louis Col for taking the time to answer my questions and I hope that Ikepod will run a successful Kickstarter campaign.
Technical Specs
DUOPOD
Two hands: hours / minutes.
42 mm case which appears 39 on the wrist.
Quartz Myota movement. Pure, simple, 316L steel.
Prices in Euros: 475 / USD: 590 / CHF: 550
CHRONOPOD
Chronograph « 2 hands » hours / minutes / 60 seconds / 30 minutes Chrono / 24
hour indication. Miyota JS 25.
44 mm case which appears 41 on the wrist.
A lean design, with two hands and chrono second, positioned at 6.
Prices in Euros: 590 / USD: 725 / CHF: 690
Neither model has a running second hand, nor any time suspensions due to a beating Quartz movement.
Both watches have a tribute strap, with two lengths available, women and men.
Hemipode "2008" logo on the crown for Duopod and Chronopod.