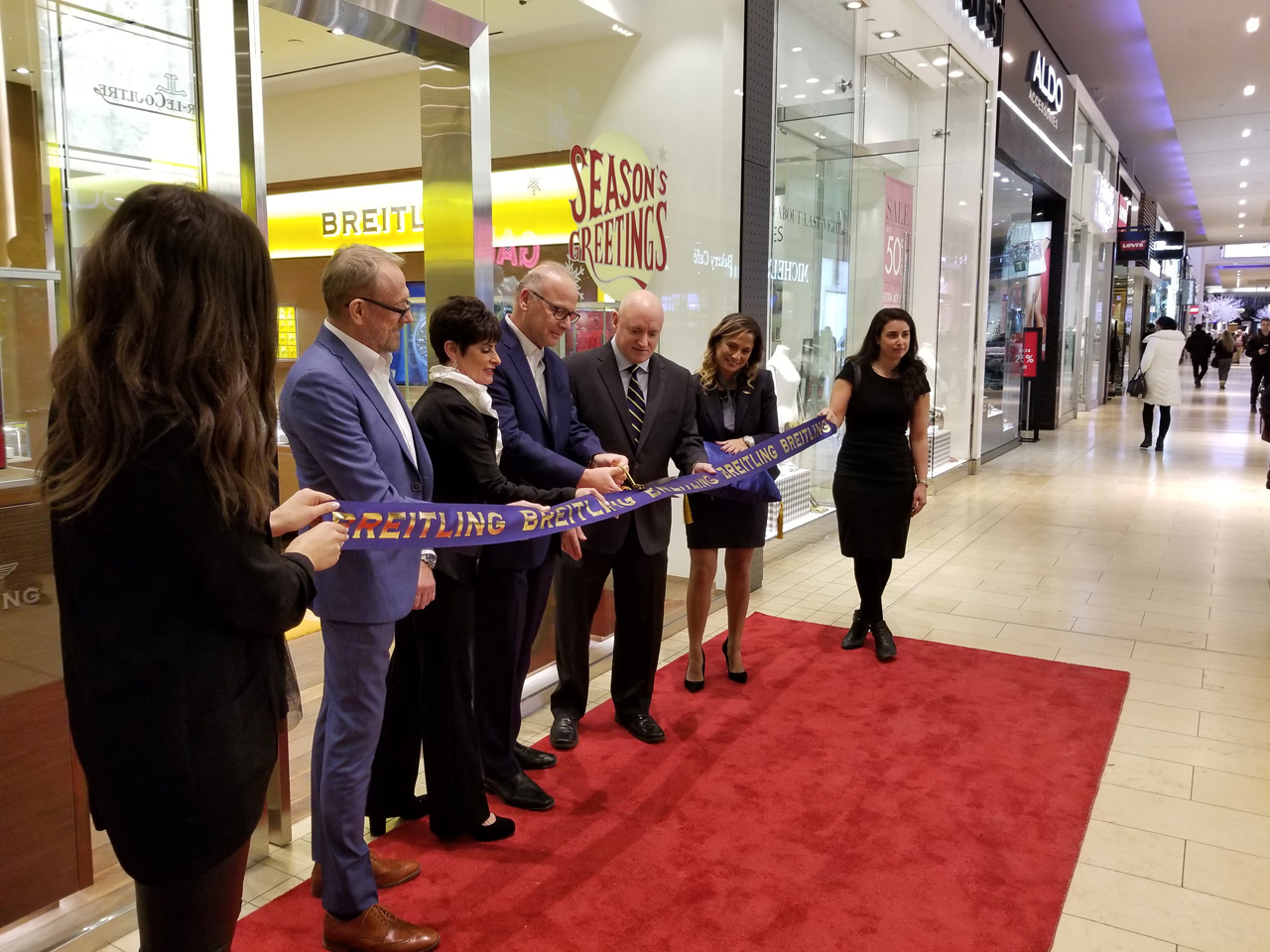 Astronaut Scott Kelly Opens Canada's First Breitling Boutique
Last Wednesday, Breitling cut the ribbon on its first (and flagship) Canadian boutique at Yorkdale mall in Toronto. Special guest for the evening was astronaut and Breitling brand ambassador Scott Kelly. He was also there as part of a promotional tour for his new book, Endurance: A Year in Space, A Lifetime of Discovery, which recounts his year-long expedition aboard the International Space Station. By the time he returned and landed on the Russian steppes, Kelly had broken the record for the most days (520) spent off-planet by a US astronaut. The most important aspect of mission for Kelly was to test the effects of prolonged exposure to space flight on humans in preparation for an anticipated trip to Mars sometime later this century. Luckily, Scott has an ideal control subject for medical experiments in his twin brother, Mark (also an astronaut with 4 shuttle missions to his credit). Endurance isn't a straight recounting of life aboard the ISS: it's also part memoir. As fascinating as finding out what it's like to live so long in space, the book tells the compelling story of how he got there. As he tells it, Scott went from being a slightly below-average student with no real direction to a highly-motivated and disciplined candidate for NASA's space program and his turnaround makes for inspiring reading. The transformational moment happened because of author Tom Wolfe. Reading a copy of The Right Stuff changed his life. Scott went from not knowing what to do with himself to directing all of his energy into becoming, first, a Navy test pilot and, then, an astronaut. And we know how that turned out.
This wasn't the first time WatchPaper interviewed Scott. Last year, I spoke to both Scott and Mark Kelly about their exploits and the critical role watches played in their success as both pilots and astronauts. At the boutique opening, I had a chance to briefly speak with Scott about his role as a Breitling brand ambassador and his new book. Given his background as a pilot, I was expecting him to be sporting a Navitimer or a Chronomat, but when I asked him how his time as a brand ambassador had changed his view of Breitling's watches, he hiked up his sleeve to reveal an elegant Transocean Day & Date. "I wear it because it doesn't set off airport alarms," he joked. "I'm buying one for my daughter as well so when I look at mine, I'll be reminded of her." Pressing a little, I asked if there were any other watches he had his eye on. "I want one of those watches with diamonds all over it," he answered and broke into a sly smile when he noticed my look of disbelief. "No, seriously, the watch I want next is the Avenger Hurricane." I asked if his experience with Breitling had opened his eyes to the nerdy world of watch collecting. With his insane schedule, he's really only had time to explore the brand itself and hasn't ventured very far into the wider hobby.
Turning the conversation to Endurance, I asked about his ongoing relationship with the space program. The memoir is at times brutally honest about his frustrations with ISS operations. In particular, the unacceptably high levels of CO2 tolerated aboard the station are a frequent concern in the book. Headaches, nausea, and loss of concentration were a few of the side effects he had to cope with. An annoyance most of the time, in an emergency, they can be downright dangerous. I asked if these concerns were effecting changes at NASA: "I have an ongoing and positive relationship with NASA. The point of the experiments is to ready humans for long-term spaceflight and what I experienced is definitely being taken into account."
"What will it take for us to get to Mars?" I asked. "Money," was Scott's quick answer. "NASA needs the financial resources to make a Mars journey a reality, but partnerships with companies like SpaceX and Blue Origin are crucial too. Access to low-earth orbit – a vital first step – has been improved through these partnerships."