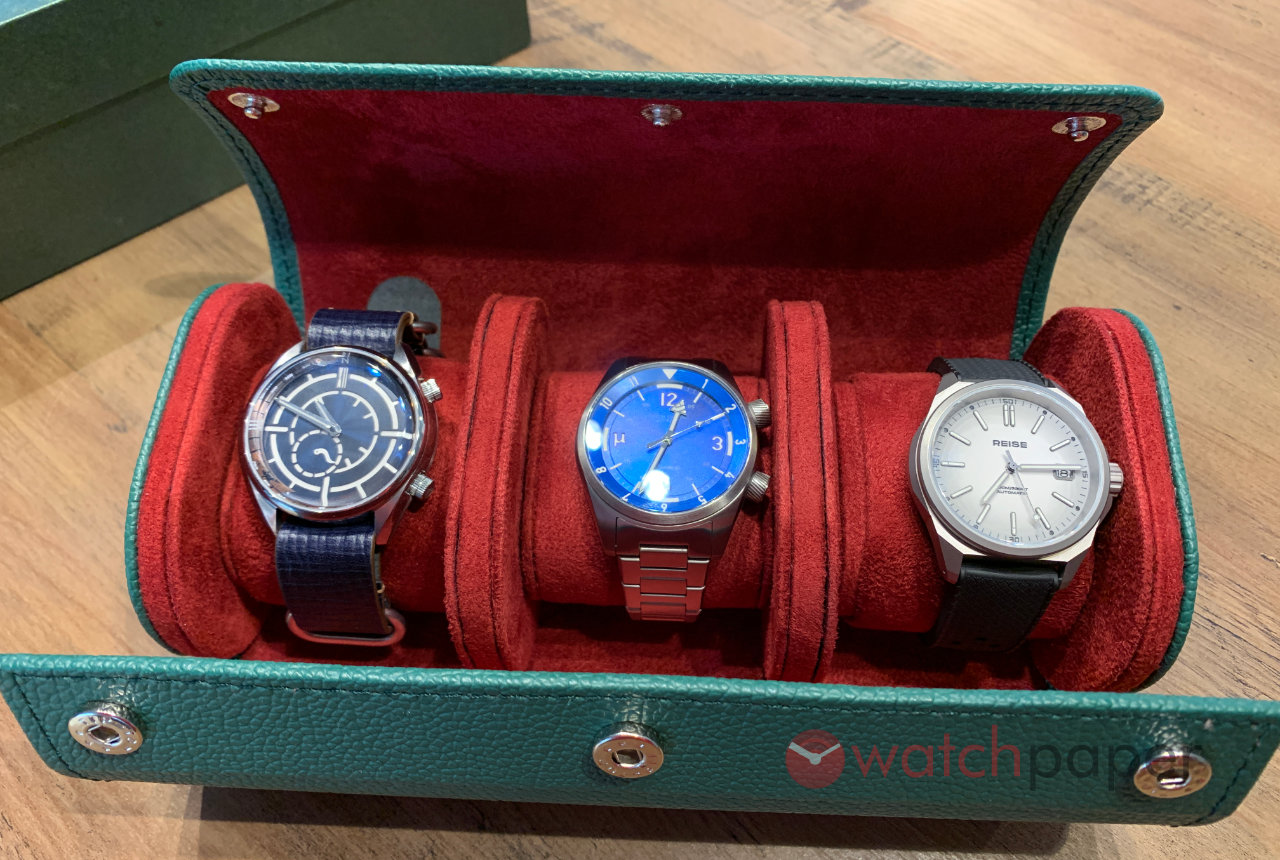 Hands-on Review of the Fahren Concepts Time Capsule MBW Edition
Just a few weeks ago, I was reviewing the Feynman Fjord, and now I'm back with a review of a watch pouch produced by the same people who are behind Feynman, under the brand name Fahren Concepts.
You might wonder, why a different brand? Fahren Concept is not producing, and it won't produce watches; instead, it focuses on collaborations with local artisans from the Little Red Dot (Singapore).
The watch pouch in this review, the Time Capsule, is the first product of the new brand, a collaboration with Gene Khoo, a renowned watch pouch/box maker based in Singapore.
To make things even more special for this review, Yong Keong Lim, the founder of Fahren Concept, created a special edition Time Capsule with the Microbrand Watches Facebook group logo. All proceeds from the sale of these special edition pouches will go to Kids Kicking Cancer Canada, a charity close to my heart. OK, now I have to admit, I'm biased.
Off the bat, Fahren Concepts is not cutting any corners when it comes to the materials and the finishing. The exterior is high-grade Vegan leather, while the burgundy red interior is Ultrasuede, a popular fabric in fashion and interiors. Ultrasuede is more durable and less prone to attracting dust than velvet used in cheaper watch pouches.
Before even opening it, the Time Capsule gives a sturdy reassuring feeling of a container you would trust your favourite watches with. Inside, there are three compartments separated by removable walls.
As shown in the pictures, every cushion comes with a removable sleeve that will let you fit a watch sized for a smaller wrist. In my case, this is very helpful; the Mitch Mason Maelstrom sized for my wrist fits perfectly.
The Fahren Concept Time Capsule can fit anything from as small as a 34 mm ladies' watch to a massive 47 mm Luminor.
I have been looking for something like this for a long time; it gives me easy access to the three watches I often wear, and everything fits like a hand in a glove. For sure, I will take it on my next trip without worrying about the safety of the watches.
You can order the Fahren Concept Time Capsule on the Feynman Watches website. The price is SGD 199, which is very close to our Loonie, a great value for a high-end watch pouch.
There are only five made of the Microbrand Watches edition, and all the proceeds will go to Kids Kicking Cancer Canada, a cause that is very close to my heart. Up for grabs, there are only four, as I'm keeping the pouch from the review (I did make a donation to KKC for it).
Here is the link to get your MBW edition: https://feynman.watch/collections/capsules/products/mbw-charity-time-capsule
I want to end this review with big thanks to Yong Keong Lim, the founder of Feynman, for this generous gesture!