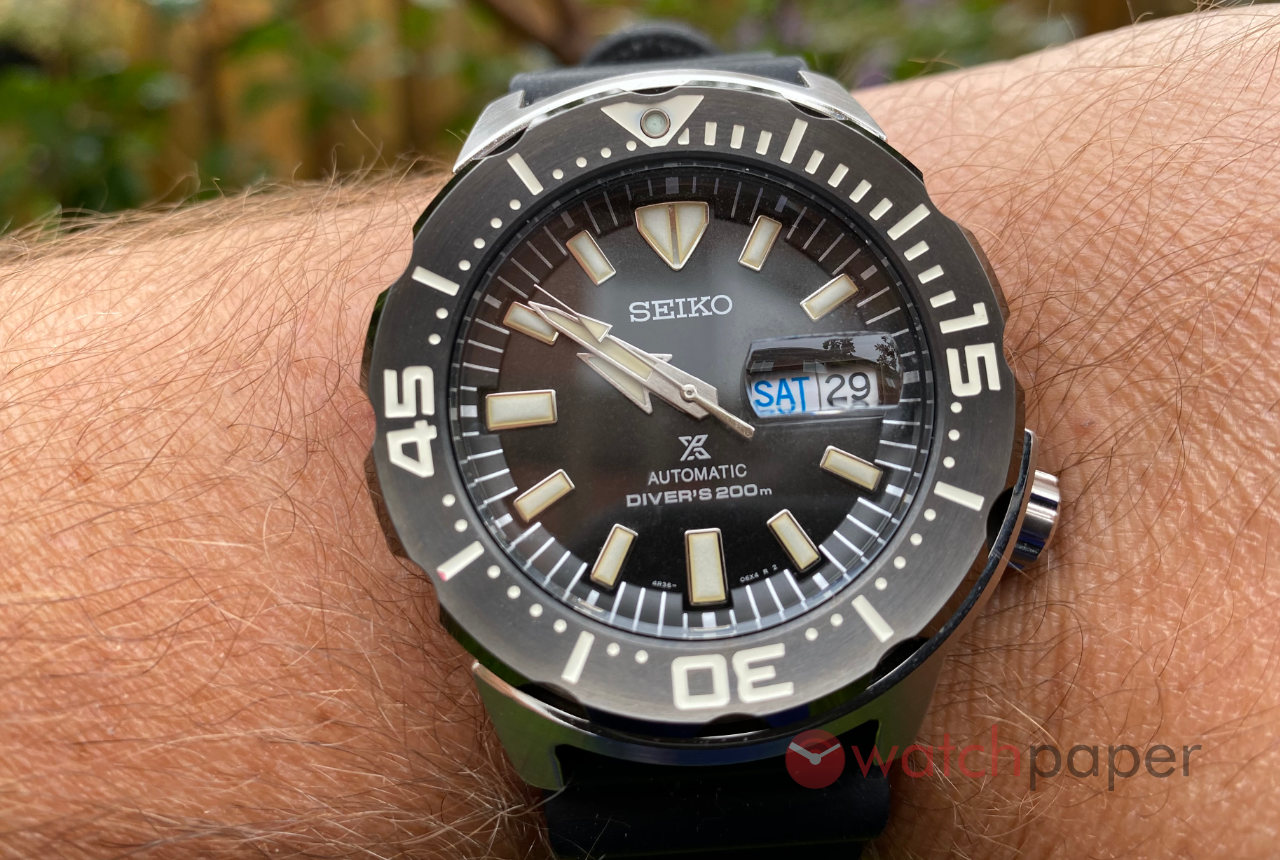 Seiko SRPD27K1 "Monster" – Review on Vacation
So this is my fifth Seiko and, although I have written a few reviews, I have never gotten around to typing one for WatchPaper. This one will be a bit special because of the context. I am wearing this Seiko on a mini-vacation during the pandemic. This has been an odd and challenging year. And while vacation options are limited, the importance of a vacation may be greater than ever. And so, the choice of vacation timepiece is critical for enhancing the vacation and setting the right mood.
Enter – the Seiko Monster SRPD27K1. I bought this watch last year, before the summer. I had actually tracked it down after loving the online pictures after its release. The Seiko became my swimming watch and saw a lot of action last year – hotel pools, weekend swimming sessions with my daughter and casual activities. Let's take a quick look at the Seiko specs before getting into my vacation experience.
This Seiko is a 200m diver's automatic. Its 42mm case houses a 4R36 movement. It has a day and a date display and rotating bezel. It sits on a silicone strap that is far too long. This watch has a completely modern and rugged personality and really makes you want to use it for outdoor activities. It was a very logical choice for a cottage vacation with boating, swimming, campfires and excursions in the woods.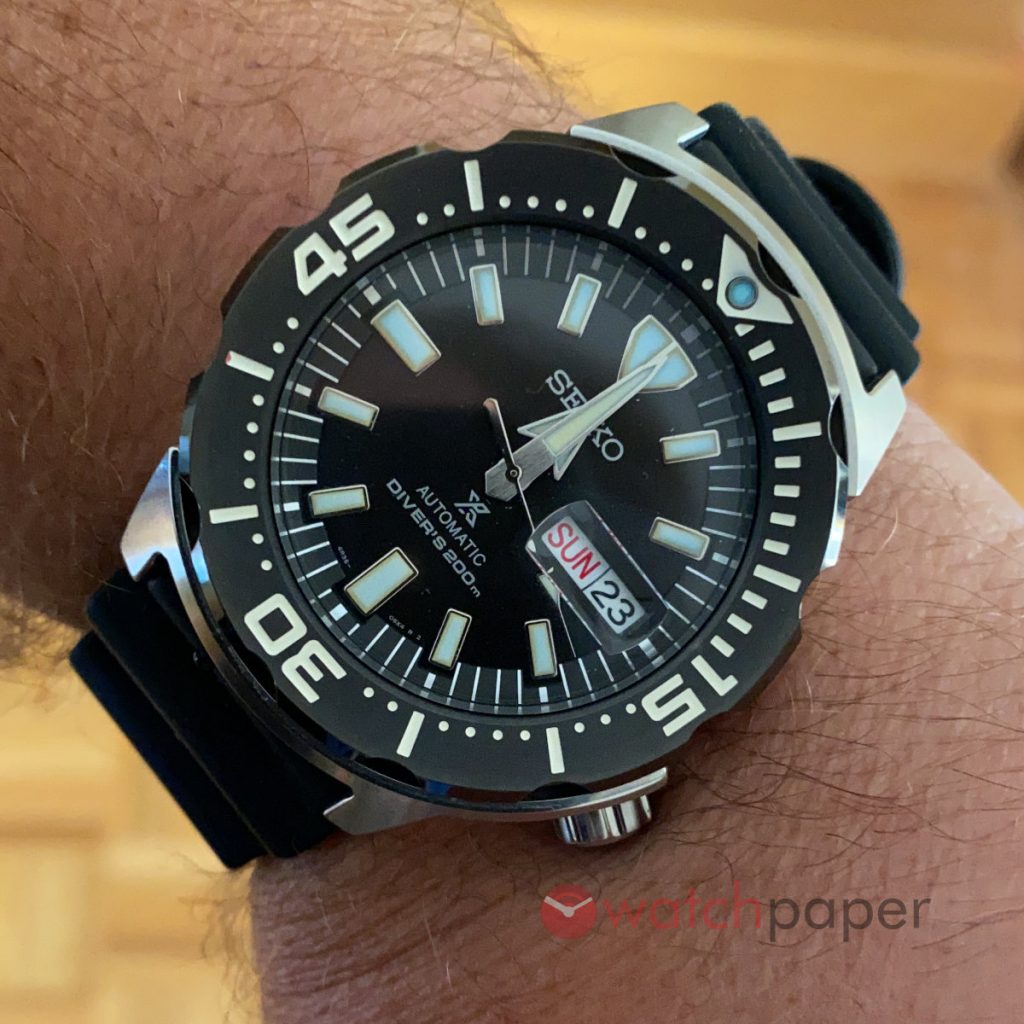 The movement has some negative points. The second hand motion is not smooth. The day and date change starts before 10:30pm and lasts until after 3:00am. But 4R36 has some remarkable performance as I have seen on my other Seiko watches. The winding efficiency is incredible. I can wind it 10-12 times, then wear it for only part of the day, set it down for a day, and find it still ticking the following day. So it seems to attain its full power reserve of 41 hours very easily. The accuracy of all my Seiko watches are well within 10 seconds per day. This Monster is losing less than 5 seconds per day. This is quite remarkable for a $600 watch.
I am sipping my morning coffee and looking across the lake as I write this. It is a perfect setting to write about watches with a fountain pen. The most satisfying aspect of my Seiko is the fit on the wrist. The strap length is ridiculous. I have huge 7 3/8" wrists and if the strap is too long for me, I don't know how smaller guys can wear it…unless they wear it over their wet suits! The buckle is really nice, but the keeper is constantly sliding down the strap, requiring adjustment. Despite these shortcomings, the strap works very well and is extremely comfortable. I wear mine very loose and the strap still hugs the top of my wrist for a superb and comfortable fit. It is ideal for hot weather, sweaty wrists and splashing in the pool. The Seiko wrist posture is a key feature that led to me choosing it for my cottage séjour.
The second feature that made my Seiko a cottage candidate is its day AND date display. While date windows are often unpopular with hardcore watch fans, the DAY is incredibly useful on vacation (or during a WFH pandemic). Time seems to slip away up at the lake and you lose your sense of schedule. Of course, that is what vacation is all about. But I really enjoy the day-date display as I lose track of time.
The Seiko dial and case are super attractive. The dial shows the real weak spot of the watch, however. The indices and hands are certainly not high-end. This is where you feel the sub-$1,000 nature of the watch. The design of the hands and indices, on the other hand, is just about perfect. The lume is really nice at night – even at 1 am as I woke up and grabbed my Seiko to check the time. The bezel is pretty good and the case is great – it features brushed and polished surfaces with an intricate, modern shape. The off-centre crown was introduced decades ago for greater comfort. It works well on this watch and looks the part- rugged and utilitarian. The Seiko is not a large watch and it does not wear large. Still, it works well on my massive wrist. It really does look terrific and the case has so many grooves and contours that is feels really contemporary, machined and macho.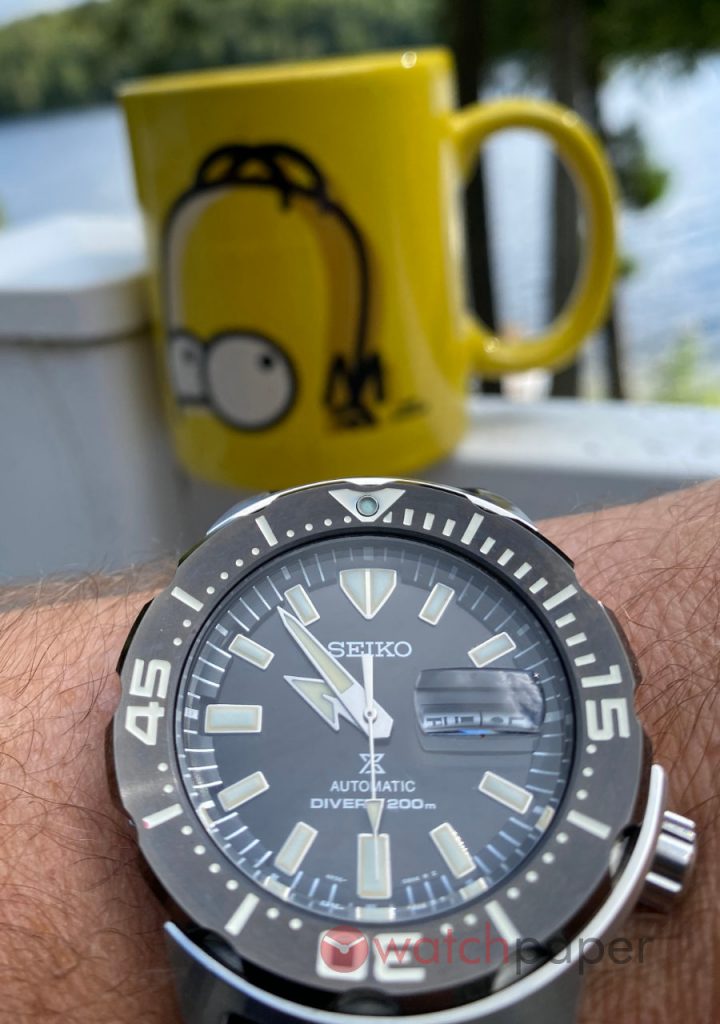 I have a solar-powered vacation piece and I often enjoy quartz for such use. But a mechanical watch was the right choice for this pandemic mini-vacation at a cottage. This past year, in the financial field, has been intense. And working from home has meant being plugged in, 24/7, within the same four walls for the past 6 months. The purpose of coming out to a cottage on the lake was to un-plug, see some nature and spend time outdoors, in a different setting. A mechanical movement, with its autonomous power source, keeps time while being disconnected from the grid or any circuit boards. You can wear such a movement out in nature without feeling like you are still plugged into a device. This is the right feeling for this week. And writing about it, facing this quiet lake, with a fountain pen, takes these feelings of relaxation even further. The Seiko Monster has the right formula for right now.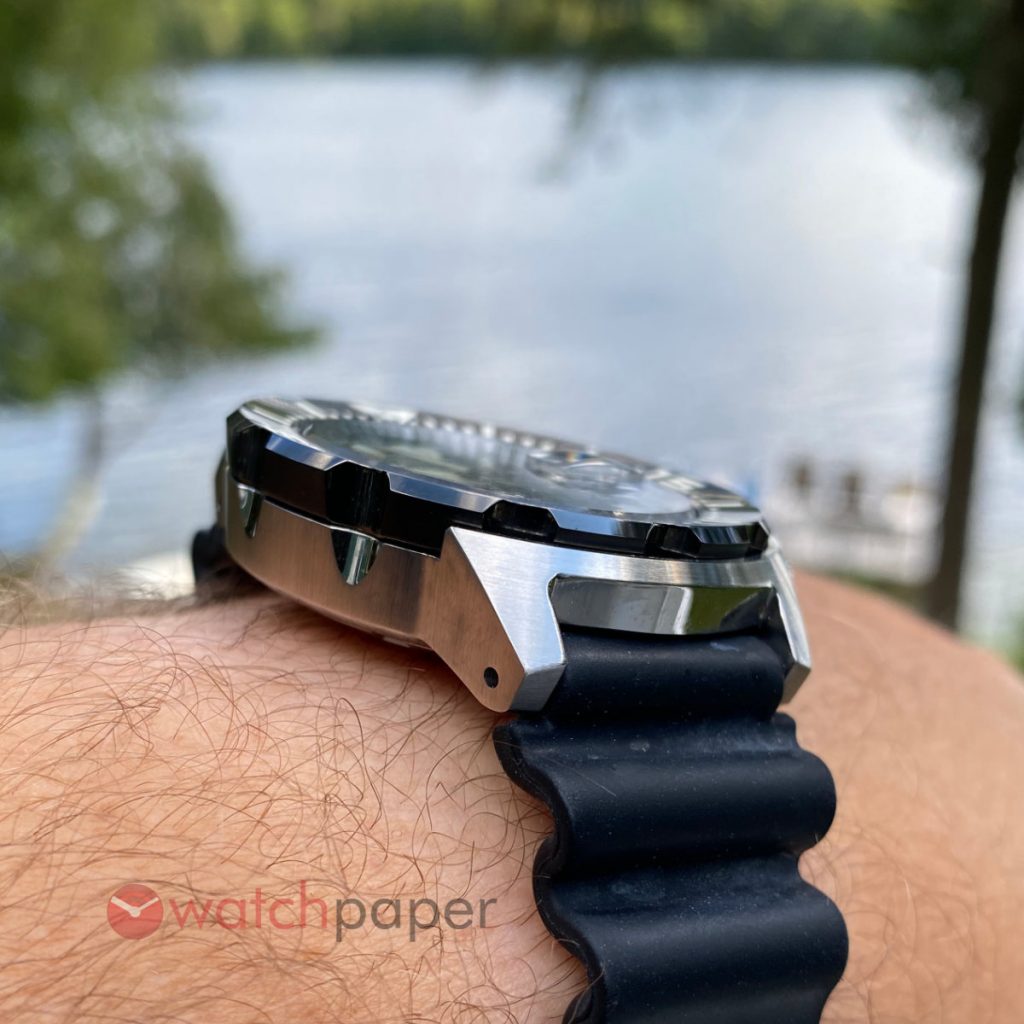 So the Seiko has a few weak spots- we've covered those. But it costs around 600 bucks. That is less than many of the micro brands you read about here on WatchPaper. I can safely say that you are getting more than your money's worth out of this Seiko. You don't get sapphire crystal or a ceramic bezel. But you get an automatic engine with hand-winding, hacking seconds, and a DAY and a DATE. It comes in a really neat little package that you can actually take swimming and snorkelling. I have really enjoyed all the water use with my Seiko. And all of this for the price of a pair of designer shoes or a couple of dinners out. You just can't argue with that. The Seiko Monster delivers on all expectations…and then some.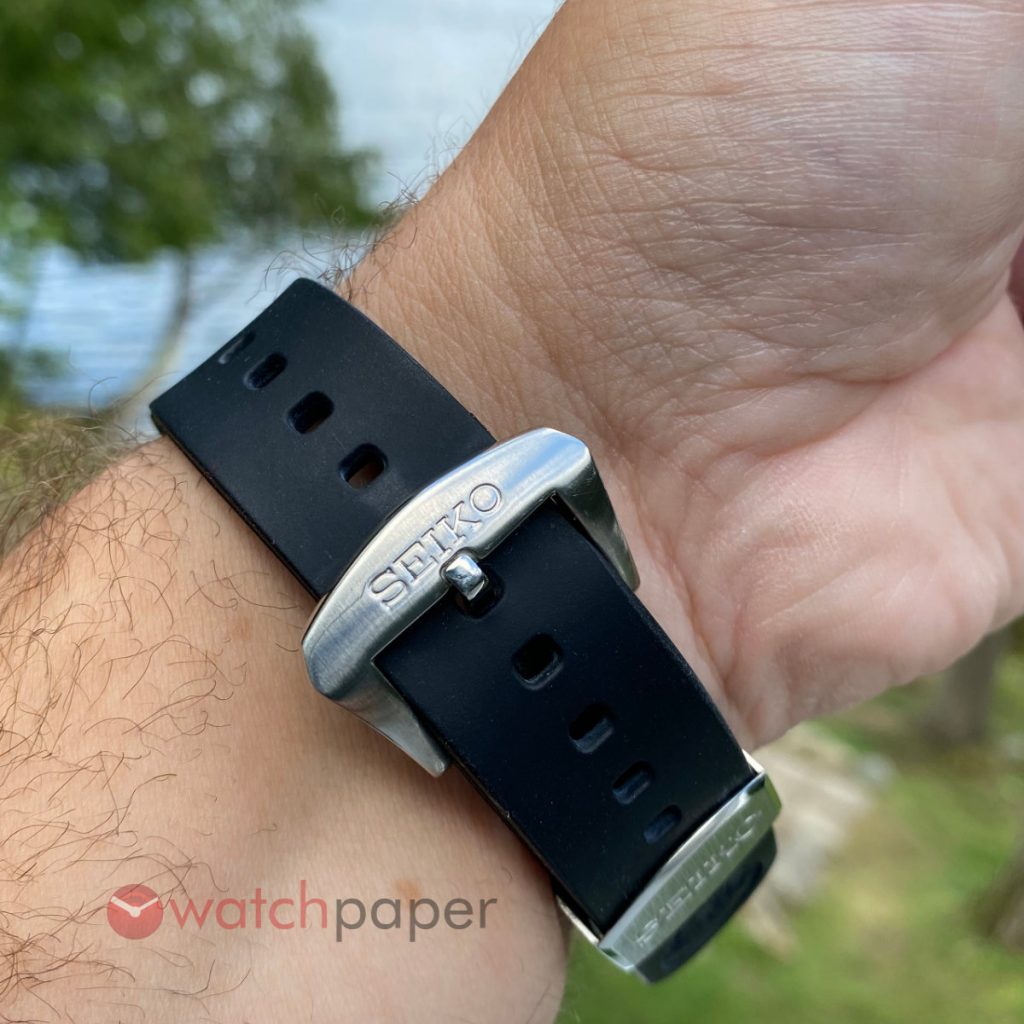 The Seiko is not a watch for all occasions. The design is just too loud for that. I would not feel like wearing it with a dress shirt, although I have done so once or twice. The Seiko Monster is really a sports casual watch for active use. You can wear other watches when you actually return to an office one day. You will enjoy the Seiko, however, during your downtime or during WFH casual time.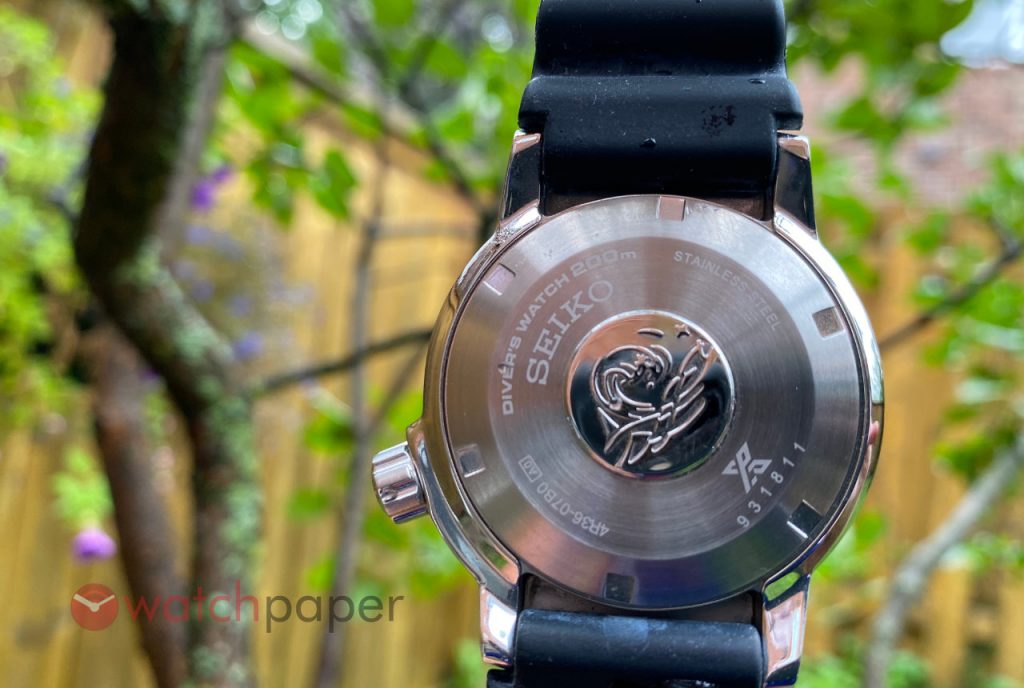 When I get home from vacation, I will likely switch to another watch. But I have greatly enjoyed my Seiko up here at the lake. It felt great, looked great, performed well and gave the right vibe. Then we have the price factor – and this makes the Seiko a compelling choice for your next vacation piece. Take a look at some of the newer divers from Seiko if you want something more classic. As always, the fun is in the search…
Yours truly,
TimeCaptain