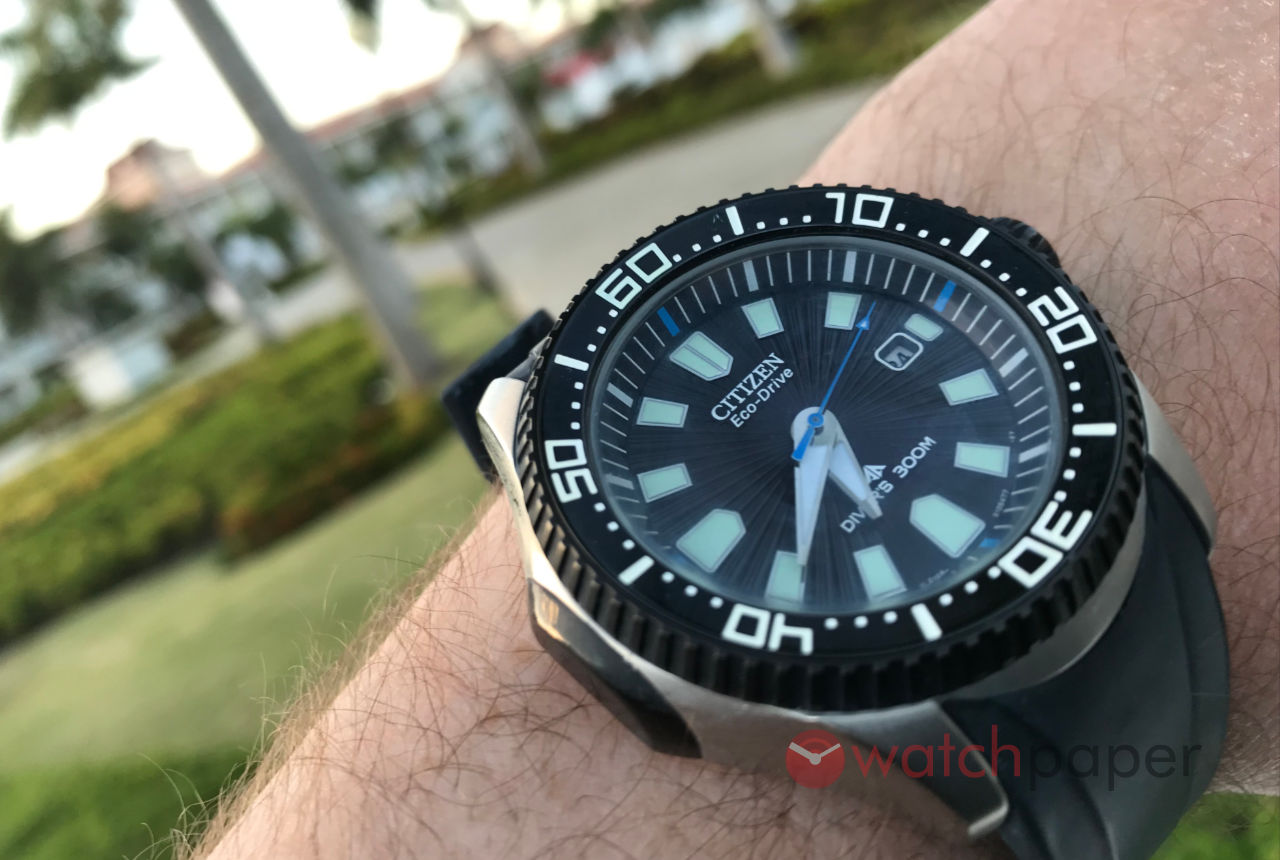 The vacation watch – Citizen Eco-Drive Review
I agonized over my vacation watch decision this year. In the past, I have worn "good" watches on vacation and I have worn "affordable" watches. I always get bent up over the condition my "good" watches end up in after some time in the beach and pool. And the worst culprit is the sun cream. So I started to prefer going for cheaper watches on holiday.
This year, we booked a holiday in Punta Cana, where I am writing this right now in fountain pen. My decision came down to two watches — my Eco-Drive and my Samurai. For weeks, I discussed the dilemma on our partner forum. The almost unanimous decision was to wear the Seiko. It is made for diving and its mechanical movement should provide superior joy to a solar movement. I was almost decided, although the Seiko is brand new and would come back looking ragged. Then I realized that I had bought my Citizen for precisely such use — beach vacations. Its low cost would keep me free from worry and its solar-powered movement would ensure perfect accuracy. I knew I would hardly ever wear the Citizen for anything else, so why not enjoy it now?
This whole topic may seem like the most trivial thing ever, but don't discount the value of the "right" timepiece on vacation. We work hard all year and spend lots of our savings on a vacation, it is important to get every detail just right. And the right timepiece can greatly enhance your vacation. This is exactly why the watch community was recommending that I enjoy my Seiko. But the photos of my Citizen in action will show what I feared my nice mechanical watch.
I bought the Citizen Eco-Drive BN0085 last summer after looking at it for months. The solar power attracted me because it really won't need any maintenance or battery changes — at least not as long as I plan to use it! The watch looks really cool, has a 300m water resistance, a 180-day power reserve (!!!) and cost me barely 300 bucks on sale. Hello, vacation watch.
But let's forget all the technical stuff and try to answer the key questions — how did the Citizen fare on vacation compared to a more expensive mechanical watch? Did the watch play its role as a fun vacation diver?
My initial concern was that a solar watch would not provide much wrist pizazz while sitting at the bar, staying out late for dinner, or puffing cigars on the patio. These concerns were validated. The strap is the worst aspect of this watch — so long that it's ridiculous and it's a pretty cheap material, albeit well-suited to the pool. The other cheap part of the watch is the date window. And these "lesser" features diminish the enjoyment of the watch during evening time. But I would still choose the Eco-Drive next time because it is the right choice for me.
After less than one full day in the pool down here, I have seen two two-tone Rolex, an Hublot, a Panerai, two Breitling Chrono's, one Breitling SuperOcean and an AP ROO chrono! This made me feel pretty stupid for worrying about wearing a "nice watch" to a beach resort. But look at my photos — seeing any Panerai in that state would have ruined my holiday! It's just not me. While I have missed my mechanical watches at times, the Citizen has proven itself to be a very competent and capable diver. It looks and feels like a real piece of underwater equipment. The dial is mesmerizing and the bezel is superb. It feels rugged and solid and is absolutely perfect in the ocean and pool. I particularly like how the crown blends into the case to give a symmetrical look on each case side. What about solar power?
Guys get all carried away with how an automatic watch feels connected to you, it gets wound by your own movement. Well, I discovered a similar psychological benefit to solar power. I realized that if you washed up on the shore of a desert island, and passed out for three days, you would make up to find your Eco-Drive still ticking and keeping perfect time. You can't say that about your automatic watch (unless you have a Big Pilot or something)! And even if your Eco-Drive is buried in the sand, its incredible 180-day power reserve will run until a search party finds you. Advantage – solar!
Another reason why the Eco-Drive was the right choice is my wife. She did not want me spending my vacation obsessively cleaning my watch in the sink. She had just gotten me the Seiko and did not want it to get all gunked up with sun scream and sand. So, Mrs TimeCaptain basically sealed my vacation watch decision.
Listen, I apologize to Citizen for making it sound like their watches should get all dirty and banged up instead of "nicer" expensive watches. In fact, I applaud Citizen for what they have done with this and other watches. For around 400 bucks, you can buy this diver, which will survive a week of ocean, sand and chlorine while keeping accurate time with no winding and no fear of a battery going dead. And, it looks terrific with a bathing suit, all covered in sand. At this price, I can forgive a lot of shortcomings.
One such shortcoming is that moisture builds up under the "crystal". This occurs when you go from the scorching sun to cool water and you can see this in my photos. More expensive watches are engineered with all sorts of solutions to avoid this type of thing. But on the Eco-Drive, you just live with it, as it does not affect the performance in any way. And even with a foggy dial, the Eco-Drive is in its element on the beach.
I like the feel of the Citizen on the wrist. It sits securely on the wrist and I alternate between three notches on the strap, depending on the heat. The watch has a substantial feel and the lume and overall legibility are pretty good. The seconds hand hits the markers dead on and I love the blue accents. I love the buckle, too, if not the strap. This watch has done the job it was meant to do- and done it very well.
While the watch feels "cheap" in certain situations, it is only reflecting its price. What can you expect for a few hundred bucks? No matter how many expensive Rolex and Hublot I see down here, I know I would not enjoy wearing my high-end pieces in this setting. With my Eco-Drive, I can just swim, play with my daughter, smear sun cream and hang out with no worries. That really does the trick for me.
Without any disrespect to Citizen, their very affordable Eco-Drive is a logical choice for a beach vacation watch, largely due to its price tag. Next time around, I won't even debate it — I'll just grab my Citizen right away. And I highly recommend this watch to any WIS wondering what to take on vacation without risking their big piece in the water. And a week without a mechanical watch will make me appreciate one, even more, when I return home…
Yours truly,
TimeCaptain