Longines Heritage 1969 Reviewed
If I had seen this watch 15 or 20 years ago, I would have said, "Yuck! That's tacky — especially the gold-toned hands and markers." Fast forward to 2017 and this watch is incredibly cool. When this watch was launched, last year, I knew I would get one. I stared at the pictures for hours. I love retro watches, as you know, and Longines does retro cool better than anyone. They launched the Legend Diver, which is probably the most popular retro watch ever among collectors, in 2007. And I have recently reviewed other amazing watches from the Longines Heritage collection. Then the Heritage 1969 comes along. Here's a spoiler alert — the watch you see here is my own. So what made me buy it? And how does it feel on the wrist?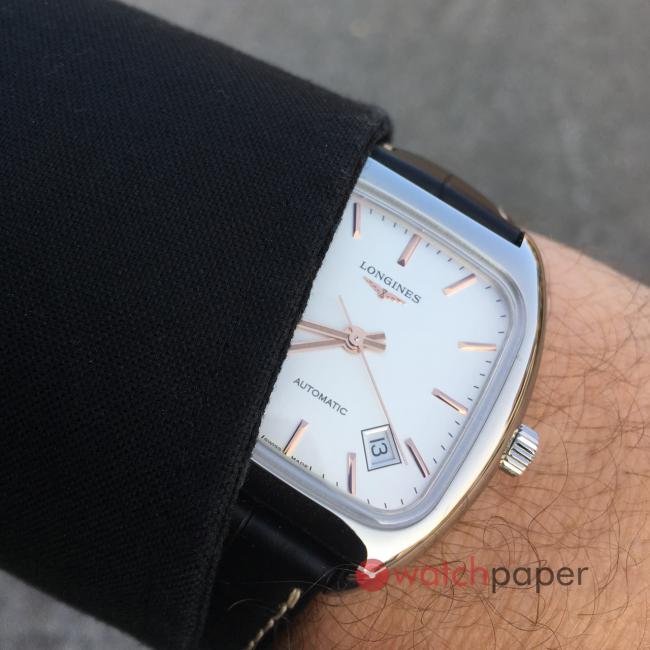 It really comes down to the style. I was instantly attracted to the Heritage 1969, which I will refer to as H69. This watch has a distinct identity. It is not all-purpose, it is all business. It is not formal — it wouldn't be my first choice for black-tie events and cufflinks but it would be my first choice for business use. This watch is calling out for calculators, ledgers and slide-rules. This is vintage business, my friends. Despite the 1969 name, I feel more of an early 1980's vibe from this watch. I "feel" this watch in a banker's office in 1983 — adding up numbers in columns and anxious to wrap up, lose the tie and hit some amazing underground club. But before we get too far into my fantasy world, let's recap what the H69 is.
The H69 is more or less a reissue of a Longines from 1969. To my eye, it's a pretty authentic tribute to the original, albeit in stainless steel. So that's the retro part. Longines equipped the Heritage 1969 with an updated ETA 2892 movement that now provides 64 hours of power reserve. For me, the movement is a huge selling factor. Longines and ETA are both part of the SWATCH group, so you could call the H69 movement "quasi-in-house" and it has nearly 3 days of power reserve. That's cool. The H69 provides a really elegant retro style with a very modern movement that gives almost 3 days of juice. I recently put my H69 down on Friday night, wore another piece all weekend, and my H69 was still running on Monday morning. That, my friends, is great stuff. Retro watches are nothing new, but I cannot think of anything else that resembles the H69. I am really into smaller watches these days and the Heritage 1969 is a tiny watch but it's huge on character.
With the H69, you're getting an automatic three-hander with date. That's exactly what you want for office use. I love the date window and it is located at the perfect spot. People have complained about the date, but I think it adds a great function to a daily office wearer. The small, square case just screams "business" and I have never before seen a watch so well-suited to tight shirt cuffs. It fits under any cuffs and complements business suits with a dressy-and-elegant-but-not-too-formal style. As well as fitting with business attire, the H69 could pull off a more funky look. I once wrote that the Longines Legend Diver is the "hipster of wrist watches." Well, I think the H69 can go hipster as well. I would imagine that the H69 would be great with your rolled up jeans, tight flannel shirt and rolled-up sleeves exposing your tattoos.
I actually bought my H69 sight unseen. That is risky. Years ago, I bought a TAG Monaco without seeing it first and, when it arrived, I was really disappointed by the small size. I expected the Heritage 1969 to be small, but I was still nervous about seeing it for the first time. The H69 did not disappoint — I was relieved when I saw it inside the box. The crystal has a weird and cool effect that makes light seem to be shining inside around the edges of the square dial. The gold-tone hands and markers are gorgeous — dead simple but super effective. One negative is that the minute hand does not cover the minute markers all the way around the dial. This can make synchronizing the time tricky, depending on the actual time. Another small negative is the asymmetrical date window — I would prefer a proper square. But overall, the look and feel are superb. The piece captures a certain vintage flair that is right in the sweet spot of history — old enough to be retro and new enough to be fresh.
On the wrist, the H69 scores big. Like the Longines Heritage Military I recently reviewed, the H69 is delivered on a gorgeous, black alligator strap with contrast stitching. The stitching matches the silvery-sort-of-off-white dial. The buckle is my least favourite feature of the watch. The Longines logo is nice, but the pin is too thin and doesn't fit flush with the buckle. I suppose this is to maintain a vintage style, but I would prefer something more like the Legend Diver's buckle. In any case, the overall feel of the watch on the wrist is really nice. This small watch is predictably light and wears great all day long. This can totally be your daily office piece. You don't generally want to wear a black strap with brown shoes (i.e. with blue suits), but the stitching and dial colour can go with light blue suits without much problem. So I could make the H69 work as a daily piece.
The case is square, but it has beautiful, refined, curved edges. The crown is perfectly designed and proportioned and the watch is really stylish on the wrist. I have really thick wrists- 7 3/8″. If you are concerned about the small dimensions of the watch (36 mm), then don't be. Don't buy an H69 if you really dislike tiny watches but if you are worried that the H69 might look out of place on your wrist because of the dimensions on paper, just try one on. I pull it off, no problem. The H69 has no weight on the wrist, but it is a fine, and RE-fined, a companion for days of meetings and presentations. The watch is not flashy and it is not obnoxious. It is one of those watches that looks great, provides a proper mechanical experience, and does so without screaming for unnecessary attention. You need one loud piece in your collection, of course, but you also need a more understated watch that you can enjoy while "flying under the radar."
Now, let's discuss the MSRP of $2400. This is firmly within the luxury timepiece realm, but far more affordable than many other mechanical watches. The Heritage 69 is less than half the price of an entry-level Rolex and a fraction of the price of most Cartier and JLC dress watches. Despite the modest price tag, the H69 is powered by that cool, new movement. The H69 is an expensive product, for sure, but far more attainable than so many watches that you read about. I think the price is big selling factor of this watch. After a couple of weeks on the wrist, I can say that the quality is very good for this price point. The H69 is one of those watches that can hold its own in any group of watch guys. What it lacks in terms in high horology, precious metals or complications, it makes up for with a retro-cool vibe. And sometimes you just have to ask yourself — do I really want to wear a $12,000 watch today? Or am I more comfortable with a $2,400 piece that makes me smile? I think you can have both in your collection. Each one has its merits. But at least the "affordable" watch can be bought without years of saving and without as much deliberation.
The Longines Heritage 1969 got me very excited when it was launched. So far, it has lived up to my expectations. It is a gorgeous and elegant timepiece that provides style, character and coolness. I absolutely recommend this watch to anyone who is looking for a mechanical watch to wear with dress shirts. When you consider the price, the Heritage 69 becomes even more compelling. I should add that Longines has a long, rich history, making its products even more appealing. Check out their entire Heritage collection. As always, the fun is in the search…
Yours truly,
TimeCaptain