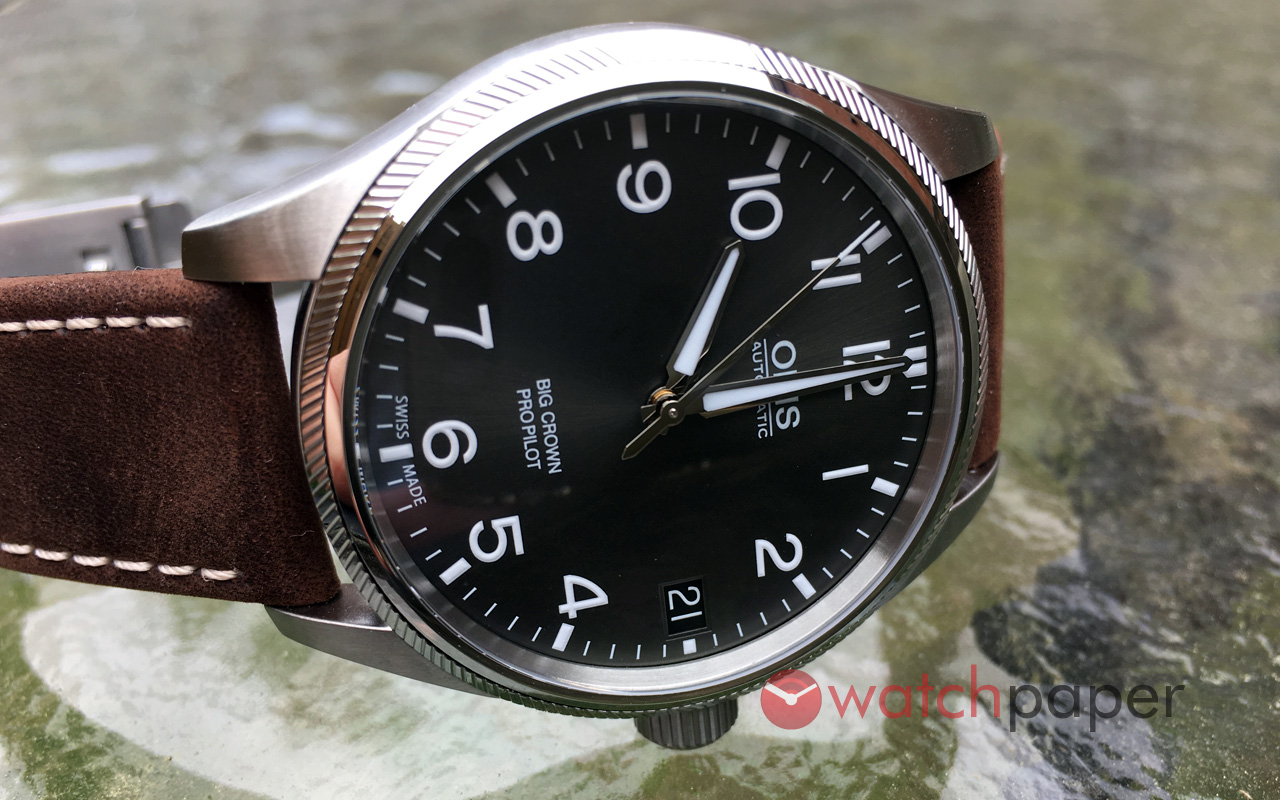 Oris Big Crown ProPilot Date review
Let me tell you about my first encounter with the 41mm Oris ProPilot. I was at a watch collector's meet-up and the Canadian sales manager for Oris was there with a huge selection of Oris timepieces. I sat down with a beer and there was a pad on the table with at least 20 watches — a bunch of amazing Oris and some other guys' watches as well. Right smack in the middle was this gorgeous little ProPilot with a grey dial and grey strap. It instantly stuck out. It was surrounded by mouth-watering racing Audi Sport Oris chronos and was right beside a 45mm ProPilot on a steel bracelet. Interestingly, THESE are the watches that would typically rev TimeCaptain's engine — oversized racing chronos and pilots. But it was this little 41mm gem that called out to me. The combination of its proportions and grey dial just popped. I was drawn to the ProPilot and I could instantly imagine it in my collection as a versatile tool watch, an everyday wearer.
Then I learned of the MSRP, $1950 CAD. This is worth discussing. Your reaction is probably like mine — wow, that's a really affordable watch! This reaction shows just how desensitized we have become to 5-figure watch prices. A sticker price of $1950 is just shy of two grand. Two thousand bucks is a lot of money to spend on anything. I have pals who can (and will) buy a Rolex on a whim. But for most guys I know, spending even ONE thousand dollars on a luxury item requires working and saving and waiting. Therefore, a $2000 Oris is definitely a luxury item. Having said all of that, an MSRP of $1950 offers remarkable value in today's watch world. Our pal from Oris was discussing his products' pricing over a beer. He made a statement that stuck with me. "We could make a $10,000 watch, but we don't want to. It's just not us." I have been replaying this statement in my mind ever since. It speaks volumes about Oris' values and their confidence in their identity. Here is a company with over a century of watchmaking history and know-how. They have a dedicated fan base and a global presence, and they stick to what they believe in. Oris makes luxury timepieces, yet they prefer to make relatively well-priced timepieces. In recent years, Oris seem to have gone upmarket a bit with things like the Calibre 111 movement. But these new introductions are still very competitively priced. "We could make a $10,000 watch, but we don't want to. It's just not us." Remarkable. Oris' slogan, real watches for real people, seems quite appropriate.
So what do you get for $1950 anyway? The Oris Big Crown ProPilot Date is powered by the Sellita SW220. This is where critics will focus their attention because the SW220 is neither in-house-by-Oris nor an ETA movement. The Sellita SW220 is a "clone" of ETA 2836. As I understand it, Sellita reassembles movements, often using ETA-made components. Does that make it inferior? How many Formula 1 World Championships were won with a Ford-Cosworth engine? How many races did Mercedes win using Ilmor engines? We could debate the whole in-house obsession all day. Consider this — Sellita has been making (or assembling) watch movements in Switzerland for more than half a century. Today, Sellita movements power timepieces by IWC, Bell & Ross and Montblanc. These watches cost way more than an Oris ProPilot.
You get a proper Swiss movement from a brand with true heritage. And it comes packaged in a no-nonsense and well-sized case. The style is totally legible and utilitarian. Add to this a really nice leather strap with a deployment buckle and you have a real value proposition. I think it's safe to claim that your $1950 goes a long way in this Oris.
What about the Oris brand? I first became aware of Oris just after I got into watches ten years ago for two key reasons. First, my favourite shopping mall had an Oris Authorized Dealer. I would pass by every week and see those awesome Oris dive watches on display. Drool! Perhaps more importantly, Oris had begun to sponsor the Williams F1 team. Never underestimate the importance of F1 sponsorship and presence- this was always a huge factor in my love for watches. Oris still sponsors the Williams team, giving it serious motor racing bragging rights. Oris' roots are not based in high complication haute-horlogerie — their roots are more based in mass production and bang for the buck. However, Oris has been making watches for more than a century, and they started when mechanical watches were actually needed to tell time. Their watches had to be accurate and reliable. Oris has a rich history and they make only mechanical watches today. Typically, their watches use Sellita movements, but that is changing with examples such as Calibre 111, which is worth reading about. Here is a little-known fact — the very first MECHANICAL watch that I bought for myself was an Oris BC3 Day Date pilot. Oris is definitely a brand for me. It's a brand I can really buy into.
Have you looked at the photos of the ProPilot? One of my WIS pals said that it had nothing remarkable. He said that it had all the right ingredients and had nothing wrong, but had nothing special. Another pal found it rather basic. But one very serious watch collector pal found it as irresistible as I do. The Propilot is not an attention grabber, but I find it mouth-wateringly beautiful. The combination of grey dial and brown strap is gorgeous. Yes, the watch is simple and basic, but therein lies its beauty. It looks very industrial and purposeful. With the gnarled bezel and similar casework on the back, the ProPilot looks like something rugged and functional. The large crown adds to this character, as does the brushed metal. The white numerals on the grey dial just pop. For me, the whole package works really well. It's understated, for sure, but the proportions and colours are amazing together. This particular version of the ProPilot is superb.
Initially, I hated the strap and buckle. The strap was stiff and the buckle is awkward to adjust because you have to fold the strap through it. After 2 days, however, I had found a comfortable adjustment and the strap had started to break in. By wearing the strap tighter and higher on the wrist than I normally do, I found a comfortable position. The watch sits comfortably and securely. The buckle is actually the thing that most people enjoyed about the style of the watch — I got a few comments. Rather than folding over onto itself, the clasp provides a flat connection. I have huge 7 3/8″ wrists and the watch is a perfect size for me. With no outer bezel and a plain dial, the 41mm case size looks great. The large crown has never bothered me, perhaps because its rounded edges prevent digging into the wrist. And I must mention that the "Big Crown" is a joy to operate. I am obsessive about synchronizing the minute hand with the second hand and this procedure is a breeze on the ProPilot. The hands are perfect and the minutes are clearly marked. When you click the crown into place, you sometimes get a little stutter where the minute hands move backwards, but I learned to adjust for this pretty quickly. I have been wearing the Oris with my tightest dress shirt cuffs and it fits fine. The watch is legible and comfortable on the wrist and very versatile, although it leans to being more casual. The strap is too thick to be really dressy, but it still fits fine with business suits. It looks amazing with blue jeans.
Although casual, the Oris is not extremely sporty. While understated, it is not very dressy. This is one aspect of the ProPilot that drew a few criticisms from my pals. The Oris fits kind-of-in-between rather than at any extreme end of design. For me, the versatile, low-key and simple style is a huge selling point. Perhaps the most telling evidence is that I would not miss a chance to stare at it on my wrist. This particular colour combo provides ample style, as far as I am concerned. This Oris ProPilot feels like a rugged, utilitarian tool watch dressed up in its best clothes.
How about performance? After a week on the wrist, this watch has been gaining LESS than 5 seconds per day. That's outstanding. I have seen much worse performance from more expensive products. Gaining less than 5 seconds is even better than COSC standards. The watch is rated for 38 hours of power reserve and I got nearly 40 hours out of this one while letting it sit. The sweeping seconds hand moves in a very fluid manner and my overall conclusion is that the ProPilot has been running like a champ. You're not getting haute horlogerie here, but if you can get this type of performance out of a watch that you really like, then you're onto a good thing.
I tried very hard to find things to criticize about this watch. Maybe the lugs look a bit long. Maybe the movement should give 60 hours of power reserve. Maybe the watch should have a quick-change strap system and be sold with an alternate strap. I don't know — I'm trying here. I just can't find much to complain about because I really like the watch. It has been extremely enjoyable on the wrist and has felt totally appropriate in every situation. The ProPilot, in this colour scheme, is your versatile everyday tool watch. Its modest proportions fly under the radar a bit, but the watch is an excellent companion.
Who should buy an Oris Big Crown ProPilot Date? Anyone looking for a versatile, legible, well-made, understated mechanical timepiece should consider this watch. If you are in the market for an automatic three-hander with date, then you should consider the ProPilot. If you want to own a Swiss timepiece that can fit with most outfits while providing a proper mechanical timekeeping experience, then the ProPilot might be for you. And we have to come back to price- this is one of those watches that makes me wonder why I would spend more than 2 grand, when I could have the Oris that offers so much. Don't buy the ProPilot if you are craving complications or precious metals. But if you want an authentic Swiss timekeeping experience for a fraction of the cost of many rivals, then the ProPilot is a serious contender. Have you never owned an Oris before? Take a look. As always, the fun is in the search…
Yours truly,
TimeCaptain