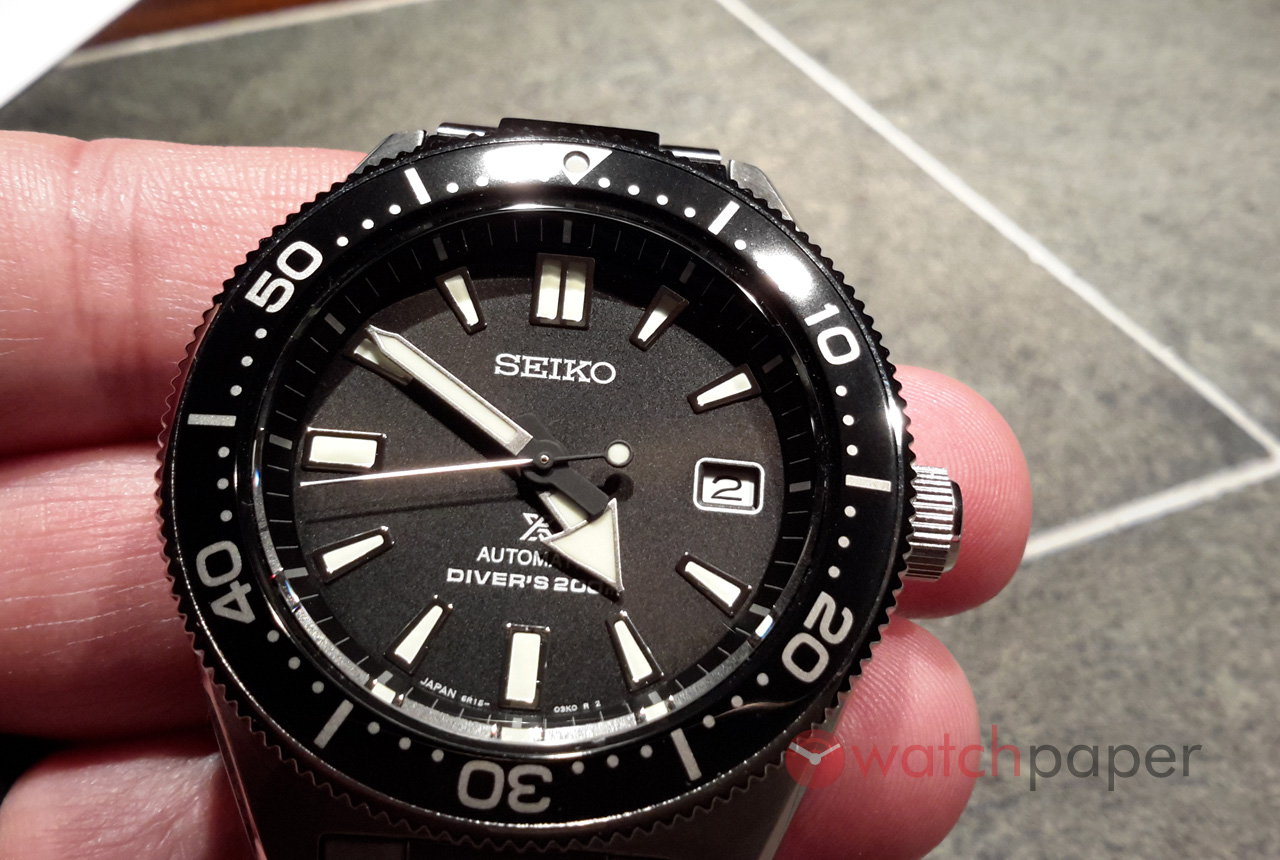 Seiko Prospex Automatic Diver SPB051 – Full Review
I have always loved retro divers – there are a lot of watches out there that are recreations of diving watches from the 1960s. This whole genre of timepiece just appeals to me. These watches echo the past while offering modern movements and features. The diving style makes them sporty, while the retro aspect makes them elegant.
You can criticize a watch company for simply copying their old designs and then just sticking some generic movement inside and passing off the watches as new models. But a retro tribute or re-issue piece has some genuine historical pedigree, which is cool. And after all, watchmaking has a lot to do with history and tradition.
I bought my first Seiko about 2 years ago – a Recraft automatic. I bought it from a big department store and I got to use all kinds of discounts. I was just looking for a bargain piece that day. I liked the Recraft – I didn't love it. I wore it in Cuba for one week. I must admit – even with a low-cost Malaysian movement, it was a lot of watch for 300 bucks.
Around that time, I was becoming more aware of Seiko. This was largely due to the influence of guys on the watch forums. I realized that Seiko has quite a large, dedicated and fanatic base of followers. I remember going to a watch meetup and one of my die-hard Paneristi pals showed up wearing a Seiko t-shirt and a Turtler diver. I had actually been somewhat interested in Seiko ever since I began collecting when Seiko had a line of Honda F1 racing watches. And now, I was seeing how Seiko enjoys some cult status.
Last year, Seiko launched a limited re-edition of its legendary 62MAS diver from 1965, whose reference number is SLA017. At the same time, they launched two modern watches that are "inspired" by the 62MAS, including the SPB051, which I fell for instantly. The SPB051 is named the Prospex Automatic Diver. As you might know, "Prospex" stands for "professional specifications," placing this watch right in the tool watch category. Seeing the SPB051 online was like love at first sight- rugged sporty looks with a retro flair. Oh man.
Fast forward a bit, and I find myself having unexpectedly sold some watches. That means that money is burning a hole in my pocket. I planned a watch get-together in Toronto where my main goal was actually to find a Seiko SPB051 – that's how obsessed I had become with the watch. But poor information led us to the wrong stores that day. Upon my return to Montreal, I explained my flopped mission to a friend in the watch business (I say "flopped mission,' but we had an epic time in Toronto). My friend told me of a local retailer who carries all the good Seiko models. After that, all I needed was the time to get there, which I found when Mrs TimeCaptain left me to my own devices one Saturday afternoon.
I arrived at the Seiko authorized dealer having never seen the sought after Prospex models in the flesh. Well, the first thing I noticed in the dealer's display case was the SPB051. It was like a light shone it and I heard those angel voices going, "Ahhhhh!…"
The Seiko really stood out and "popped" in the display case. To be fair, lots of other Seiko models also popped! What concerned me most about the Seiko prior to seeing one was the bracelet. I had read and heard that the Seiko bracelets were cheap and flimsy. Well, the first thing that actually caught my eye on the Prospex was…the bracelet! It looked substantial and solid – a bit like a Rolex Oyster bracelet crossed with an Omega bracelet. On internet photos, the clasp also looks cheap and tacky. In real life, it looks awesome and I noticed that it has a safety release AND a folding safety clasp. This is heavy duty. On the wrist, the Seiko bracelet feels both elegant and rugged. The brushed steel looks great and versatile.
The next thing that caught my eye was the sapphire crystal with anti-reflective coating. The gorgeous domed crystal reveals a rich matte black dial that plays nicely in the light. The large hands and markers look bold and luxurious and I can tell you that the lume is amazing. The whole package is really beautiful…and impressive.
The case is really cool. It tapers into a really narrow edge that gives it an unusual angular look. It's awesome if you ask me. The watch is pretty heavy and it is obvious that the bracelet adds to this heft. As soon as I put it on, I knew that this is a "daily." This is a watch to wear nearly all the time. Its versatility and impressive wrist presence make it a perfect candidate for daily use – for work and play. In case you didn't guess, I bought it.
The Prospex is powered by a movement that is about 12 years old, which is pretty recent by watch standards. One negative aspect of this calibre is that the sweeping seconds hand moves in a rather choppy manner. It is not smooth. I also notice that the date change starts way before midnight- around 10:20 pm. That might turn a lot of people off. On the other hand, the Seiko has been dead accurate – gaining just 25 seconds after 8 straight days. While the Seiko's power reserve goes way beyond the stated 50 hours, I noticed that when it was nearing 60 hours of running without winding, it had lost 5 minutes. So it seems to slow down when it runs past normal power reserve.
Then I had an unfortunate opportunity to test the robustness of the movement. I dropped my Seiko on the dresser from about 6 inches high. It was enough for the crown of the watch to dent the dresser. I was terrified that I had knocked the movement and thrown off the adjustment. After a full day, I see no real deviation in the timekeeping. My friend commented that a Seiko can survive the apocalypse and should be able to withstand a 6-inch drop. I don't know about the end of days, but I am happy that all seems to be in order.
After two weeks of nearly continuous wear, I have some conclusions about the Seiko Prospex Automatic Diver. The design and style of the watch are absolutely superb – gorgeous and retro and legible. The wrist presence and feel are awesome – the bracelet is fantastic. The movement is not too sophisticated, but it is performing beyond expectations. And the price! Geez, how can you find a better value proposition than this? The Seiko is on par with Swiss watches that cost and 3 and 4 times as much. You cannot ignore the price to quality ratio. If I had to summarize my impressions of the Seiko in one statement, it would be, "I flipping love this watch." And if I had to elaborate, it would be "this is a magnificent all-purpose everyday piece."
The entire Prospex lineup is worth serious consideration. Their Presage dress watches also blew me away. Many of these watches retail for well below $1000 CAD. If you are looking for a new watch and want to keep the cost at or below about a thousand bucks, you need to visit a Seiko AD. As always, the fun is in the search…
Yours truly,
TimeCaptain